Today's recipe is a plant-based power bowl.
It's gluten-free AND vegan.  In my house?!
This delicious Asian-inspired Sriracha Peanut Tofu Power Bowl with ginger-tahini dressing is loaded with nutrients to give your body a boost and keep you full longer.  Get the recipe for this quick and healthy meal below!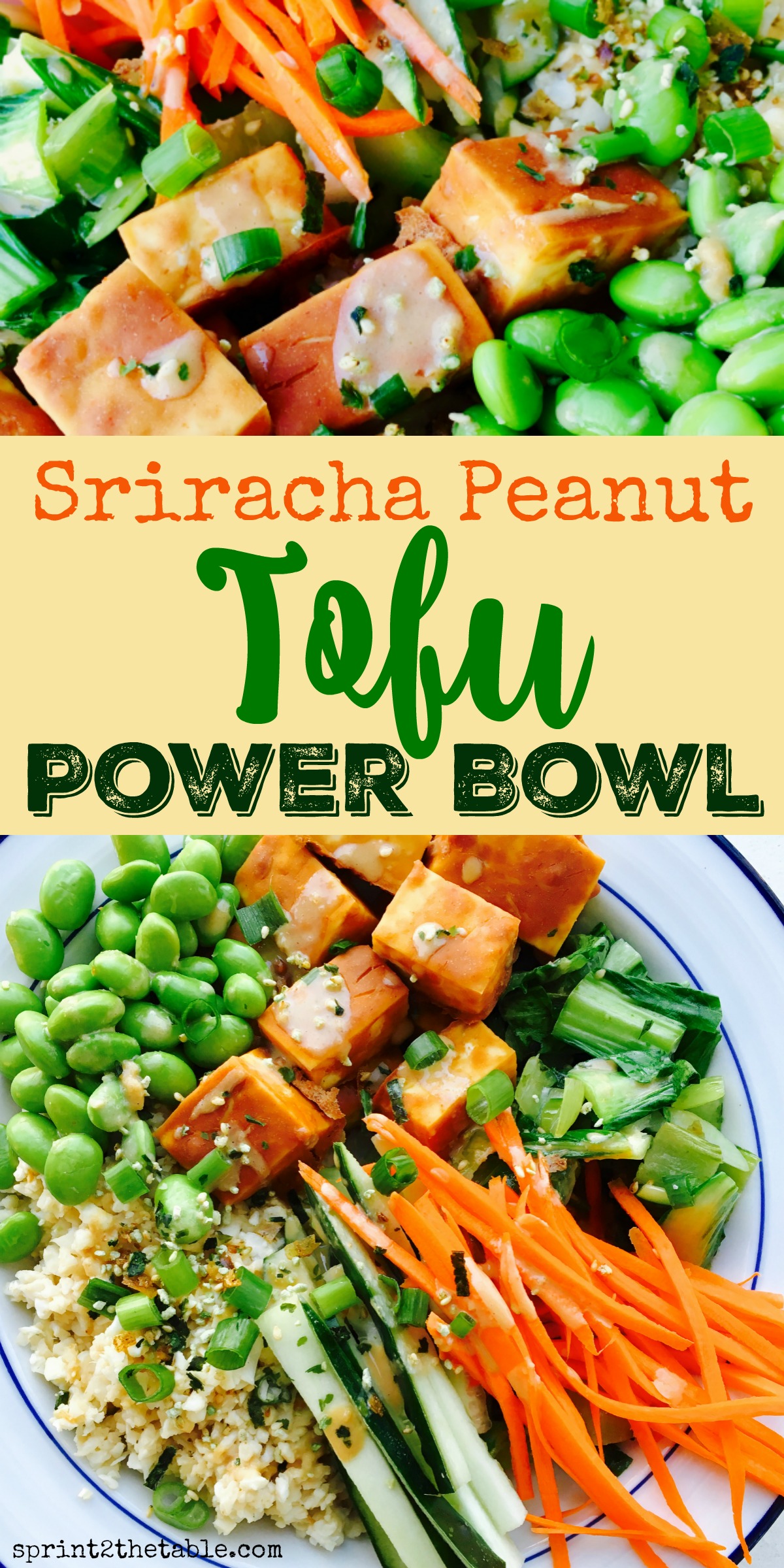 Now that we're back from our Italian adventures, it's time to end the gluttony.  Or at least slow it down.  While we were gone, Vegas admitted that she DOES have a problem with gluten.  I'm taking this admission and running with it!
One of my favorite ways to create gluten-free dishes is to turn it into a power bowl.  I love the endless combinations; it's easy to throw one together based on whatever you're craving.  We start with a protein, and load a bowl up with complimentary veggies and a tasty dressing.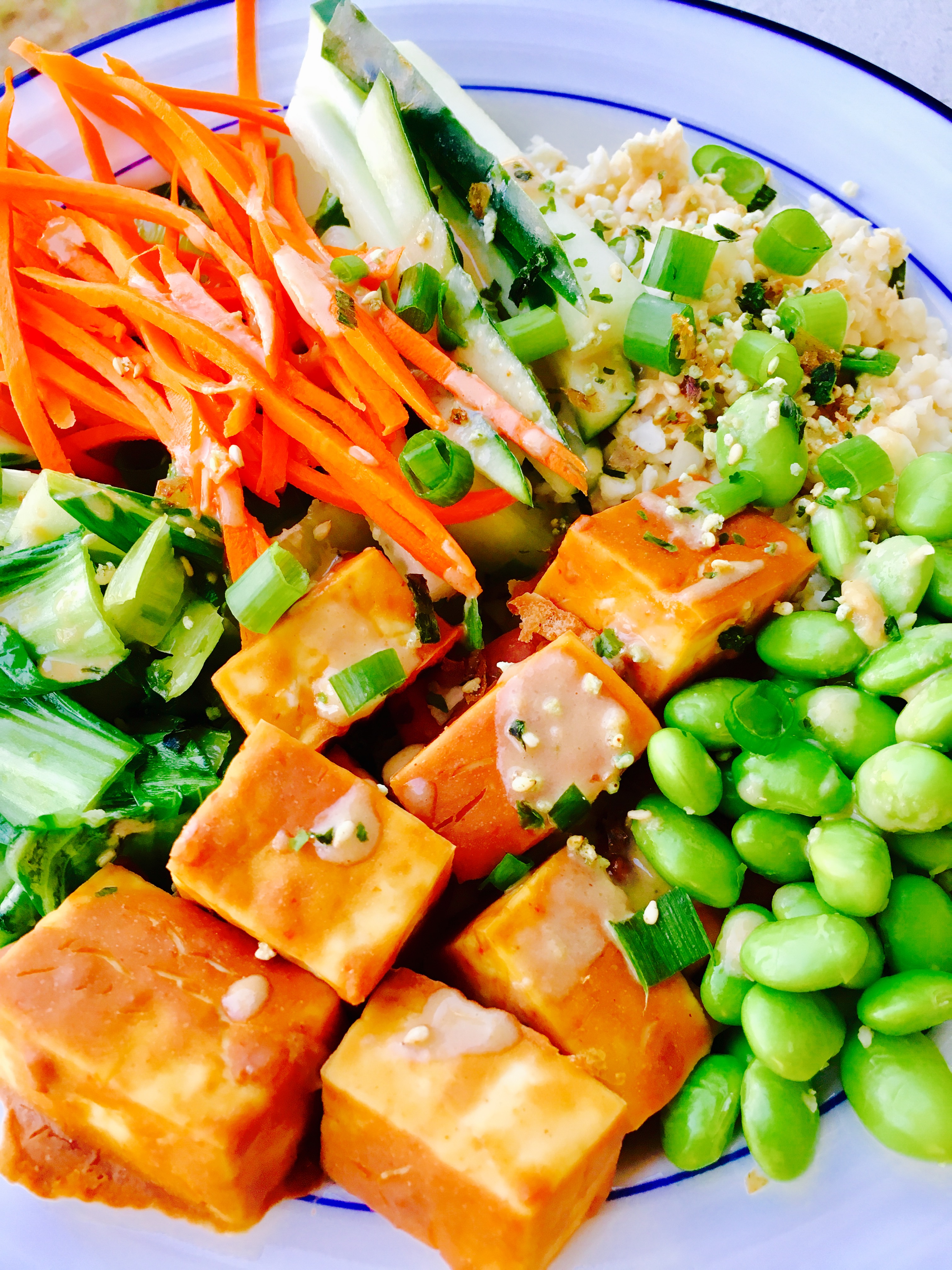 This particular day we were feeling something Asian-inspired.  Specifically, peanut sauce.  I mean… is there ever a time peanut sauce doesn't sound good?
Vegas claims not to like tofu, so I thought it was a good opportunity to prove her wrong with my baked tofu.  I was on an "I told you so" roll* with the gluten thing… why not keep going?
*She's going to kill me for writing this.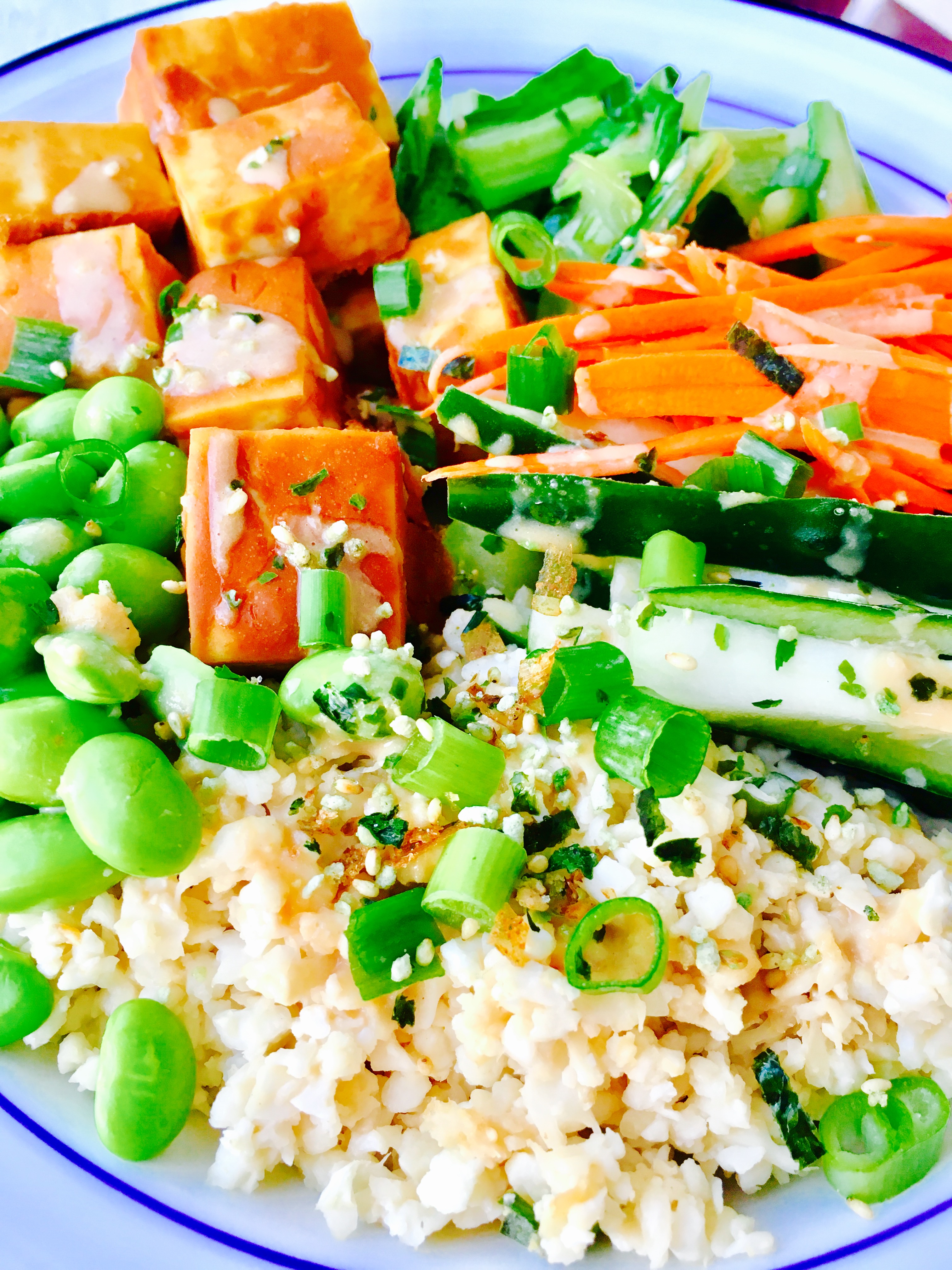 This recipe uses cauliflower "rice" instead of regular rice.  I love doing this to cut back on evening carb intake (we have a few lbs to lose after vacation)… plus I'm a volume eater.  You can eat a whole HEAD of cauliflower and only consume a teensy portion of the calories and carbohydrates you would with rice.  It's the perfect power base!
So now the veggies.  I add just about every veggie we had in the fridge – no joke.  One we particularly loved in this bowl was bok choy, or "Chinese cabbage."  It's packed with vitamins C and K… we all need a little more Vitamin C going into cold season!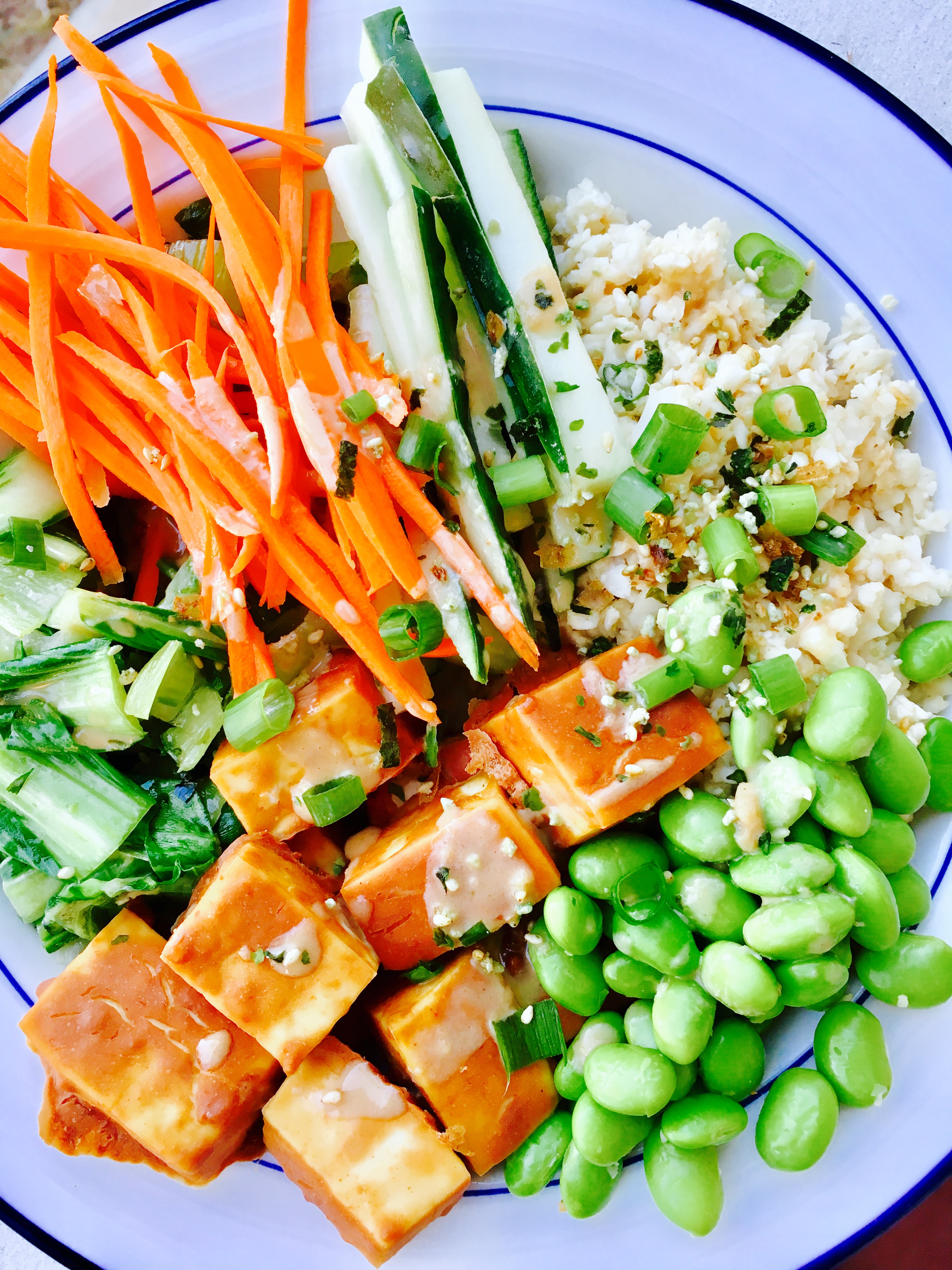 This is a super easy and well-balanced meal to make for a weeknight dinner.  It is plant-based; however, it also packs in the protein with tofu and edamame.  You guys know I'm a protein whore, so this is a big deal for me.
---
Sriracha Peanut Tofu Power Bowl
4SERVINGS
adjust servings
This delicious Asian-inspired Power Bowl with ginger-tahini dressing is loaded with nutrients to give your body a boost and keep you full longer.
Ingredients
For the Tofu
16

oz extra firm tofu, drained, pressed, and cut into cubes

1/4

C peanut flour

2

tsp sriracha

1/4

C + 1 T unsweetened almond milk
For the Dressing
For the Veggies
2

cloves of garlic, minced

3-4

baby bok choy, chopped into small pieces

1/2

head cauliflower, riced

1

C frozen edamame, thawed

1

scallion, finely chopped

Additional veggies: carrots, cucumber
Instructions
Cut the tofu in half horizontally and press the tofu for 30 mins to an hour to remove water (I wrap mine and place a stack of cookbooks on top to press it).
Pre-heat oven to 400 degrees. Mix the peanut flour, sriracha, and almond milk in a medium bowl. Cut the tofu into cubes, add to mixture, and toss to coat. Place on a parchment-lined baking sheet and cook for 20 mins.
Meanwhile, prepare dressing by whisking together ingredients until combined. Taste and adjust flavor as needed. Set aside.
Rice the cauliflower using a blender or food processor (I use my Vitamix). You don't want it too mushy, just somewhat close to the texture of rice. Set aside.
Heat a large skillet over medium. Add drizzle coconut oil to the pan and sauté the garlic for a minute to brown. Then add the chopped bok choy and a drizzle of soy sauce. Cook until tender. Set aside and cover to keep warm.
Add another drizzle of coconut oil to the pan, then add cauliflower rice and stir. Add a few spoonfuls of the dressing and stir. Cook for about 5-6 minutes until slightly browned and tender, stirring occasionally.
Prepare any veggies you want to add to the dish (optional).
Divide cauliflower rice between 4 bowls and top with veggies and tofu. Serve with any leftover sauce. Leftovers reheat well and will keep covered in the fridge for up to a couple days.
Note: I order plain peanut flour. I like it because it doesn't have the added sodium and sugar that other brands (ahem PB2) have.
***
Vegas' verdict?  She said "I'd rather have chicken, but I could eat this once a week."  I'm calling it a win.
What are your favorite power bowl toppings?
Are you a fan of tofu?