Endive Boats are the perfect party salad.
Boats make salad a finger food!
Last Christmas when I catered this party I served endive boats rather than a salad dish.  They went over really well, so I decided to make a spring version for the wedding shower.
This spring version contained raspberries, raw asparagus (thin stalks), and pecans.  Over the top I drizzled a light raspberry vinaigrette.
A lot of people are surprised by raw asparagus, but it is quite tasty.  In season, the asparagus is especially sweet and the crunch it added was perfect.
The raspberries were just a tad sweet, but still have an early-season tartness that was well-balanced with the fruity vinaigrette and rich, nutty pecans.
Like the deviled eggs, there weren't any leftover by the end of the party!
Recipe at the bottom.
---
Last week I announced I was taking the Green Giant Veg Pledge to add an additional cup of veggies to my daily eats.  Many of you said you would join me… have you been doing it?
Jenn @ Peas and Crayons is with her  What I Ate Wednesday theme for April: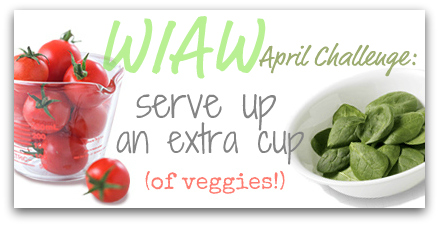 Check out my veggies below; then click here to see how everyone else incorporated extra servings.
---
Breakfast:
Do you ever wake up starving?  Having followed the P90X workouts this week, I cannot get enough food!
Carrot Cake Smoothie:
1 C spinach
1 medium carrot
1/2 banana
1/2 in piece fresh ginger
1/2 tsp cinnamon
1/4 tsp nutmeg
7-8 drops liquid vanilla stevia
1 T rolled oats
1/2 C unsweetened almond milk
1 scoop vanilla protein powder
1/2 tsp vanilla extract
1 tsp maca (optional)
Pecans (optional – for topping)
Lunch:
The veggie-theme was full force at lunch today.  I had a conference call, so I ate it in two parts.
Part 1: A slice of whole wheat multi-grain bread from the farmer's market with my Chipotle Corn Hummus, raw asparagus, zucchini, and carrots.
I brought the veggies to work in that carrot bag.  The bag was almost empty, so I piled my asparagus and zucchini slices rather than wasting another baggie.  I'm a total hippie.
Part 2: Garden Lites Cauliflower Souffle
Tasty, but I may have over-microwaved it.
Snacks:
With my 2-part lunch, I didn't do much snacking… there was the daily Kombucha with raspebrries, a Think Thin, Wasa flatbread, and unpictued stuff (nuts, 1/2  cupcake, cereal):
Dinner:
It was a pizza night at a favorite pizza joint, Double Zero.  You cut the pie with scissors and they have one of the best Italian wine selections in ATL.  My pie was tomato, mozzarella, arugula, roasted garlic, and chilis.
---
Spring Endive Boats
6-8 endive heads
2 pints raspberries
1 bunch thin asparagus, chopped
1/2 C chopped pecans
Raspberry vinaigrette
Assemble endive leaves evenly across a large tray.  Divide raspberries, asparagus pieces, and pecans evenly among boats.  
Lightly drizzle with raspberry vinaigrette just before serving.
Serves 30.
***
I was going to post that mac 'n cheese recipe… but I had to go endive for the veggie theme! 🙂
How are you doing with the Veg Pledge?  Have you been incorporating an extra veggie serving each day?
What is the best thing you've eaten so far this week?