It's cherry season!
Cherries are one of my favorite grab-and-go snacks, as well as a favorite dessert addition.
Apparently they have a ton of health benefits too!
High in anti-oxidants
Act as anti-inflammatories
May help fight cancer
Loaded with minerals (potassium, iron, zinc, copper and manganese)
It's also WIAW!  This is one of my favorite "events" (Jenn @ Peas & Crayons is a genius for thinking this up) because I love getting inspiration from what others are creating/eating, and I love finding new blogs to read in all my spare time.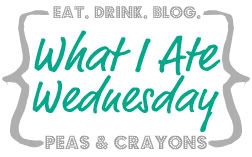 You know when you're sick, have no appetite, and nothing sounds good?  This lead to a day full of eclectic snacks and small meals.
Why did my immune system miss the memo that it's 90 flippin' degrees outside?!
---
Breakfast
Sick –> comfort food –> oatmeal.
Cherry oatmeal!  I made this the old-fashioned way on the stove top.  In my comfort oats:
Almond milk
Cottage cheese
Cherries
Blueberries
Cinnamon
Lunch
Salad on the road:
Spinach
Orange sections
Edamame (which sunk to the bottom)
Liquid aminos
To dress this salad, I used the orange juice and Bragg's Liquid Aminos.
If you haven't tried this yet, I highly recommend doing so.  Liquid Aminos are NON-GMO soybeans and purified water.  The taste is similar to soy sauce, though its much more mild and less salty.  Added bonus: it comes in a spray bottle!
Snacks
with…
Dinner
My spaghetti squash with it's leeks and lovely Spinach-Walnut Pesto looked like this when I started:
Then I attacked it!  Mmmmm…
I  love spaghetti squash to begin with, but adding a bright, lemon-y, flavorful pesto made it amazing.  I also tossed it with some sautéed leeks.  Topped off with freshly ground pepper to set it all off.
Never tried spaghetti squash?  It's mild flavor and spaghetti-like texture means you can use it in place of pasta in virtually anything. Click here for a "how to."
Perfect welcome for Summer on the solstice. 🙂
---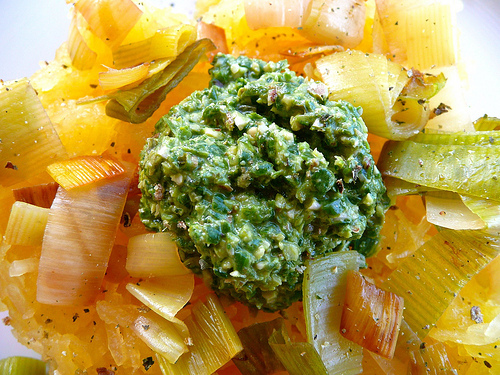 Spinach-Walnut Pesto
2 C fresh spinach
1/4 C fresh basil
1/4 C walnuts
1 T extra virgin olive oil
2 garlic cloves
1 jalapeno, seeds removed
Juice from 1/2 a small lemon
S+P, to taste
Toss all ingredients into a food processor and pulse until mixed.  You may need to stop and scrape down the sides occasionally.
Makes 9-10 tablespoons.
***
Master sommelier Andrea Robinson says the perfect solstice pairing is a glass of champagne.  Had I felt better, I would have indulged!
Did you do anything to celebrate the solstice?
What are your favorite comfort foods with you don't feel well?