Forever Lazy
Ah, how I wish I could be.
Ok, maybe not lazy… but free of work.  If I didn't have to work, I'd still cook, workout, and travel.  I've come to terms with the fact I'm not happy unless my hair is on fire.
And I'd still want one of these: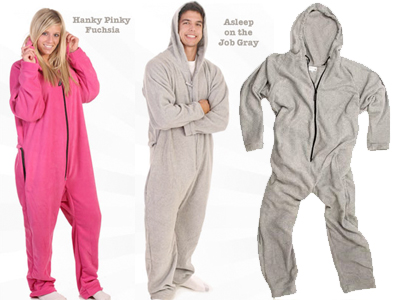 It's like a Snuggie.  But better.  The Forever Lazy even has snaps in the back for easy bathroom access.
The only thing that would make this more perfect would be if it had feet.
They're buy one get one free right now – just $29.95 for 2!  Who wants to go in on a pair with me?*  It's 22 degrees… my snuggie is ON right now.  (I'm not kidding, I have a Georgia Tech Snuggie).
*Forever Lazy did NOT ask me to promote the stroke of genius.  I do wish they'd send me a freebie to review!
 ____________________________________________________________________________________
This has become Miso week.
With my throat feeling scratchy and the onset of cold weather, warm soup was my dinner craving.  Eying the miso paste (a.k.a. my new love), I decided to try a miso soup.
Miso has many health benefits:
Loaded with amino acids
Aids in digestion
Good source of Vitamin B
Reduces breast cancer risk
High in antioxidants
Not to mention it's delicious.  How is it that I've never used miso before?!
This soup came together quickly and the different garnish options added a lot of fun flavors.
A couple of tips:
Add the first 2 tablespoons of miso and taste to see if you need the third – the strength of the flavor varies depending on the brand a color (lighter = sweeter)
Mix it in a small bowl with some of the hot broth before adding to the pot – this eliminates clumps 
Don't skip the garnishes – they make the dish more flavorful and they're fun to decorate with
Get creative!  You can add anything to the base – kelp, daikon, tamarind, wakame (seaweed), shrimp… to name a few!
 ___________________________________________________________________________________

Spinach Shiitake Miso Soup
3 oz soba noodles
4 C water
1 C shiitake mushrooms, sliced
1 in piece fresh ginger, minced
3 cloves garlic, minced
6 oz tofu, cut into small cubes
2 T miso
2 C fresh spinach
Garnishes: green onion, carrots, cilantro, sriracha
S+P, to taste
Cook soba noodles according to package instructions.  Drain, run cold water over the noodles to stop them from cooking, and set aside.
In a pot, add water, ginger, garlic and mushrooms and bring to boil.  Lower heat, just high enough to maintain temperature. 
Spoon a bit of the hot water into a small bowl.  Stir in miso to that it dissolves evenly.  Add back to pot and stir to combine.  Taste, and then add more miso a bit at a time as needed.  Let simmer for a few minutes.
Add tofu, stirring to combine.  Remove from heat and add in spinach leaves, allowing to sit 2-3 mins until tender.  Taste and season with pepper and sea salt as needed.
Garnish with chopped green onion, julienned carrots, fresh cilantro, and sriracha.
Note: "Traditional" recipes use dashi (a Japanese broth containing dried kelp, sardines, and/or skipjack tuna) rather than water as the broth base.  I didn't have any on hand, but I'm sure it would be fantastic.
Makes 4 side dishes 2 main.
***
Need some healthy baking tips to start the year off right?  Check out my guest post over at My Naturally Frugal Family!
Do you have a Snuggie?  How about a Forever Lazy?
Have you worked with miso before?