Pumpkin season is upon us!
Too bad it is still ridiculously hot here.
Despite the heat, I've decided it's time to bring the pumpkin back.  Given our new anti-inflammatory diet experiment, I didn't start out with some decadent baked good.  No, this recipe is simple, healthy, and grain-free.
It also sounds a bit strange… but I promise you that adding pumpkin to chicken is good.
In other countries, pumpkin is more often used in a savory manner.  It really is just another winter squash.  It's not odd to each butternut or acorn squash as a main course.  Why not pumpkin?
I have long been a fan of the "naked" Whole Foods rotisserie chicken.  I debone them as soon as I get home and keep the shredded chicken in the fridge of quick meals.  I also usually have a can of chipotles in adobo sauce* on hand, which makes for a fun addition to soups or sauces.  I love the smokey spiciness it adds!
*If you don't have any adobo, any BBQ sauce would work well here.  You could even add some liquid smoke.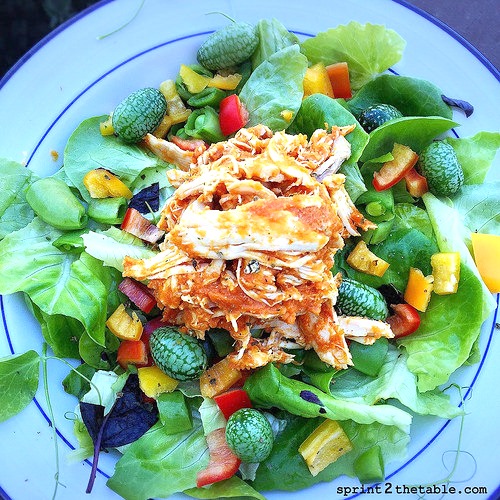 This chicken salad topped a fresh lettuce-based salad, but you could make a chicken salad sandwich out of it too.  It's an easy, healthy lunch!
---

Spicy Pumpkin Chicken Salad
4 oz shredded chicken
2 T pumpkin puree
1 T adobo or BBQ sauce
1 tsp apple cider vinegar, to thin
In a small bowl, mix together ingredients to combine.
Use to top a fresh salad or smash it between bread for a tasty sandwich!
---
How have you enjoyed making co-workers, friends, or family stare with strange but good creations this week? The link up rules can be found here or by clicking on "Strange But Good" in the menu bar above. In short, I want to see what concoctions have earned you weird looks from co-workers, family and friends! Post your Strange But Good creations, grab the logo below for your blog, and link up here.
Remember to use #strangebutgood in any Tweets and Instagrams of your creations. 🙂



***
This anti-inflammatory diet is beneficial for my creativity!
Do you use pumpkin in savory recipes?
What's your favorite pumpkin recipe?