I don't always make mac 'n cheese…
…but when I do, it's for flower-senders.
When the sender of the flowers came to visit, I had to make mac 'n cheese by request.  Of course,  I couldn't just make a normal recipe.  This Spicy Butternut Mac 'n Cheese has a strange twist or two, but I assure you it is good! Apparently I'm on a butternut squash kick!
Even done with a Laura-like spin, you don't go wrong with a pan of cheesy noodles!  And… ahem… it would be the perfect side for a bird next week.
Here's the strange elements: butternut squash, smoked cheddar, hatch chili cheddar, and bacon.
The butternut is awesome because not only does it cut some of the fat by replacing cream and extra cheese, but it also adds a interesting sweet element.  I used caramelized onion with it to further accent the richness.  Let me just tell you… with the velvety texture, you'll never miss the extra cheese!
I don't think I need to explain to you the fantasticalness of smoked cheddar, hatch chili cheddar, or bacon.  A little campfire, and little spice, and a little salty piggy.  Just do it.
---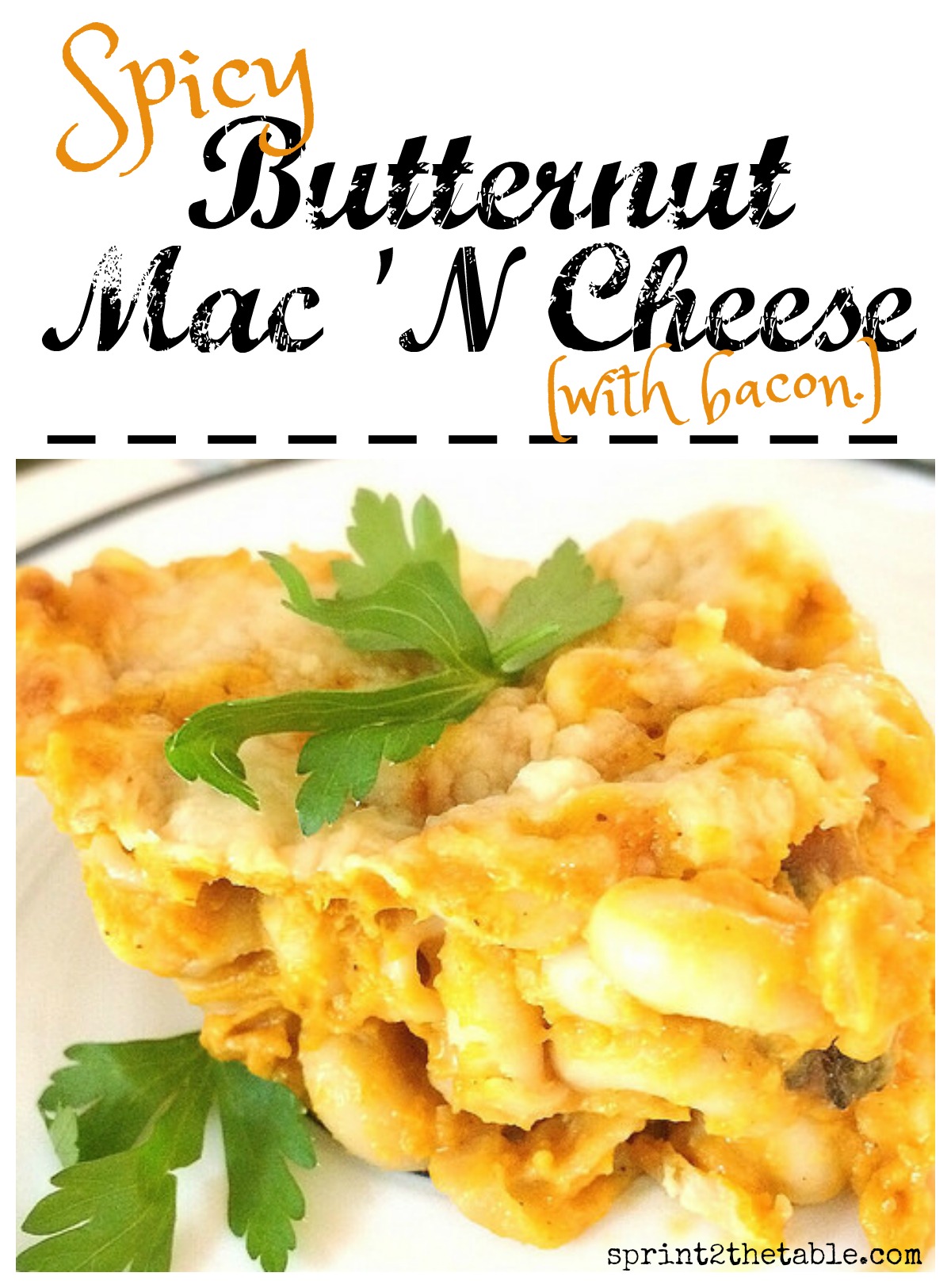 Spicy Butternut Mac 'n Cheese
7 oz macaroni
1 T butter
1 small yellow onion
1 butternut squash (4-5 C cubed)
4 C broth
1/2 C unsweetened almond milk
3/4 C shredded cheese (I used 1/4 each smoked cheddar, hatch chili cheddar, and fontina, plus more to top)
2 slices smoked bacon
Parsley
Cook the macaroni. Drain and set aside.
Heat the butter in a large skillet over medium low heat.  Cut the onion into thin rings and add to pan, sautéing over low heat until fragrant and golden, ~15 mins.
Meanwhile, remove the skin and the seeds from the squash, then cut into small cubes.  Bring the broth to a boil in a medium pot and add the squash.  Cook for 5-7 minutes or until fork tender.
While squash cooks, cook bacon in a skillet over medium heat.  Set aside and allow to cool completely before breaking into small pieces.
Drain the squash, reserving 1/4 cup broth, and transfer squash to the blender.  Add half of the onion, milk, and reserved broth.  Puree until completely smooth and creamy.  Stir in remaining onion.  This will yield ~4 cups of sauce.
Place noodles in 8.5 x 11 pan.  Pour the sauce over the cooked noodles and add shredded cheeses, bacon pieces, and parsley.  Mix together, and add water or milk to adjust consistency as needed.
Top with more cheese, place in oven 20-25 mins on 350, or until top begins to brown.
Note: Each component can be made in advance and stored separately in the fridge for 1-2 days until you're ready to bake it fresh.
---
How have you enjoyed making co-workers, friends, or family stare with strange but good creations this week? The link up rules can be found here or by clicking on "Strange But Good" in the menu bar above. In short, I want to see what concoctions have earned you weird looks from co-workers, family and friends! Post your Strange But Good creations, grab the logo below for your blog, and link up here.
Remember to use #strangebutgood in any Tweets and Instagrams of your creations. 🙂

***
I'm not a turkey fan… so next Thursday I'll be making lasagna!
What's your favorite mac 'n cheese variety?
If you're in the States, what are you planning to make for Thanksgiving?