There is a distinct crispness in the air.
Before the sun comes up… after that… hey, we are in the South.
Fall is one of my favorite seasons.   The colors, the refreshing coolness… and the food!  Everyone goes pumpkin crazy, but one of the best things out of Georgia in the fall is apples.
We make the requisite pies, doughnuts, compotes, cider, and various other treats, but I like to use them in savory dishes.  They add a great texture and a strange (but good) shot of sweetness to dinner salads.  I've been known to make them just for snacks.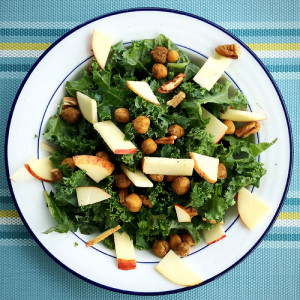 The pecans and the chickpeas are another great texture add.  Lightly toasted in an Indian-inspired spice blend, the chickpeas become crunchy and flavorful – like a protein-rich crouton!
I have a little extra good to add this week.  I entered this recipe in a contest and it won!!!  Garnish & Gather selected this salad and is offering it as a ready-to-cook meal on their weekly menu.  I am incredibly honored, especially since they have attracted recipes from James Beard talent (like the meal I had for dinner in this post).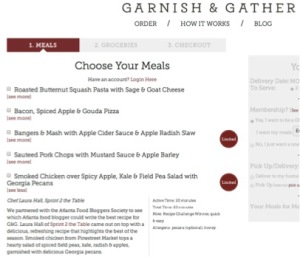 If you're an Atlanta local, I suggest trying Garnish & Gather.  It's fun for people who like to cook but don't have the time (or inclination) to concoct their own recipes.  You pick up your bag at a convenient location with all the ingredients pre-measured and ready to cook!
My version below is tweaked from the one on the G&G menu.  This is vegan, but you can add grilled chicken or any other protein of your choosing.
---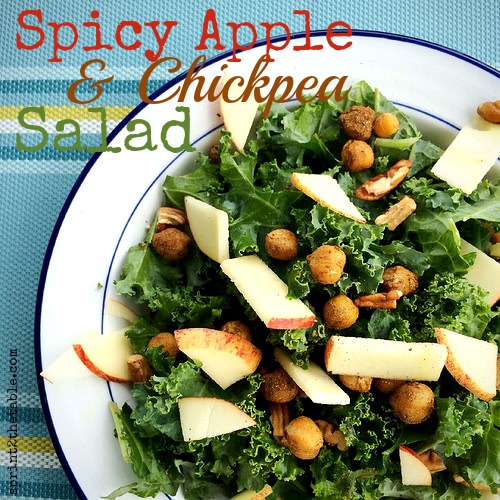 Spicy Apple & Chickpea Salad 
For the Kale Salad:
1 bunch kale leaves (4-6 cups), washed and torn into bite-sized pieces
2 C cooked chickpeas, rinsed and dried
4 Gala apples, sliced or diced
1/3 C pecans (or other nut/seed)
For the Chickpea Spice:
2 tsp cumin powder
2 tsp coriander powder
1/4 tsp chili powder
1/4 tsp paprika
Pinch ground cinnamon 
For the Salad Dressing:
2 T avocado oil (or olive oil)
Juice of one lemon (~2 T)
2 tsp honey (or 2-3 drops liquid stevia)
Salt & pepper, to taste
Warm a large pan over medium-high heat.
Add chickpeas and spices, stirring to distribute evenly.  Once coated and warmed (~3-4 minutes), drizzle a bit of oil over the chickpeas and toss to combine.  Stir the chickpeas and adjust seasonings as desired.  Cook 2-3 mins more to saturated with flavor.  Remove from heat and set aside.
Meanwhile, in a small bowl, whisk together salad dressing ingredients.
Place kale pieces in a large mixing bowl and drizzle with dressing.  Use your fingers to massage the dressing into the kale leaves for 1-2 mins, then set aside.  The kale will soften as it marinates.
Toss the kale with seasoned chickpeas, and top with apple pieces and pecans.  Optional add-ins include: chopped boiled egg, sliced avocado, or goat cheese.
Makes 4-6 servings.
---
How have you enjoyed making co-workers, friends, or family stare with strange but good creations this week? The link up rules can be found here or by clicking on "Strange But Good" in the menu bar above. In short, I want to see what concoctions have earned you weird looks from co-workers, family and friends! Post your Strange But Good creations, grab the logo below for your blog, and link up here.
Remember to use #strangebutgood in any Tweets and Instagrams of your creations. 🙂



***
I'm still grinning like a cheshire cat.
What is your favorite fall produce item?
Have you ever entered a recipe contest?  This was my first!