Guys.  Oprah is vegan-ish.
Did everyone see Oprah's vegan episode yesterday?  Everybody and their brother has written about it, so I'll spare you.  In case you missed it, Angela @ Oh She Glows did a great recap.  You can also watch clips online.
I'd make fun of her… but I realized that I, too, am a vegan-ish individual.
No joke.
If you look at what the majority of my diet consists of nowadays…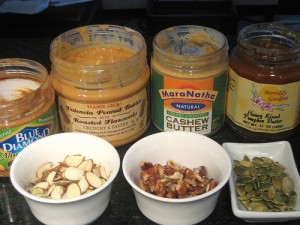 Mostly veggies, fruits, nuts, beans (I always hated beans?!), tofu/tempeh, almond milk…
You'd peg me for a big, scary vegan.
Then again, I will have the occasional piece 'o chicken.
Some eggs on the weekend.
My love affair with Atlanta Farm Fresh Greek-style yogurt is never-ending.  Watch your fingers!
However, I would say that I am about 85% vegan.
One of the complaints by Oprah staffer's what that it is difficult to find food you can eat.  For me, that is part of the fun.  It's not difficult so much as an opportunity to be more creative in the kitchen (and you know I like that).
This "difficulty" has made me more aware of how I fuel my body.  I now think – really think – before I eat.  Would a $15 10 oz. burger be good?  Yes.  With fries?  Yes, please.  Does it make sense for me to eat that when I have a fridge full of veggies, the making of chickpea patties, and a hard workout on the horizon?  No.
Once I get chopping on my fresh foods, I'm actually more satisfied with with my own creation.  And I had fun making it.
Yep – that's my sick idea of fun.
It works for me. 🙂
---
Three cheers for being vegan-ish!
How about cheering with a spicy vegan… smoothie?
Spicy Chocolate Smoothie
1 scoop cookie dough flavored whey protein
1/2 c unsweetened chocolate almond milk
1/3 c water
1/2 tsp vanilla extract
1/4 tsp cinnamon
1/8 tsp ginger
1/8 tsp nutmeg
1/8 tsp chili powder
Shake of salt
Handful spinach
Ice, to taste
Put it in a blender, give it a whirrrr, and enjoy!