Universally good food.
The stuff you'd eat regardless of your "diet."
I'm really excited to be able to participate in Heather's Meatless Monday's A-Z!  I'm almost as excited to use this month's ingredient, nutmeg, in one of my go-to universally good breakfast foods: TVP oatmeal.   I still ate it on my "break" from my nutrition plan!  Translation: it's really, really good.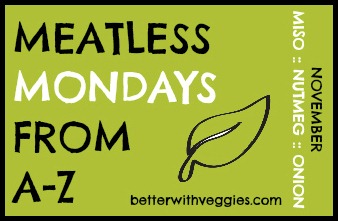 Nutmeg is one of my favorite "winter" spices.  I say winter because it has such a warm quality to it.  the smell of it brings to mind spiced desserts, fireplaces, and red wine.  (Ok, ok… I think of red wine no matter what.)
I prefer to use freshly grated nutmeg.  I always recommend keeping fresh spices on hand because they store longer and are more flavorful.  Whole nutmeg can be found in the spice section of your grocery store.  It looks like a little round nut.  All you need is a microplane and you have fresh nutmeg to top your dishes.
Squash takes a little time to roast, so I didn't want to spend any more time making the TVP oatmeal.  Yes, I realize this is extreme laziness and I could have been making them simultaneously.  Something good came out of my laziness – the discovery that TVP can be cooked in the microwave like oatmeal.
After a quick cook in the microwave, I stuffed my squash and popped it back in the over to brown a bit on top and allow some of the spices from the TVP to soak into the squash bowl.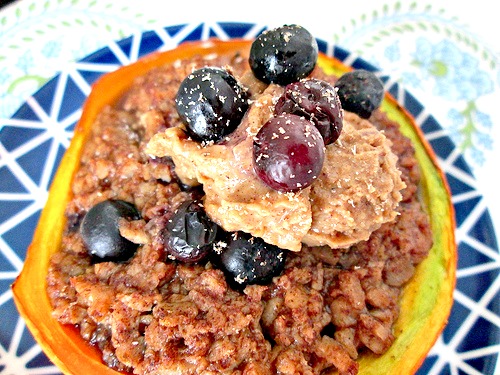 If you like fruit in your "oatmeal," you can stir in your favorites before putting the stuffed squash back in the oven.  I stirred blueberries into mine – I love the way they burst in your mouth when they are hot.
I also grated a little extra fresh nutmeg on top for the picture an added punch of flavor.  Annnnd… I had to top the whole thing with peanut butter.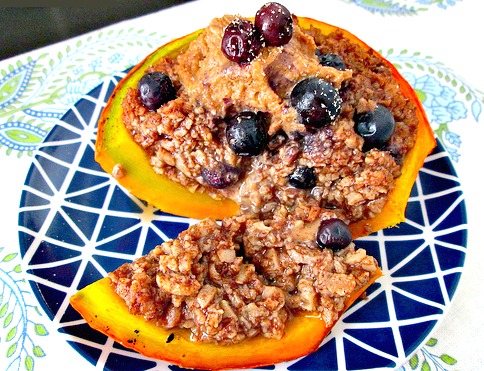 This also makes for a fabulous brinner.
---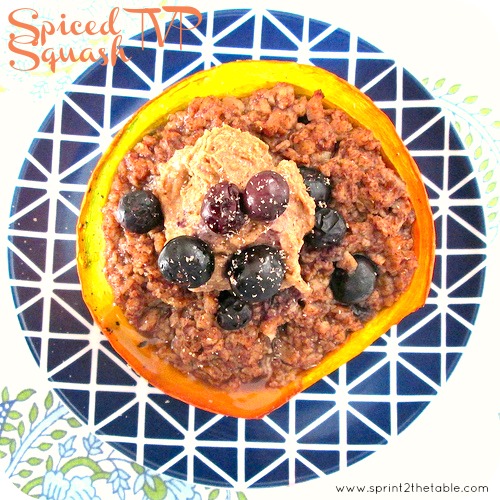 Spiced TVP Breakfast Squash
1 Kiri squash (or other small squash)
1/2 C TVP
1 C water
1 tsp vanilla extract
1 tsp cinnamon
1/4 tsp ginger
1/8 tsp nutmeg
5-6 drops liquid Stevia
Optional: fruit to stir into or top TVP (I used blueberries)
Preheat oven to 350.
Cut squash in half and gut (remove seeds).  Place on a baking sheet , cut side up, and roast until tender (~15 mins),
Add TVP and water to a medium-sized bowl.  Make sure the bowl is big enough because – like oatmeal – TVP will explode in the microwave.  
Microwave for ~2 mins, until tender.  Allow to rest and soak up any remaining water before stirring in vanilla and spices.
Remove squash from oven.  Stuff with the TVP mixture (stirring in fruit, if desired) and return to oven for ~5 mins, until slightly browned on top.
Place on plates and add toppings of choice.  I topped mine with a dusting of  fresh nutmeg, blueberries, and peanut butter.
Note: If you're sensitive to soy, this would also be good with regular oatmeal in place of the TVP.
Makes 2 servings.
***
Speaking of Heather… I get to see her on Friday!  This week is going to draaaaag. 
Have you tried TVP oats yet?
What is your favorite "winter" spice?