I don't want to run.
At all.  
This frigid, icy weather has taken a toll on my workout motivation.  Yet I did.
Want to know the secret steps to success when you're held captive by the weather?
Make a plan – mine was a incline interval run
Write it on a piece of paper
Get dressed in workout gear (it helps you commit to going!)
Get on the "dreadmill" WITH the written plan in front of you
Promise yourself that if you go 10 mins and still feel terrible, you can stop
Promise yourself a giant spaghetti squash dinner and a glass of wine
Wait for about the 8 min mark
Motivation/resolve sets in. At this point you realize you will go the full time and survive.
I have no idea how I got through that one, but I did.
---
Then I ate this:
Thank god for the cleanse and my discovery of Spaghetti Squash Spaghetti.
My derby teammates, the Sake Tuyas, are having a sleepover this weekend.  Everyone is bring a dish and the theme is Mexican.  Because I am crazy, as I was laying in bed last night I was contemplating the possibilities (doesn't everyone lull their self to sleep thinking about food?).  Then it hit me.
When I made these Black Bean Brownies, I thought I had hit the jackpot.  But… no. There's something better out there.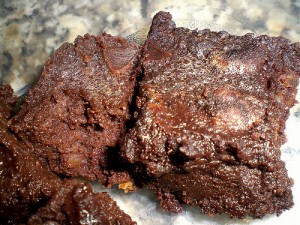 Black beans are in (I think) every taco at Moe's (clearly an authentic Mexican specimen).
This alone qualifies them for the potluck.  But why stop there?
Amp it up and add some spicy-goodness!  The addition of cinnamon and spice and everything nice adds a depth of flavor that is not to be missed.
Protein-rich, fudgy brownie with ~150 calories per serving (less than the original since I reduced the sugar and egg). Does it get any better?
---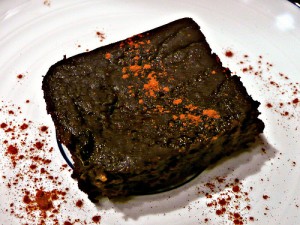 Mexican Black Bean Fudgy Brownies
3/4 C cocoa powder
1/2 C salted butter, melted
1/2 C applesauce (unsweetened)
15 oz canned black beans (1 can, drained and rinsed)
1 C walnuts (chopped)
2 tsp vanilla
1 T instant coffee
1 1/4 tsp roasted ground cinnamon
1 tsp ancho chili powder
3/4 tsp cayenne powder
Shake of kosher salt
3 eggs
1 C light agave nectar
Preheat the oven to 325° F.  Prepare an 11 x 7 in pyrex dish by lining with parchment paper or lightly oiling with Baker's Joy/Pam/butter/etc.
In large bowl, mix together melted butter, applesauce, and  cocoa powder until combined.
Place the beans, 1/2 C of walnuts, vanilla extract, and 3-4 spoonfuls of the cocoa mixture into a food processor.  Blend until smooth (~ 1 min).  It will be very thick.  Set aside.
Add to the cocoa mixture the remaining 1/2 C walnuts, instant coffee, cinnamon, chili powder, cayenne, and salt and mix well.  Add bean mixture to cocoa mixture, manually stirring until well blended.
In a medium-sized bowl, beat the eggs with a mixer until light and creamy (~ 1-2 min).  Add agave nectar and beat well.  Fold the egg mixture (reserving 1/8 C to drizzle over top if desired) into the bean and cocoa mix until just combined.
Pour the batter into prepared pan.
Bake for ~45 mins, until the brownies are set.  Cool completely in the pan before cutting. You may need to refrigerate first – these are extremely soft.
Optional: Sprinkle top with a mixture of cinnamon, chili powder, and powdered sugar.
***
Now to do a quick core workout before bed.  If I can just get started…
What are your secrets to motivation for a bad-weather workout?