What's better than cake balls?  
Cake balls with bubbly!
These Sparkling Cake Balls are made with sparkling wine, cake mix, white chocolate, and frosting.  They couldn't be more simple… or more impressive!  They're the perfect add to any holiday potluck.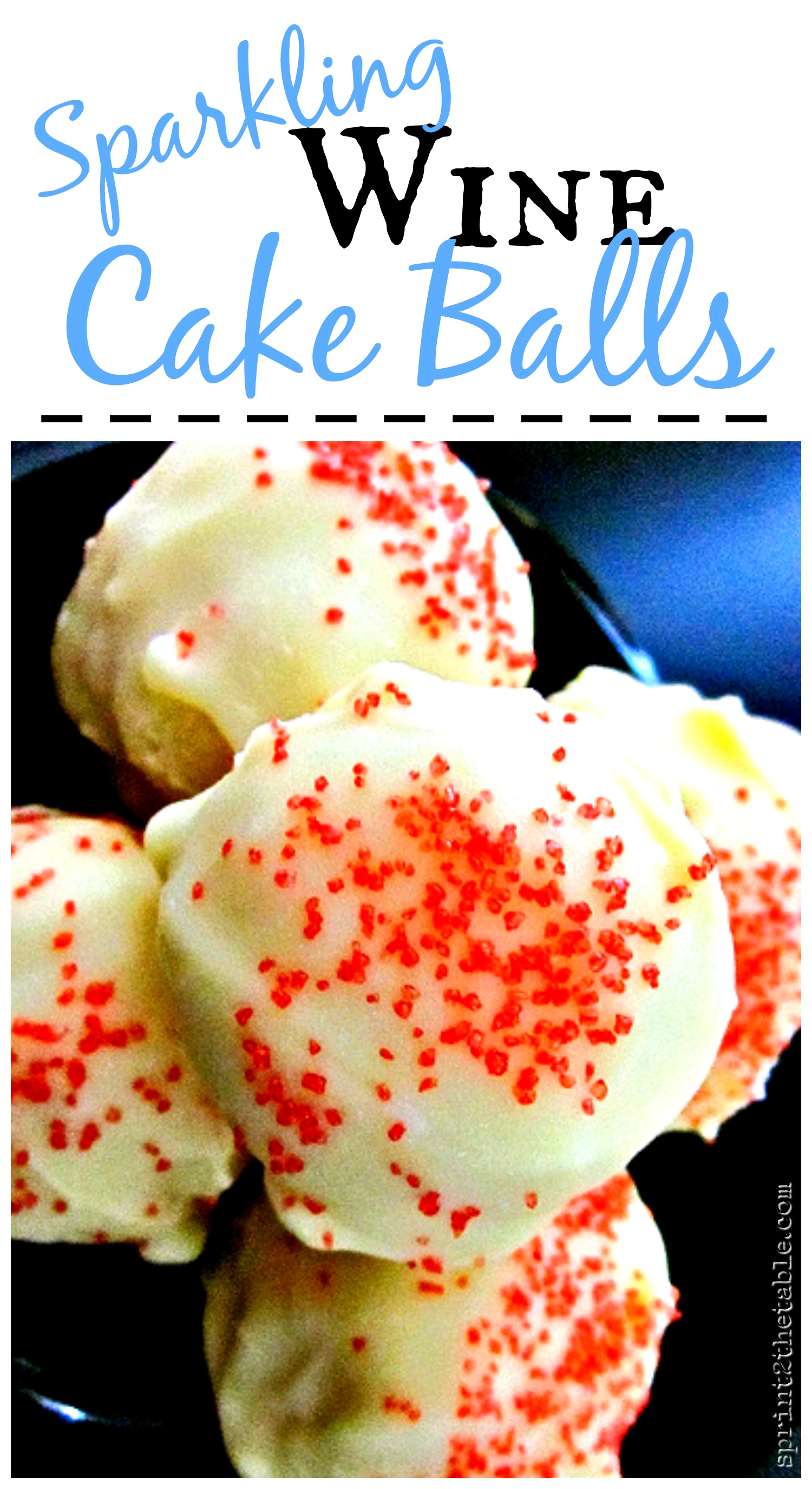 In the event that you don't know me… I like grape juice.  The fermented variety.  For proof of this, check out the Italy wine tour posts:
Traditionally I am a red wine girl (that dessert is coming, don't you worry), but I felt that cake balls required a little something to class them up.  Prosecco.  Keeping it Italian.
Cake balls have been all the rage for the past year.  They didn't impress me much until I saw a recipe for champagne cake balls of my brilliant blog-friend Jenny's site – check her balls out over at Vintage Sugarcube.
The premise is easy: 1 box of cake mix + 1 cup of bubbly.   All you have to do is mix, bake, cool, and crumble.
Here's where I got carried away inspired.  The next step is typically mixing 1/2 cup of store-bought frosting with the cake crumbles.
That's not enough bubbly!
So I made frosting.  With more Prosecco.  Inspired by this red wine frosting I learned about from a new friend (and talented baker) at the Foodbuzz Festival, Maissa @ Butter and a Pinch of Salt.
These beautiful bubbly balls (don't you love alliteration?) are like eating dough.  The icing makes them impossibly moist and the white chocolate coating adds the right amount of sweetness – not too sweet, not to blah… juuuuust right al la Goldilocks!
And I don't even like white chocolate.
My co-workers seemed to enjoy them  I took this plate to work today for our office's Thanksgiving Potluck.  I came home empty-handed, but +1 holiday baking order.  My first commissioned dessert!!!
Added bonus: being able to text my mom to tell her my balls were a big hit at work.
That's right.  This holiday season I will specialize in Sparking Balls.
---
Sparkling Wine Cake Balls
30BALLS
adjust servings
Ingredients
For the Cake
1

box white cake mix

1

C Prosecco (or other sparkling beverage)

1/2

C Prosecco frosting (see below for recipe)

1

C melted white chocolate
For the Icing
1

C + 2T Prosecco

3

C confectioners' sugar

1

C (2 sticks) salted butter, softened
For the Cake
For the Frosting
For the Ball Assembly
Instructions
Preheat oven to 325 degrees.
In a large bowl, mix together the cake mix and Prosecco.
Bake according to box instructions. Allow to cool completely.
Meanwhile, prepare the frosting.
Pour 1 cup of the sparkling wine in a small pot over med-high heat and reduce to 1/4 cup. Remove fro heat and allow to cool completely.
In a large bowl use a stand or hand mixer with the whisk attachment, blend the butter and sugar until fluffy. Start out on low and then move to high speed to prevent a huge mess.
Slowly pour in the cooled reduction, scraping down sides as necessary. Add the remaining 2T of Prosecco and beat until thoroughly mixed.
Crumble the cooled cake into a large bowl. Add 1/2 cup of frosting and stir to combine (feel free to use your hands).
Roll into balls approximately 1T in size. Place on wax paper-lined cookie sheet and allow to chill in the fridge.
Once chilled, melt 8 oz white chocolate (I used Baker's) and dip cake balls until covered.
Dust/roll in sprinkles, if desired, before chocolate hardens. Return to refrigerator on wax paper lined cookie sheet to harden.
***
Sometimes I title images in posts to make myself laugh… does anyone ever hover over them?
Have you ever made cake balls?
Do your office potluck turn out well or full of store bought stuff?