These past few days have FLOWN by.
I can't believe that we land in the States tonight!  
Like all good vacations, I am sad to leave but excited to get home and share all of the fun stories, pictures, and FOOD with everyone. 🙂
Today's post comes from Meg @ A Dash of Meg.  This girl is one of the sweetest bloggers I know.  She's one of those people who you interact with once and feel like you've known forever.  She also has a knack for writing post at just the moment I need it.  When I found out I tore my ACL a couple of weeks ago, Meg wrote this amazing post on the importance of REST (something I suck at).  Today in her guest post she shares a veggie-based recipe that is light a refreshing.  Just what I'm craving after a week of gluttony travel.
---
Hello!
I'm Meg and I blog over at A Dash of Meg.
I blog about my daily life, but I also share a bunch of tasty recipes and heart-pumping workouts too. 😉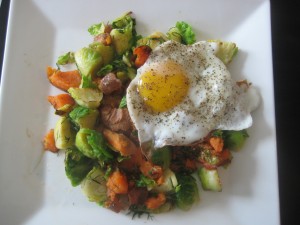 If you'd like to know more about me check out my About page on my blog!
Creating new recipes is one of my all time favourite things to do, so I thought it would be a great idea to share a recipe with all of you today that I created last year, but have not shared with anyone yet!  Think of it as a secret treasure that I have been keeping all to myself until now 😉
Now that it's spring (almost summer!) though, it is definitely time for this recipe to be revealed!  It's fresh, light, and totally addictive.  I hope you enjoy and make it over and over!
---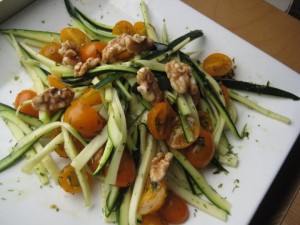 "Spaghettied" Zucchini and Walnut Salad
Salad:
1 medium zucchini
1 10 oz. container grape tomatoes, halved
¼ cup walnut halves
Dressing:
There are two different options for the dressing
Option 1:
½ TBSP fresh dill, chopped
1 TBSP walnut oil
salt and pepper to taste
Option 2:
I have made the salad many times. Sometimes using dressing option 1 and sometimes option 2; both are fantastic
Slice zucchini with mandolin into spaghetti-sized pieces. Combine all ingredients into bowl and toss with dressing of your choice.
Makes 2 servings.
This recipe is simple, definitely not as exceptional as any of Laura's recipes (Editor's note: Whatever!  Simple, fresh veggie recipes are the best.), but I certainly do hope you give it a try I'm sure I will be making it quite frequently this summer!
Thanks for having me Laura! It's been fun 😉
Meg xoxo
***
I can't wait to get home and try those out – I love using zucchini as pasta and, after all of this heavy (yet delicious) South American food, I need something light and spring-y.
What are you favorite spring/summer veggies?
Do you use "different" oils such as walnut or avocado?