Childhood favorites are no less delicious as an adult.
I think they get better!  Probably because you understand how decadent they actually are.
My parents got on the healthy train pretty early.  We rarely ate fast food, my mom cooked dinner every night, and – while there were plenty of homemade cookies – we also received apple slices and "ants on a log" as snacks.
Side note: Do you remember ants on a log?  It was celery with PB in the crevice and raisins dotted along the middle.
Anyway, one of my favorite mommy-meals was something called spaghetti pie.  It was literally made in a pie dish.  The "crust" was a mixture of spaghetti, butter, parmesan, and eggs.  There was a generous layer of ricotta, and then it was topped with ground beef and spaghetti sauce (usually Prego).  It was carb-filled, fatty, and delicious.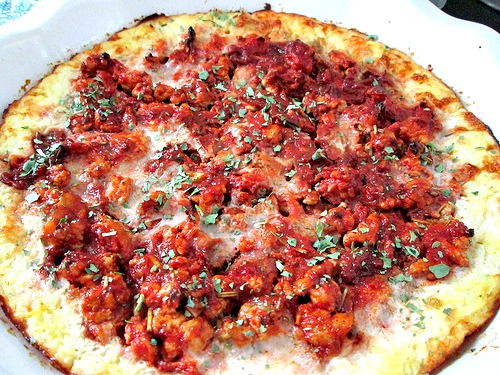 Clearly, this delicacy isn't encouraged on a competition diet.  With all this cold weather I was craving this comfort food classic, so I decided to remake it… in Strange But Good fashion, of course.
This actually wasn't too hard to do.  I used spaghetti squash rather than pasta, and replaced the butter, cheese, and whole egg with egg whites.  The filling is still ricotta, but I chose the fat-free version, adding oregano for extra flavor.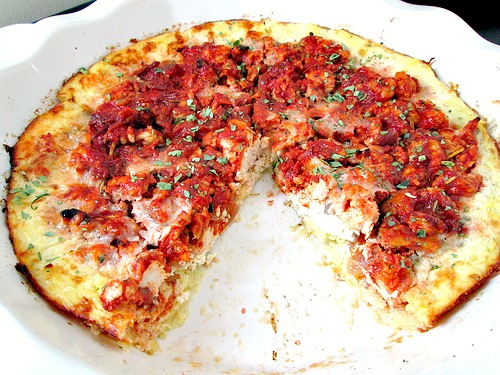 Ground beef is easily replaced with ground turkey.  I sautéed it with red onion, garlic, and a spritz of olive oil for flavor.
My marinara sauce was jarred (sorry, it's been a crazy week!), but I chose a low-sodium, organic option rather than Prego.  I also amped up the flavor by adding fresh rosemary, red pepper flakes, and pepper.  Semi-homemade?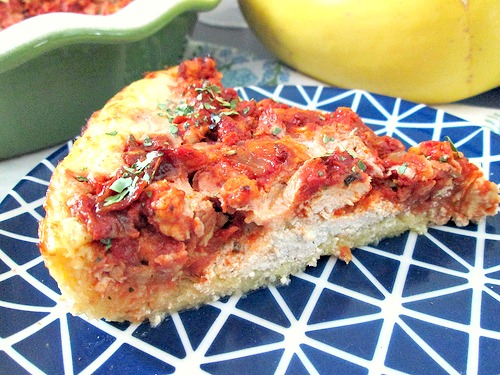 A couple few notes:
I'd love to green it up next time with some spinach  or kale
It would be fantastic with some shredded carrot and/or red pepper
How about a Mexican version?!
As I was bragging about texting pics of my pie to a gluten-free friend, I realized it IS gluten-free!
I think you could SO easily make is vegan!  Replace the eggs with a couple of flax eggs, the ricotta with whipped tofu (like this goat cheeze recipe?), and the meat with vegan ground beef or TVP.  Someone try it and let me know!
---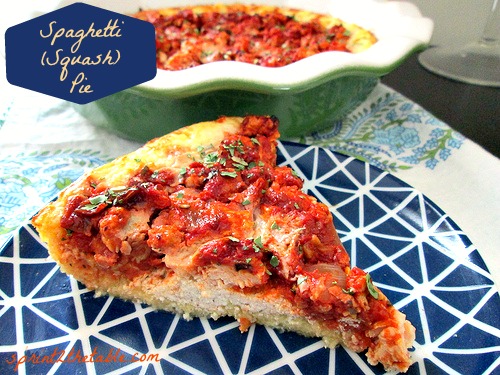 Spaghetti (Squash) Pie
1 small spaghetti squash, pre-cooked (

easy microwave instructions here

)
1/2 C egg whites
1/2 C fat-free ricotta
1 tsp dried oregano
1/2 tsp garlic powder
8 oz. ground turkey
1/4 C red onion, chopped
1 clove garlic
1 C marinara sauce
Optional marinara mix-ins include: red pepper flakes, rosemary, garlic, etc.
Preheat oven to 350 degrees, and prepare a pie dish.
Stir together the spaghetti squash and egg whites.  Pour evenly into the pie dish as the crust (note: this will look too runny, but it isn't – the egg will solidify in the oven).
Mix together the ricotta cheese, oregano, and garlic powder.  Arrange evenly over the spaghetti mixture, leaving ~1/4 in space around the edge to preserve the "pie" look.
In a large pan, brown ground turkey with onion and garlic (can also use olive oil).  Add marinara sauce and any additional flavors, allowing to cook over medium until warmed (~6-7 mins).
Evenly pour the turkey and sauce mixture on top of the ricotta layer in your pie dish.
Bake uncovered for ~45 mins, or until most of the "jiggle" is gone.
---
So what's strange but good in your life lately?
The link up rules can be found here or by clicking on "Strange But Good" in the menu bar above.
In short, I want to see what concoctions have earned you weird looks from co-workers, family and friends!  Post your Strange But Good creations, grab the logo below for your blog, and link up here.

Remember to use #strangebutgood in any Tweets and Instagrams of your creations. 🙂
***
This inspired me to bust out my old recipe book – let the #strangebutgood healthifying begin!
Have you ever had spaghetti pie? Ants on a log?  I was shocked at the Instagram comments earlier this week!
What is the strangest thing you ate as a child?