I'm full of good ideas.
Or maybe just ideas…
We had leftover spaghetti and bison red sauce from when Vegas cooked the other night.  I wasn't about to eat it like a "normal" person.  Surprised?
I decided they'd be great as fritters if I added zucchini noodles and some egg to bind it.  A bit strange, but really when is pasta and sauce not good?
It was brilliant until they didn't bind.  I tried adding some cheese, but it was the hard kind not the melty kind.  I'm pretty sure it would have worked with mozzarella though.
They weren't the sturdiest of fritters and I'm out of leftovers to try it again this week… so no real recipe.  For the record, leftover spaghetti mixed with egg, zucchini, and some cheese before warming in the skillet tastes good whether it binds together or not.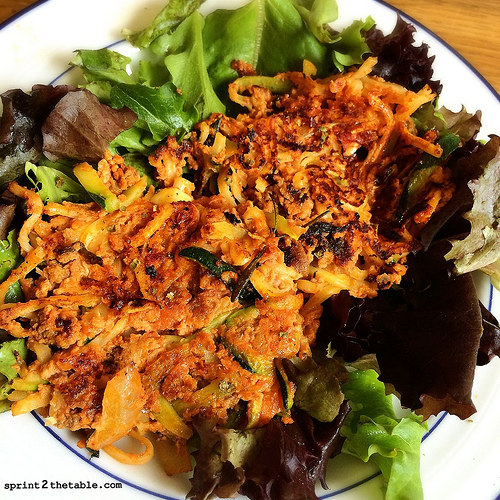 ---
How have you enjoyed making co-workers, friends, or family stare with strange but good creations this week? The link up rules can be found here or by clicking on "Strange But Good" in the menu bar above. In short, I want to see what concoctions have earned you weird looks from co-workers, family and friends! Post your Strange But Good creations, grab the logo below for your blog, and link up here.
Remember to use #strangebutgood in any Tweets and Instagrams of your creations. 🙂



***
If you want an actual #strangebutgood recipe, check out these Blood Orange Avocado Scones.  I'm making them today for breakfast this weekend!
When was your last kitchen fail?  
Does it count as a fail if it still tastes good?