Today's recipe takes a minute.
About 50 minutes, actually.
Getting home from work on Tuesday during Atlanta's "big" snow storm took a minute too.  Here's how I meandered my way home:
Leave work when snow starts. Sit in traffic for an hour.  Enjoy a snack.
Abandon car in a parking deck and take public transport (MARTA).
Arrive at station by house, thankful for my boots with the fur.
Detour through the gym for a shoulder workout.
5 hours later, get home.
Even after a long commute, I promise that this gratin is worth the minute it takes to put together.  It makes 9 servings, so it's like the gift that keeps on giving.
Cold weather always makes me crave tomato sauce.  This dish uses fire-roasted tomatoes and garlic to liven up the spaghetti squash and cauliflower.  I added a healthy amount of cayenne, but you can adjust to your liking.  Just don't skip the cinnamon – it's not over-powering.  A dash of cinnamon simply adds to the richness of any tomato-based dish.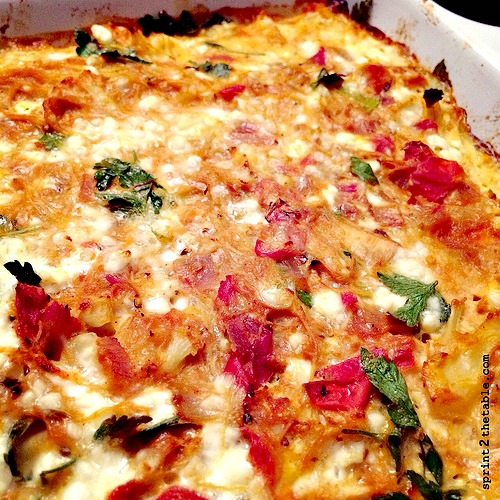 The cottage cheese and egg mix is poured over the top and oozes down through the veggies.  Once baked, the egg binds the dish, and the cottage cheese melts around the spaghetti strands.  Let it cool before slicing into squares.
It's a healthier version of gratin!  If you're hosting a Super Bowl gathering this weekend, it could be pre-sliced and served on a tray to guests.  By contributing a dish, you know you'll have a healthier side option.
Looking for other Super Bowl Ideas?  I'm finally joining Lindsay's Pin it Party!  Check out a few of my favorite party-food links, then visit Lindsay's blog for some more pin-able fun.
Super Party Foods
______________________________________________________________________________________

Spaghetti Squash & Cauliflower Gratin
Adapted from this NY Times recipe.
1 medium-size head of cauliflower
1 small spaghetti squash (~2.25 C)
1/2 C red onion, diced
4 garlic cloves, minced
1 can (14.5 oz) can diced tomatoes (I used Muir Glen Fire-Roasted)
1 tsp oregano
1/2 tsp turmeric
1/2 tsp cumin
1/4 tsp cayenne
1/4 tsp black pepper
1/4 tsp cinnamon
1/4 C egg whites
1 egg
1/2 C salt-free cottage cheese
1/4 C freshly chopped parsley
Preheat oven to 450°F.  Line a baking sheet with foil and set aside.
Cut away the bottom of the cauliflower stem and trim off the leaves.  Cut cauliflower into 1/2 inch thick slices (it will fall apart a bit – don't worry).  Spread evenly across baking sheet, and spray lightly with olive oil.
Roast for 20 minutes, flipping halfway through.  Cauliflower should be nicely browned. Remove from oven and set aside to cool.  (you might to chop some of the biggest slices).
Meanwhile, prepare spaghetti squash.  Cut the squash in half (can soften in microwave first).  Remove the seeds.  Place in a glass baking dish, cut side down, in about 1 in of water.  Microwave for 7-8 minutes, or until shell is tender when pierced with a fork.  (You can also do this in the oven at 350 for about 45 mins.  I thought the microwave worked fantastically.)  Remove the flesh with a fork and place in small bowl.
Spray pan with olive oil and warm over medium heat.  Add onions and cook until soft (~5 mins).  Add garlic and cook until fragrant (~1 min).
Add tomatoes and spices to pan.  Stir to combine and bring to a simmer.  Chop cauliflower into small-ish pieces and add to pan.  Add spaghetti squash.  Toss everything together.
Prepare an 8×8 baking dish with cooking spray or a bit of olive oil. Spread cauliflower mixture into it, spreading evenly.
In a small bowl beat together eggs and cottage cheese. Pour over cauliflower mixture.
Bake in the oven for 25-30 mins, until top begins to brown.  Remove from the oven and allow to sit ~10 mins to solidify before serving.
Makes 9 servings.
Approximate nutritionals: 64 calories, 1g fat, 148.1mg sodium, 9.5g carbs, 2.3g fiber, 4.3g sugar, 5.2g protein
***
The bad part about being an adult is that snow days are really just work from home days.  Boo.
What's your favorite cold weather dish?
Have you ever had to abandon your car somewhere?