Getting out of bed is the hardest part of going to Saturday morning practice.
I got out of bed at 7am.  I don't get up that early for work.
At 8am this morning we began a 3 hour derby practice.  SO glad I woke up.
A couple of amazing guest skaters – Rice Rocket and Varla Vendetta – were in town to lead a workshop.  I'm not gonna lie – I was derby crushing. We learned some new drills and were able to do a quick scrimmage with our teams.
Then – because I am extra crazy – I came home and ran 3 miles.  In 26 minutes!!!  This is pretty fast for me.  It is freezing outside and I think my body was just trying to get warm. 🙂
I love a souper-motivated Saturday.  I also love Souper Jenny.  Jenny makes creative, tasty soups fresh daily, along with salads and a couple of sandwiches.   I have been known to:
Drive 30 miles from my old office to eat there for lunch
Save her daily email menus to remember a particularly interesting flavor combo
Completely change my plans to eat dinner there on Thursdays for Grilled Cheese Night
All this to say that I finally attempted my own soup.
(I did make the Butternut Squash Apple, but I'd read like 40 recipes first.  This one I just went into the kitchen and threw stuff together. 🙂  )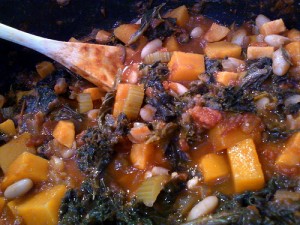 It isn't half bad.  In fact, it is pretty damn good!
Perfect for lunch after a frigid run.
---
White Bean, Butternut Squash, and Kale Soup
EVOO
1 yellow onion, chopped
2 jalapenos, chopped
3 cloves garlic, minced
1 C (1 can) vegetable broth
3 C chopped tomatoes (I used Pomi)
1 C (1 can) cannellini beans
3 celery stalks
1 sweet potato
1/2 medium butternut squash
4 C kale
3 stalks fresh rosemary (~3 T)
1 T fresh lime juice
2 tsp paprika
1 tsp red pepper
1 tsp roasted cinnamon
S & P to taste
Chop all veggies into bite-sized pieces.  In a large pot, heat EVOO over medium heat.  Add the onion and jalapeños.  Saute 6-7 mins until onions are translucent and soft.  Add in garlic and cook for another 1-2 mins.
Add in sweet potato, butternut squash, and celery.  Stir to combine with the saute mixture and allow to cook for 10-15 minutes.
Pour in the vegetable stock, chopped tomatoes, and spices.  Bring to a boil.  Add beans and kale to the soup.  Stir to combine, reduce the heat to a simmer, and cover pot with the lid slightly ajar to let steam escape.  Simmer for 15-20 minutes.
Salt & pepper to taste.  If you like a thinner soup, add water or more stock and adjust spices.
Makes 5 servings (1 cup each).
My creation has approximately: 250 calories, 6 g fat, 42 g carbohydrates, 12.5 g fiber, and 10 g protein.  It is also rich in Vitamins A and C.
***
My favorite thing about soup?  It is souper (I know I know… I'll stop) filling and can easily be made nutrient-rich and low-cal.
What is your favorite soup creation?