TGIF!!!
This has been quite the week: busy at work (could have done without the early mornings though), great workouts, and checking off the "to-do" list.  Whew.
Between this week's P90X legs DVD, softball, elliptical, and last night's derby practice, I have finally made my legs SORE.  Typically I have a hard time getting enough of a challenge to make my legs or my abs sore.  A 30 min ab class at Gravity Fitness tonight should seal the deal for me.
Baby Sis and I have the Gobble Jog 10K coming up on Thanksgiving (can you believe it is next week?!), so I will probably do a couple 3-5 mile runs between now and then.  I don't want to over-do it since I have another trainer appointment and will go to 1-2 derby practices next week as well.
As of this morning, my cousin, mom and I have an email chain going to discuss the T-giving menu.  It involves: roasted chicken(s), butternut squash, wild mushrooms, Kentucky Derby pie, chocolate torte, and homemade peppermint ice cream.  Must.  Stay.  Calm.
I will be really annoyed with myself if I un-do all the good I am doing with the SP Cleanse (it ends on Tuesday).  There, I said it publicly.  You don't have to eat everything you see, Laura.
Interesting fact: The state of New York officially made Thanksgiving Day an annual custom in 1817.
________________________________________________________________________________________
The thing about a diet consisting of mostly fruits and veggies is that it lacks a certain crunch.  The crunch you get from a crusty bread and a potato chip.  Or nuts!  Have I mentioned how much I miss nuts?
I have made flax crackers.  Those were good, but since they sit in the oven overnight they require some planning.  If you want something NOW, you need a chip.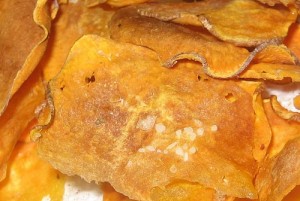 Specifically, a sweet potato chip.
Using a mandolin to slice the potatoes allowed me to get a really thin, crisp chip (like my favorite – Lays).  It also allowed me to shave some unnecessary skin off of my thumb and pinkie.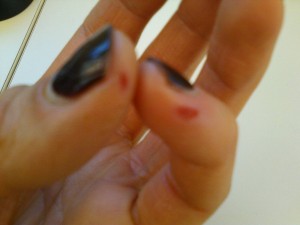 Important Lesson Learned: Use the safety thingy they provide to hold the item you are slicing.  It isn't just there for looks.
________________________________________________________________________________________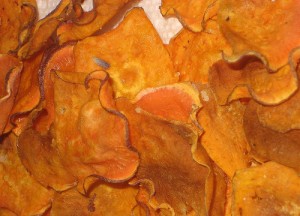 Sweet Potato Chips
2-3 large sweet potatoes
Olive Oil
Salt
Preheat your oven to 400 degrees.
Once you have your thinly sliced sweet potatoes, lay them out on a baking sheet (you don't need a lot of space between slices – they are going to shrink up when you bake them).
Lightly coat them with EVOO (I used the spray-on kind – super easy) and dust with sea salt or good flaky salt (pink Himalayan was delish).
Bake for 3-4 mins, flip, and back 2-3 more mins.  ***Watch them closely – they burn quickly and baking time varies depending on thickness and your oven***.
Remove from the oven and sprinkle with any additional toppings.  Allow to sit uncovered for at least a couple of hours so they can fully dry and achieve a good crunch-level.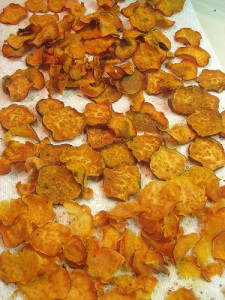 Some toppings I used in various combinations:
Cinnamon
Cumin
Cayenne
Lavender sea salt
Basil sea salt
My favorite were the cinnamon-topped.  The basil sea salt were a close second.
Note: If they don't crisp up quite enough, you can pop them in the microwave for 20-30 seconds (watch closely so they don't burn).
I made these 3 days ago and they kept really well in a tightly sealed container.  They did not keep very well around Baby Sis and Mom.