I can't stay healthy.
Don't ever age past 30.
We were in at the softball world series last week in Kansas City playing with our old Atlanta team.  First Vegas went down with a hamstring.  Then – because we do everything together – I did mine.  2 weeks before we go to Italy.  I swear these things never happened when I was in my 20s!  Sigh.
In other news, we had delicious BBQ that I ate so quickly I forgot to take pictures of.  There were also breakfasts of Krispy Kreme and Fireball.  #sorryimnotsorry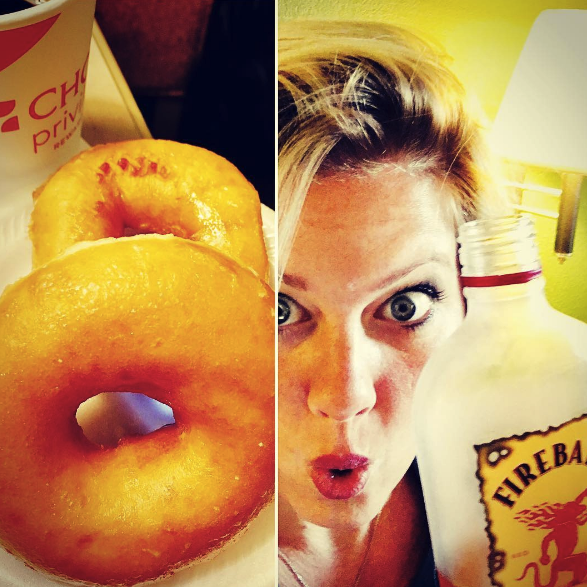 I did manage to get a shot of brunch our last day there.  We found a farm-t0-table place in downtown Kansas City called The Farmhouse.  It was fabulous.  I had a breakfast Old Fashioned (it had some sort of coffee liqueur in it) and a BELT sandwich.  It consisted of bacon, lettuce, tomato, and pesto chevre with an over easy egg.  It did not suck.
Vegas had a Bloody and the Lord Kenzo – two house-made biscuits, cheddar cheese, a pork sausage patty, pork sausage gravy, fried-hard local egg.  I may or may not have eaten half of that.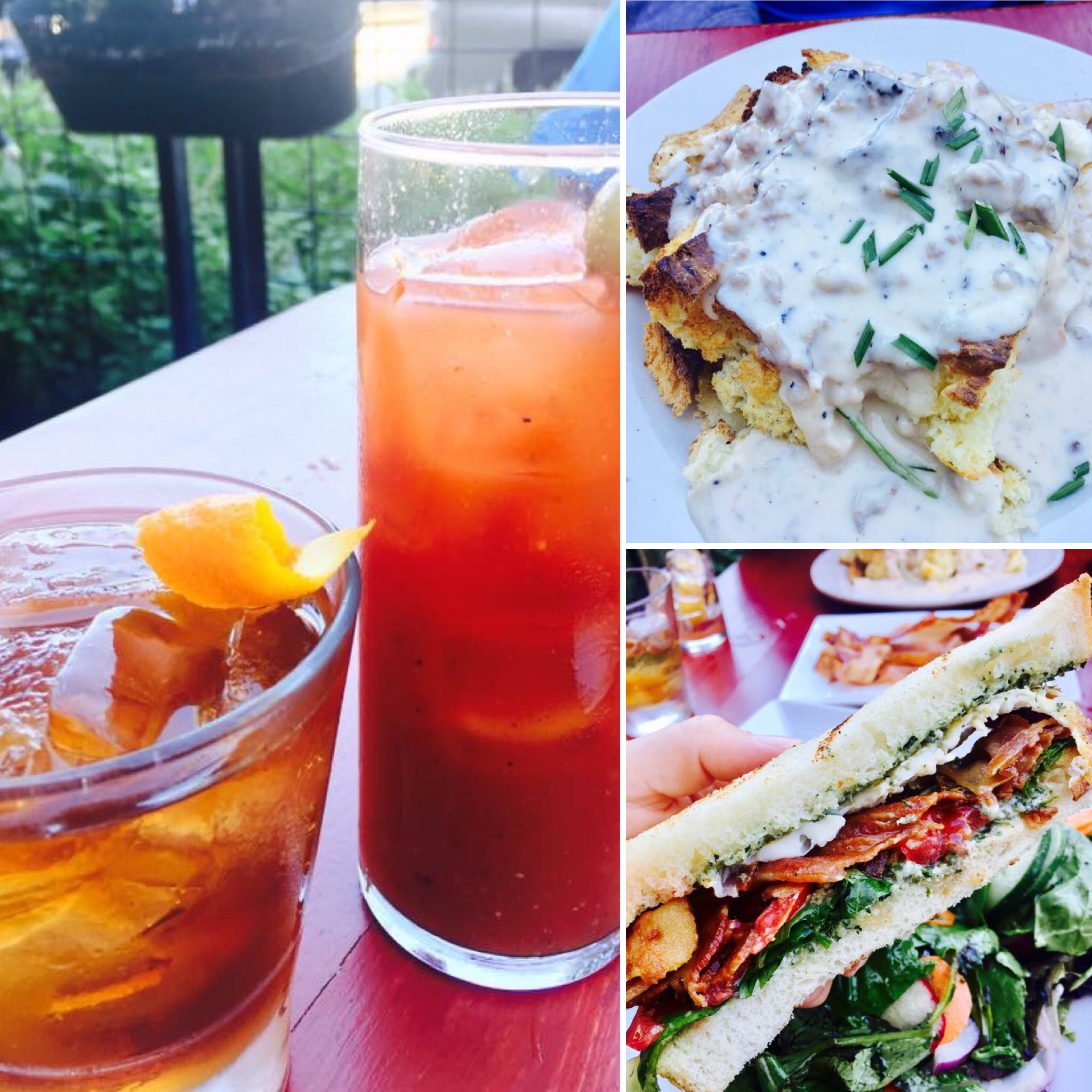 In other softball-related news… we lost most of our games.  We did, however, win the impromptu rain delay-inspired dance off!
This is my team… plus a San Diego team – The Fun Team – that couldn't resist the fun.
Needless to say, Vegas and I were read for some healthier eats and a LOT of sleep when we returned to San Diego Sunday night!  We've decided to go back to the anti-inflammatory diet until we leave for Italy to let our muscles and livers recover.
I was also pretty pumped to come home to this fabulousness from Popsugar. I'm so addicted to these – it's a fun way to try products you never knew you always needed.  Like that felt hat… I'd never have purchased one for myself but I LOVE it!
If you're interested in gifting yourself, get your own box here.  Use the code SHOP5 for $5 off your first box!
---
I give you Monday's day of eats – some from the dregs of the fridge, some post-grocery store.  Read on for my whole day of eats, and link up to Jenn's WIAW baby right here today!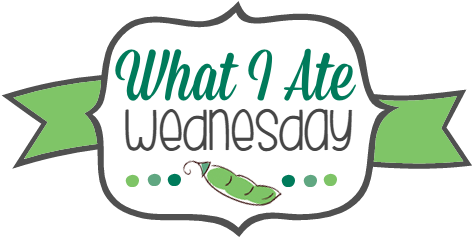 ---
Breakfast:
The usual morning cocktail followed by my vitamin gummies. 
Then we had an "egg salad" for breakfast.
Lunch:
Sizzlefish saved the day!  Or at least the lunch.  I pulled two servings of shrimp out of the freezer – they're really quick to thaw since they're individually portioned – and sautéed them in a pan with a quick teriyaki sauce.
It was basically this recipe, but with edamame and peanuts (leftover from the airplane… waste not, want not!).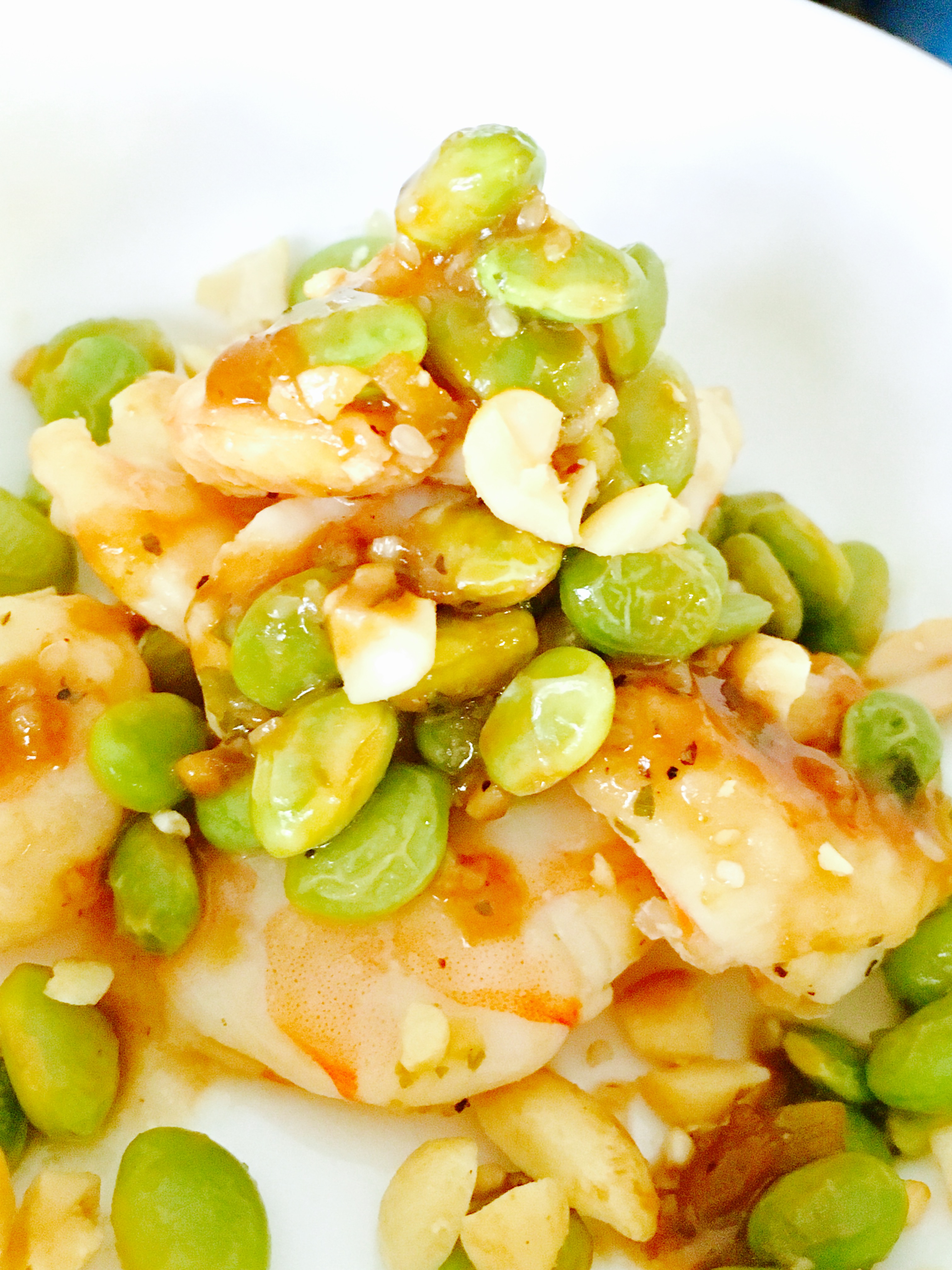 Dinner:
While I marinated the balsamic chicken, Vegas went to work on the grill with a giant pile of vegetables.  We also wrapped up a few potatoes – a purple sweet potato for me and white potatoes for Vegas.
I got a little carried away at the farmer's market earlier in the day with the veggies.  Vegas had the grill FULL of zucchini, asparagus, mushrooms, bell peppers, parsnips, and carrots.
We sat down to feast with a glass of red wine (totally on the anti-inflammatory plan!).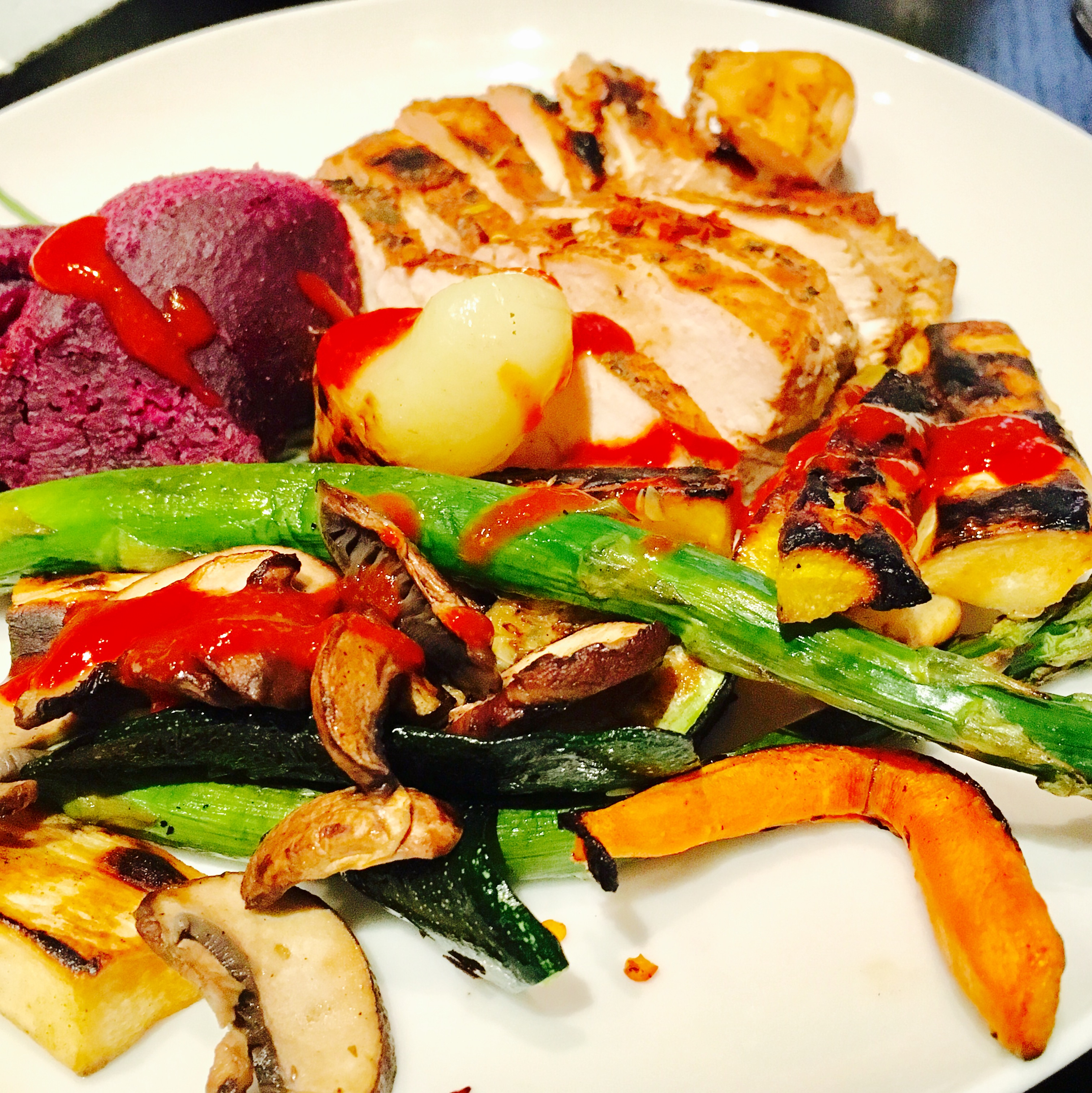 That Balsamic Chicken continues to be a hit in my house.  Even the super-picky baby sister cleaned her plate!


***
This time next week we'll be on an airplane to Italy.  Wheeeeee!
Have you ever played softball?  
Are you a Fireball fan?  I was making fun of it… but it's oddly addicting!