Can you believe it's already Monday?
I'm so tired I almost can't stand it.  Why?  Because I woke up at 2:30am.
Apparently I fell asleep with my phone in my room.  My sheets were still in the dryer, so I crashed on the couch… and when my mom called I didn't hear the phone.  This worried her and when I hadn't gotten back to her by 2am she decided to drive 30 minutes to make sure I was ok pay me a visit.  No joke.
Here's the Top 5 from the weekend:
I stayed at my mom's one night and made these again after a brief hiatus.  She hadn't had them and was skeptical… turns out she loved Zucchini Bread Oats!
2. Sticky Toffee Pudding
I went to a dinner party at my friends Katherine and Giles' house.  Joined by Heather and her husband Kirk, we had a fantastic vegan fest.  My contribution was this Vegan Sticky Toffee Pudding.
Recipe to come soon… I need to take some better pics. 🙂
3. Foodie Penpal
The revel isn't until the end of the month… but my foodie penpal package arrived!  The box she shipped it in got me excited. 
4. PB&J Yogurt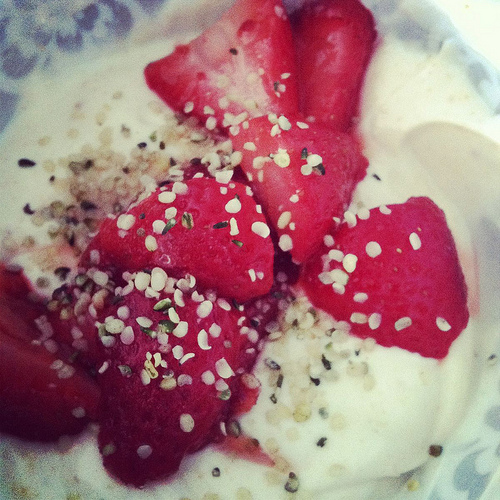 This was is my new love.  How can you go wrong with anything PB&J-esque?  In my yogurt was:
1 C Greek yogurt
1 T peanut flour
5-6 drops vanilla Stevia
1/2 C strawberries
5. Softball Sunday
It was another softball Sunday!   We won one game and lost one.  No split this week though. 🙂
One of my teammates rides a unicycle.  I love this time of year. 
_____________________________________________________________________________________
I thought my knee was cured this weekend when I ran a mile pain-free.  Then I tried for 1.5 the next day and was back in pain… *sigh*
It's more P90X for me.
Workout Recap (4/2 – 4/8):
Monday – This Pinned workout, P90X Chest/Back, Ab Ripper X
Tuesday – This Pinned workout, P90X Yoga
Wednesday – P90X Shoulders/Arms, Ab Ripper X, 100 push-ups

Thursday – This Pinned workout, P90X Kenpo, 100 push-ups

Friday – P90X Legs/Back, 100 push-ups

Saturday – This Pinned workout, 4 mile walk, 1 mile run, Ab Ripper X
Sunday –  1.5 mile run, 2 softball games
***
I'm looking forward to a low-key week.  Knock on wood.
Has your mom ever driven to your house to check on you?
What was the best part about your weekend?