This really needs no intro.
Who needs to explain dessert porn?
Many of you have heard of poutine.  It basically french fries with gravy.  Well… I've always found it to be a bit overwhelming.  I don't love white potatoes or gravy.  I do love sweet potatoes and almost anything sweet.
This is going to sound really strange… but I hand-on-the-Bible swear it's good.
I kept it simple by using sweet potato crinkle fries from the frozen section at Fresh Market.
While they baked, I whipped up a quick peanut butter sauce.  If you haven't had sweet potatoes with nut butter… well, you're missing out on a truly amazing #strangebutgood combo.  Top all that with marshmallows and pop in under the broiler to achieve that crunchy s'more char.
Make this.  You'll be left licking the plate and moaning "I need 'smore poutine!" 😉 .
Wow.  That was corny, even for me.
---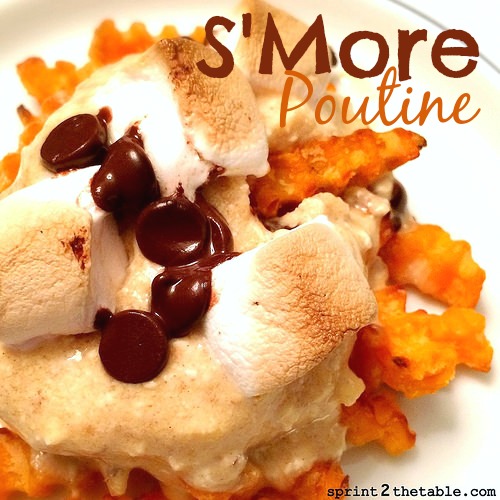 S'Mores Poutine
1 serving sweet potato fries (I used the frozen variety)
Peanut butter gravy (see below)
Marshmallows
Chocolate chips
Peanut Butter Gravy
2 T peanut flour (or nut buter)*
2 T unsweetened vanilla almond milk
1 T pumpkin puree
1/4 tsp cinnamon
4-5 drops vanilla liquid stevia
Bake the sweet potato fries according to package instructions on a piece of foil or parchment.  Meanwhile, mix together Gravy ingredients in a small bowl.
Remove from oven and top with gravy, marshmallows, and chocolate chips.
Return to oven under broil for 1-2 mins.  Watch it closely – it will burn!  Allow to cool slightly before transferring to a plate.
*Note: I buy my peanut flour on iHerb.  You can use discount code USO924 for $5019 off your order.  You could also use protein powder or nut butter here.  If you use regular nut butter you may want to reduce the amount of milk.
---
How have you enjoyed making co-workers, friends, or family stare with strange but good creations this week? The link up rules can be found here or by clicking on "Strange But Good" in the menu bar above. In short, I want to see what concoctions have earned you weird looks from co-workers, family and friends! Post your Strange But Good creations, grab the logo below for your blog, and link up here.
Remember to use #strangebutgood in any Tweets and Instagrams of your creations. 🙂



***
This is going to make for the perfect Labor Day weekend treat.  Bonus points if you have a campfire to toast your 'mallos over.
Have you ever had poutine?
What's your favorite sweet potato topping?