Everyone has a favorite holiday video.  Maybe you watch It's a Wonderful Life each year.  Or Elf (I love the part where he eats spaghetti topped with syrup and candy).
I watch Alec Baldwin's SNL classic: Schweddy Balls.
A few weeks ago I made Cookie Dough Balls (based on Angela's recipe at Oh She Glows).  They were amazing, and I couldn't wait to try out my own interpretation(s).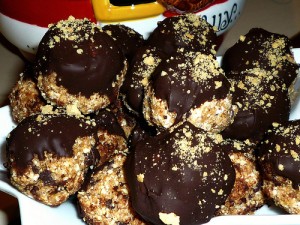 Without further ado…
…in the spirit of tasty balls
…I give you:
S'more Cookie Dough Balls
Dipped in dark chocolate and topped with graham cracker crumbles.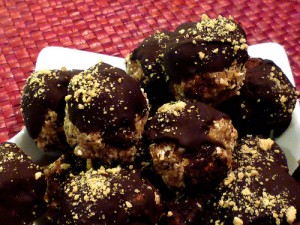 By the time they cooled enough to take pictures, I had lost a couple of balls!
---
S'more Cookie Dough Balls
Prep Time: 30 mins
Keywords: raw dessert gluten-free vegan vegetarian cashews dates chocolate chips oatmeal Christmas healthy winter fall
Ingredients (15 balls)
2/3 C raw, unsalted cashews
1/4 C oats
1/2 C spelt flour (can sub other flour)
1/4 C graham crackers (smashed into a rough crumble)
1 tsp sea salt
3 Medjool dates, pitted and chopped
1 tsp vanilla extract
3 T pure maple syrup
2-3 T marshmallow fluff
2- 3 tbsp dark chocolate, rough chopped
1/3 cup dark chocolate, melted, for dipping
Instructions
Place cashews and oats in food processor until finely crumbled. Add in the flour, graham crackers, kosher salt, and roughly chopped dates. Process until fine.
Add vanilla and maple syrup. Blend until the mixture comes together in a ball. Manually stir in marshmallow fluff. If too crumbly, add more syrup or a tiny bit of water.
Stir in the 3-4 T of chopped dark chocolate. Roll into balls (about 2 tsp in size).
In a double boiler or microwave, melt 1/3 cup of dark chocolate in a small bowl. Now dip each ball into the chocolate and place on baking sheet. Sprinkle balls with crumbled graham crackers.
Freeze for 1 hour or overnight to set.
***
I have to brave the mall to finish some Christmas shopping.  Christmas Eve is like amateur day at the mall… hopefully it won't be too bad yet tonight.
Is everyone else done with their shopping?