I have never eaten a chicken wing.
Gnawing on a bone does NOT appeal to me.
The sauce makes it tempting though.  Yummy, smokey hot sauce.  Why should I have to chew on a bone to get it? A thick bowl of Tabasco-laced chili sounds much more appealing!
The smoked paprika and the Tabasco sauce zing worked really well with the fire-roasted tomatoes.  It gave the chili a campfire feel.  Almost as rustic as gnawing on a bone, no?
You can adjust the amount of paprika and sauce to your heat preference.  If you don't have smoked paprika, you could also add a little liquid smoke.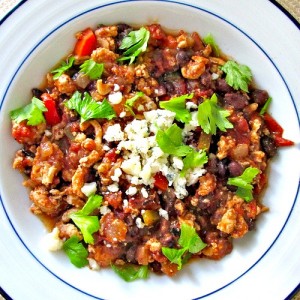 Traditional chicken wings sides of carrot and celery sticks are the main veggies I used in the soup.  I topped it with smokey blue cheese and celery leaves… and a little extra sauce because I do love my heat.
This would also make an excellent vegan chili if you replace the chicken with TVP!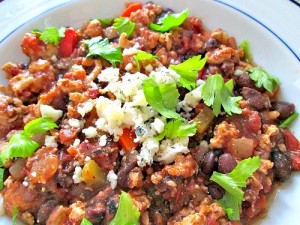 ---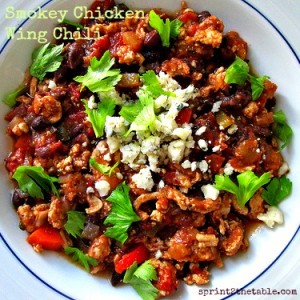 Smokey Chicken Wing Chili
1 lb ground chicken
1 T avocado oil
1 small yellow onion, diced
1/2 cup red pepper, diced
1/2 cup celery, diced
1/2 cup carrot, diced
2 cloves garlic, minced
2 tsp cumin
1 tsp smoked paprika
1/2 tsp oregano
1/4 tsp cayenne
1/4 tsp black pepper
1 bay leaf
1 C no sodium chicken broth
1 (15 oz) can no salt added fire-roasted diced tomatoes
1 (15 oz) can no salt added black beans, drained and rinsed
2 tsp Tabasco sauce (or other hot sauce)
Celery leaves
Crumbled blue cheese, to top
Cook the chicken in a large pot over medium heat and set aside.
Pour oil in pot and allow to warm.  Add the onions, red pepper, celery and carrots.  Cook until tender, ~10 minutes.
Add the garlic and spices, cooking until fragrant, 2-3 mins.
Add broth, chicken, tomatoes, beans, and hot sauce.  Allow to simmer for 30 minutes.
Serve topped with crumbled blue cheese to taste.
Makes 5 servings.
Approximate Nutrition (does not include cheese): 285 cals, 11.6 g fat, 119 mg sodium, 20.3 g carbohydrates, 5.9 g fiber, 4g sugar, 22.9g protein
***
I've also never had a fast food hamburger.  Or a baked potato (can't stand potatoes).
Do you like chicken wings?
Is there a "common" food you have never eaten?