Manhattans are my drink of choice.
Well, that and red wine.
Today we're talking mixed drinks.  If you've ever hung out with me, you know that I am a sucker for a well-made Manhattan.  This Smoked Blood Orange Manhattan is the perfect balance of spiced honey bourbon, citrus, and a bit of smoke.
Stirrings' Blood Orange Mixer gives the drink a nice sweet and citric twist.  That, combined with a hint of smoky orange bitters for depth, makes this a drink you can relax into.  Let's be honest… we're 9 days out from Christmas.  We all need to unwind a bit.  
A traditional Manhattan recipe uses rye; however, I opted for a more mild bourbon in this recipe so as not to take away from the blood orange and smoked bitters.  Using a lower proof bourbon makes this an approachable drink that's perfect before dinner or with light appetizers at a party.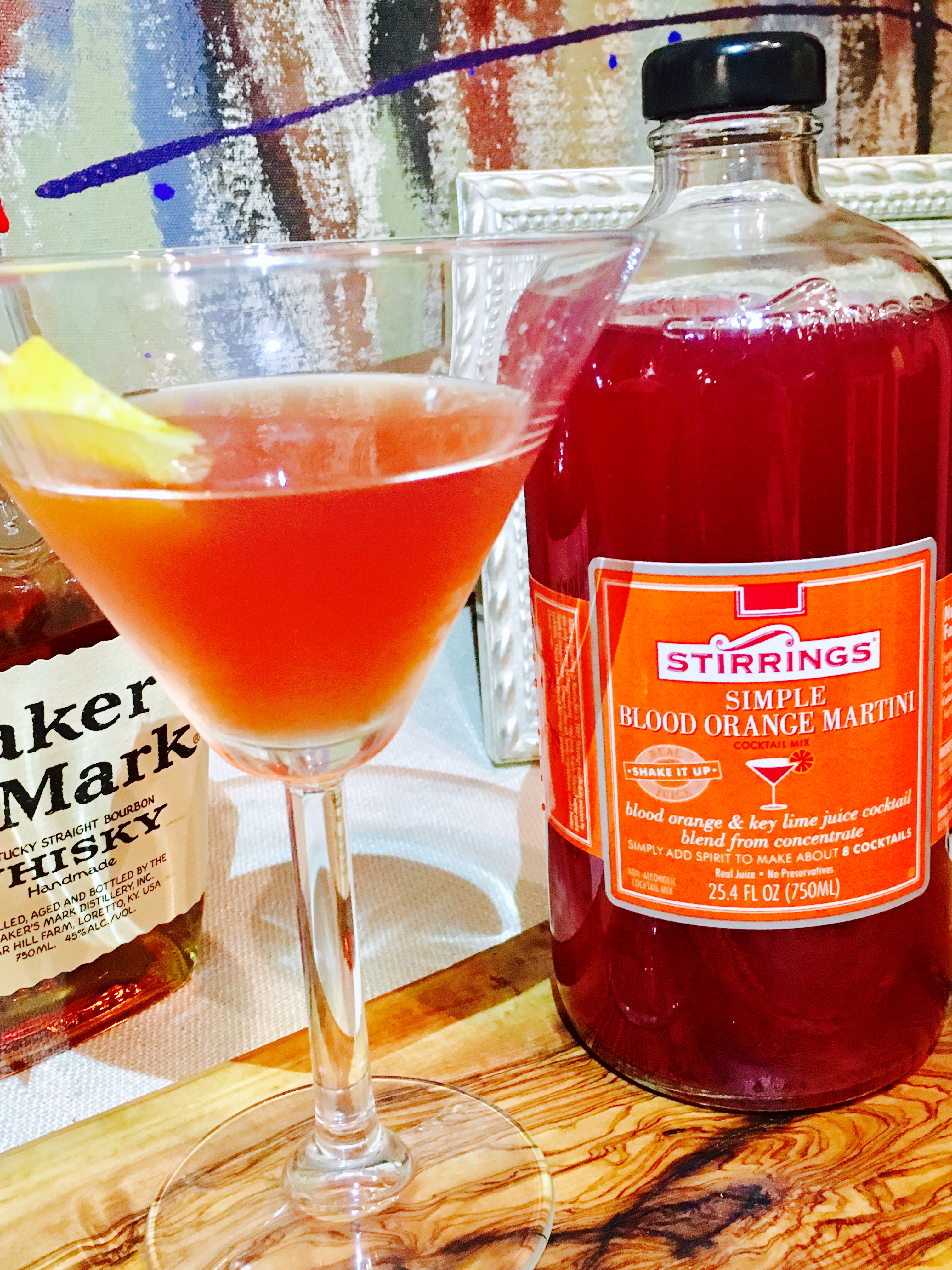 This drink is warming and just strong enough to do the job.  Like a hug after a long day or long visit from your relatives.
A note on stirring this drink: PLEASE DO IT!   Stirring the drink allows the cocktail to chill just enough, without causing it to appear cloudy.  Shaking is needed when you're using ingredients that don't combine well without a vigorous shake (ex: actual orange juice, egg whites, or creamy ingredients).
How long you stir depends on your ice and how much dilution you like in your drink.  The longer you stir, the less strong the drink will taste.  Experiment with stir times and see what you like best.
I made this thinking of my mom (whose comment you can see in the IG post above).  It's been our family tradition to share a special Christmas Eve drink.  I make something different each year – like this Christmas in Manhattan.  Or this graham cracker-rimmed Liquid Gingerbread Martini (which I *think* is still the winner).
This Christmas we won't be together, but I'll be toasting my bourbon-loving mom from across the country!
---
Looking for Stirrings products?  You can find them in Bevmo, Total Wines & More, Draegers, Mollie Stones, Hi Time Liquors, Pacific Ranch Market, Daniels Market, Bristol Farms.  Plus they're offering free shipping via their website for the month of December!  Their 5 Calorie Margarita Mix is also quite tasty. 😉
Check out their social outlets for more recipes!
Disclaimer: I received product from Stirring's for their Stir It Up Holiday Mixology Challenge.  
---
Smoked Blood Orange Manhattan
1COCKTAIL
adjust servings
A little smoke, a little citrus... you'll want to try this take on a classic Manhattan!
Ingredients
2

oz bourbon

1

oz Stirrings Blood Orange Mixer

3

drops smoked blood orange bitters

1

piece fresh orange
Instructions
Combine bourbon, blood orange mixer, and bitters in a shaker glass with a handful of ice and stir for 15-20 seconds (see notes on stirring in the post above).
Strain into a chilled cocktail glass or a rocks glass with a few cubes. Garnish with a sliver of fresh orange.
*Note: You can sub regular orange bitters if you can't find smoked.
Just in case you have one too many of these, check out my 10 Hangover Cures.  Not that I'd know anything about having one too many.  Be responsible… for goodness sake don't drive!
***
Don't forget the gifts! Check out this gift guide for those people who have ALL the things.
What's your favorite warming cocktail?
Have you ever had a blood orange?  I love using them for mimosas too!