I got to see my baby this weekend!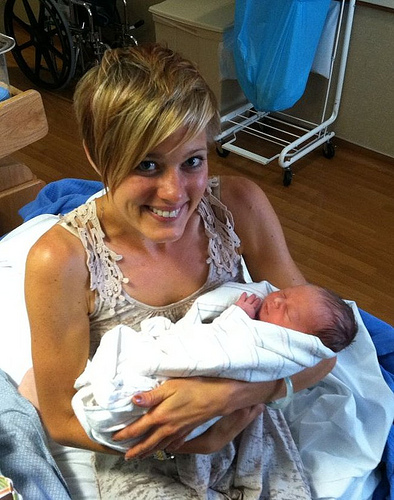 Relax – I didn't become the Virgin Mary on you (and that would be the situation at this point).
Remember with my BFF had her baby?  Jackson is now 6 weeks old and SO cute.  Big blue eyes, chunky little cheeks… he doesn't look like a monkey at all!
I took the new parents dinner Friday night and had a great time catching up and hearing all the fun new parent stories.
We had a Whole Foods rotisserie chicken.  I love you, WF… but your rotisserie chicken is ALWAYS dry.
I also made some bulgar and pesto to go with it.
Please ignore the terrible picture.  This is what happens wthen you eat after the sun goes down.
Clearly I can't make anything too normal… this pesto contained smoked almonds and  avocado!
Who doesn't love a creamy sauce?
Crisco was nice enough to send me 3 of their olive oils to taste.*  I was excited to have the opportunity to use the Extra Virgin variety in this pesto.
It was good – it's not a $30 bottle of rich, buttery olive oil (oh, how I'm looking forward to Italy!), but it is perfect to mix into items such as this.  It blended well and didn't fight the other flavors.
A few things to think about when making and dip/sauce:
Add the olive oil in slowly with the processor running – this is the trick to getting the smooth, creamy texture
Don't be afraid to taste/adjust the spices –  I like to play with different

herbs

and

heat

levels (yes, you should half the jalapeno if you don't like a little kick 🙂 )
Add things in small amounts – you can always increase flavors, but you can't take them back!
*I received Crisco's Olive Oil as part of the FoodBuzz Tastemaker Program; however, all opinions are my own!*
_____________________________________________________________________________________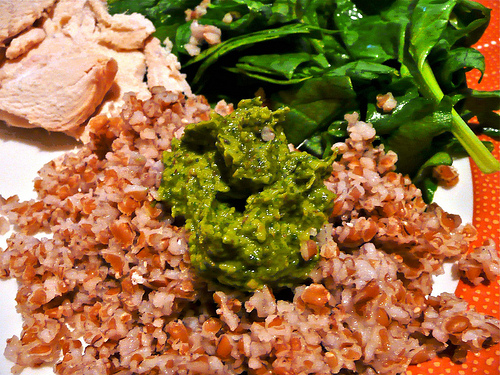 Smoked Almond-Avocado Pesto
1 large bunch basil (~20 leaves)
1/2 avocado
1 jalapeno, seeded
2 garlic cloves
1/4 C smoked almonds
Juice from 1/2 lemon
2 T Crisco Extra Virgin Olive Oil
S+P, to taste
Place all ingredients except the olive oil, salt, and pepper in food processor.  Blend until just combined.  
Slowly add olive oil with processor on low speed.  Adjust flavors, salt and pepper as needed.
Use as a dip or a topping on your favorite grain/pasta/salad.
***
My calf feels so much better… except when I was icing my knees tonight it seized up.  Weird.
Do you have a favorite herb or spice to add to foods?
Has anyone ever had weird calf pain?  Any advice?