Despite being up until 3am working, I woke up (late) this morning ready to MOVE.
Breakfast was a coffee, an apple, and a jalapeno-cheddar scone (recipe to come… it still needs a little work).  To fuel my energy, I read some neglected fitness magazines.
What resulted was an amazing workout:
5 min elliptical warm-up
Wide grip lat pull-downs – 3 sets of 12
Bent over dumbbell row – 3 sets of 15
Seated cable row – 3 sets of 12
30 second planks as an active rest between sets in #2-4 (total 10)
Dumbbell pullover – 3 sets of 12
Row to raise – 2 sets of 12
Push-ups- 3 sets of 15 – superset with…
Standing dumbbell curl – 3 sets of 12
Alternating dumbbell curl – 5 sets of 12
Hammer curl – 4 sets of 15 (or to exhaustion)
1 min sprint intervals on the treadmill between each set in #10-11 (total 8  )
Then I took the stairs back up to my condo.  Whew!
---
That killer workout called for a gigantic protein shake.
You're probably going to think this is weird… BUT just trust me.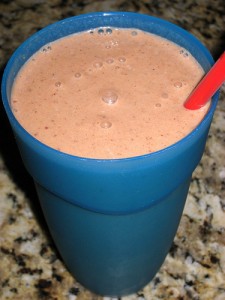 Sweet Potato Smoothie
1/4 large sweet potato, cooked (mine was left over from this)
1 hand full of spinach
1 scoop vanilla protein powder
1/2 tsp cinnamon
1/4 tsp ginger
1/4 tsp nutmeg
Ice + water/milk to taste
Combine all ingredients in blender and process until smooth.  Slurp away!
***
Time to head out the door for the derby sleepover – so excited to hang out with the team off-skates!
Does anyone else have adult sleepovers?!
It's like high school but now you don't have to sneak in the alcohol.