Remembering hurts sometimes.
Maybe I'm being a little dramatic… but I fell in love in the Piedmont region of Italy.  Specifically in Alba.
Our first day in the region was spent bumming around the small town of Alba.  Two important things to note about Alba:
Ferrero (the company that makes Nutella) is based there
It is most famous for its magnificent white truffles (tartufi bianco), which are in season from October-December
Therefore, the city smells of chocolate and truffles.  How could I not fall in love?
We took our time at the B&B sleeping in and getting ready for the day.  All of the train travel, 55 lb bag carrying, and late night arrivals were taking a toll!  We arrived in the city center just in time for lunch at one of the original Slow Food restaurants – Osteria dell'Arco.
Not familiar with the Slow Food movement?  Briefly, from their website:
Slow Food is a global, grassroots organization with supporters in 150 countries around the world who are linking the pleasure of good food with a commitment to their community and the environment.
To say that it was a religious experience would be an understatement.
To begin, I was THRILLED with my massive salad topped with perfect late-season tomatos, carrots, and yellow peppers.  The glass of Nebbiolo was pretty tasty too.
We ordered a Primi to share, followed by two Secondi.
The primi was so good it almost made me cry – gnocchi with shaved black truffles.  That was the lightest, fluffiest gnocchi that I have ever put in my mouth (and we ate quite a bit on this trip).  The sauce was perfectly creamy with a touch of salt – just enough to complement the earthy, rich truffles.
The following dishes were also excellent: Brasato di vitello al barolo (braised veal in Barolo wine) and an eggplant dish with red peppers and creamy lemony ricotta.
Post-lunch explorations took us all over the city, admiring truffles, pastas, and various meats.
We wandered into one particular truffle shop and were admiring the jars truffle-laced goodies when I did something embarrassing.  I knocked a 25 Euro jar of anchovies with white truffles off the shelf.  It shattered onto the floor and the store filled with the aroma of truffles… which gave way to the less pleasant smell of anchovies.  Call me Grace.
I apologized profusely to the man working and mentally prepared myself to have to shell out the money for the merch.  much to my surprise, the man insisted I not worry about it and – since I wouldn't stop apologizing – he gave me a piece of truffled chocolate!
To this day I'm not sure how the next part of this story came to be.  The man – Tomi – ended up talking to us for a bit.  We told him how much we wanted to have some good white truffles, which are hard to find on menus early in the season.  It turns out it isn't uncommon for people to buy truffles to bring to a restaurant for dinner (BYOT), and he knew of a shop where we could buy them (with his 50% off discount!!!).  The really mind-blowing part is that Tomi offered to drive us to his friend's restaurant in the neighboring town of Teriso for dinner!
How does this stuff happen to us?!
We decided to take our chances that he wouldn't be a mass murderer (he wasn't – he was a very nice Japanese-transplant to Italia) and accepted his generous offer.  Off to the store to buy truffles!
.26 oz of white truffles would normally cost about 100 euro.  We got it for 50.  That's cheap compared to what you find in the States – I just heard that a local Atlanta restaurant is offering a white truffle pasta dish for $60.  Thanks Tomi!
Profumo di Vino's chef/owner, Memo, offered a delicious tasting menu… all of which i can no longer name, but I'll do my best!  'Scuse the nighttime low-quality shots.
Normal people might go home after all that.  We aren't normal.
The whole kitchen came out to talk to us and we shared drinks with a staff from the following countries: Mexico, America, Sweden, and Japan.  There may have been a push-up contest involved.  Only in Italy.
---
Who needs a dose of health food after that smorgasbord?  Are you seeing why I need to cleanse?  LOL!  🙂
I had a little bit of butternut squash left over and wanted to eat it in a new way.  Remembering the Butternut Rosemary Hummus I made last spring, I decided on a dip.  Curried Butternut Squash Dip.
The curry and ginger flavors with the sweetness of the squash was delicious.  I enjoyed the whole dish with carrots, red bell peppers, and celery.  Then I cleaned the bowl with my fingers.
The garnish is simply roasted butternut squash seeds.  They are just like pumpkin seeds and super easy to make:
Pick them out of the "guts" and give them a good rinse
Spread them out and allow to dry overnight 
Coat with a bit of coconut oil and cinnamon (careful not to get them too moist)
Roast them in the oven on 325 for ~30 mins, stirring once or twice
Allow to cool completely before storing in an airtight container
They make a great grab and go snack!
---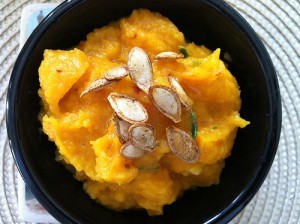 Curried Butternut Squash Dip
1/2 C butternut squash, roasted
2 tsp rosemary
1 clove garlic, minced
1 tsp olive oil
1 tsp fresh ginger, minced
1/2 tsp curry powder
1/4 tsp red pepper flakes
Juice from a wedge of lemon
S+P, to taste
Place all ingredients in blender and blend until smooth.  Adjust spices and add more oil (or water) as needed.
Use as a dip for your favorite veggies and chips or as a spread on sandwiches or wraps.  Or simply eat with a spoon while standing over the blender.
***
I think the Piedmont recaps have been hard for me to begin because I'm still sad I had to leave.
Have you ever had white truffles?
What's your favorite way to eat butternut squash?