I've always wanted to go to Asia.
I mean… I love their food…
Thai food has been on the brain lately.  Vegas and I found a great local Thai spot and it has started a constant craving.  And now that k.d. lang song is stuck in my head.  You're welcome.
This slow cooker Pumpkin Chicken Curry started out with Thai intentions, but I think it ended up more Indian.  Not that I really cared.  The pumpkin may sound like a strange twist, but it added to the creamy good-ness.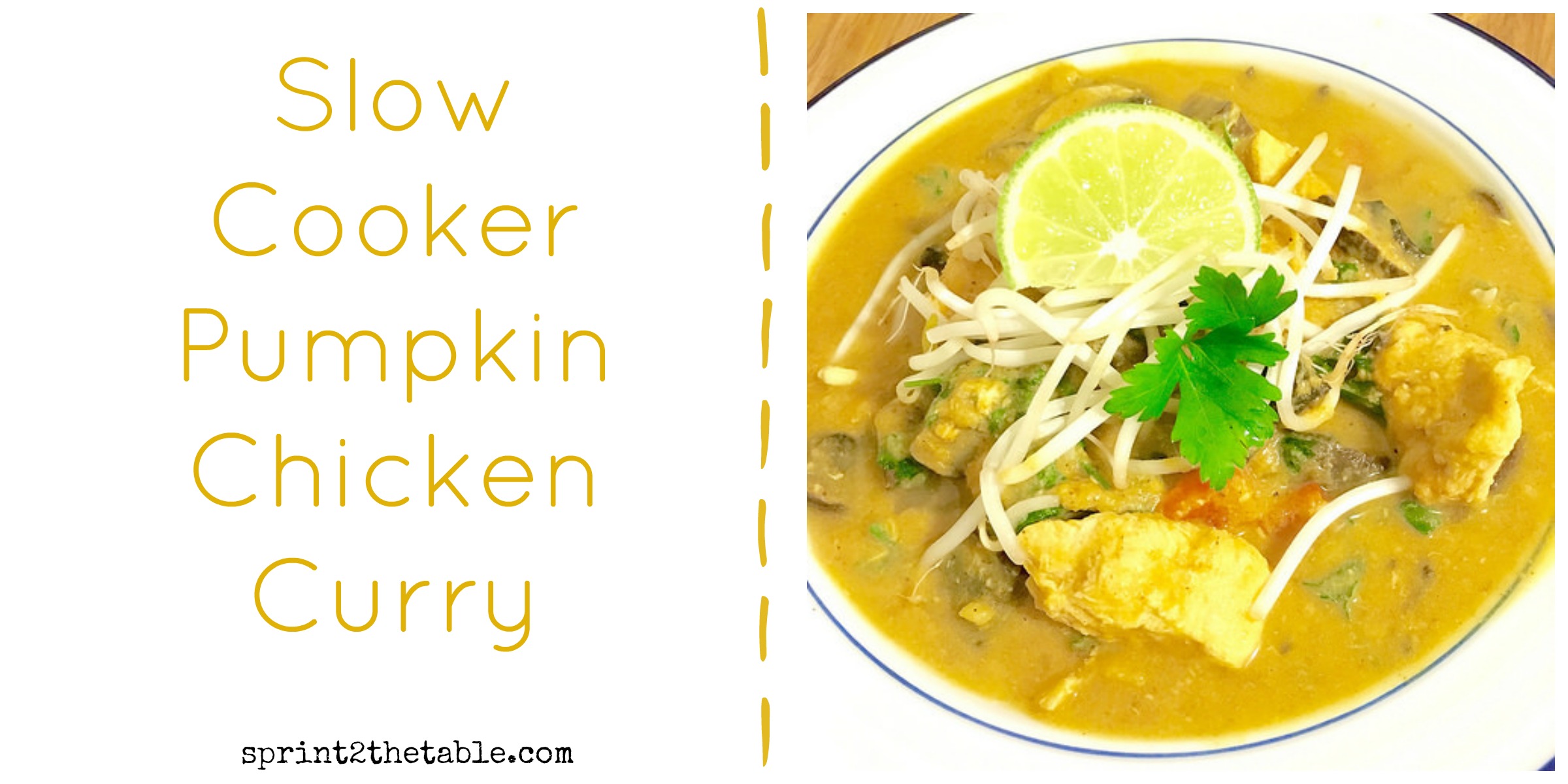 In other news… I'M GOING TO THAILAND!!!!!!!!!!
Yes, that's right.  My sister (she makes awesome jewelry, btw – check her out!) and I decided to spend the better part of April trekking through Thailand.  We'll be hiking, rock climbing, and playing on the beach.  Oh, and eating LOTS of Thai food.
As such… if anyone wants to sponsor us… help with the acquisition of 70L backpacks, boots, gear, accommodations, etc… that would rock. #shamelesspleaforhelp
The goal of the trip is to have a little escape.  We don't want to be in crowded touristy areas – we want to get lost hiking in the mountains (maybe not literally) and frolic on deserted beaches.  We just want to be.
I have no tie-in from that to this curry… other than to say that it's another good thing.  Vegas and I ate it for two days.  I added sriracha and red pepper flakes to mine, she added salt to hers.  Everyone was happy.
This can be served over your favorite noodles or rice.  I used black bean noodles and thought it worked famously.
---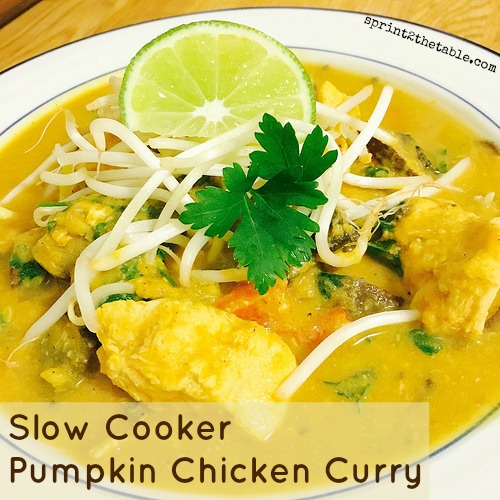 Slow Cooker Pumpkin Chicken Curry
1 can (15 oz) of unsweetened low fat coconut milk
1 can (15 oz) pumpkin puree
1 C low sodium chicken stock
1.5 tsp curry powder
1/2 tsp turmeric powder
2 tsp garam masala
1 tsp coriander
1/2 tsp cardamom
1/2 tsp salt
1/2 tsp ground black pepper
1 inch piece ginger, grated
3 garlic cloves, minced
1/2 yellow onion, thinly sliced
1/2 jalapeño, diced
1 red bell pepper, diced
2 portobello mushrooms, diced
2 chicken breasts (~1 lb) , cut into cubes
Juice of 1 lime
Add the coconut milk, pumpkin, chicken stock, curry powder, turmeric powder, garam masala, pepper, ginger, and garlic.  Stir to combine.
Add the jalapeño, bell pepper, mushrooms, chicken, and lime juice.  Stir to incorporate.
Cook on low for 6 hours.
Serve in shallow bowls over rice or noodles, topping with sprouts and additional lime.
---
How have you enjoyed making co-workers, friends, or family stare with strange but good creations this week? The link up rules can be found here or by clicking on "Strange But Good" in the menu bar above. In short, I want to see what concoctions have earned you weird looks from co-workers, family and friends! Post your Strange But Good creations, grab the logo below for your blog, and link up here.
Remember to use #strangebutgood in any Tweets and Instagrams of your creations. 🙂



***
I've never traveled with my sister outside of family vacations.  Hope this doesn't suck.  (I'm kidding Alli…)
Have you ever been to Thailand?  We'd love recommendations!
What's your favorite Asian cuisine?