I'm so late to the slow cooker game.
I'm perpetually late to everything, really.
In true fashion, I started out with a beer-centric recipe.  I'm hoping this is strange to you.  Even if it's not, I guarantee you that this slow cooker BBQ Beer Chicken is good.
When I had my place in Atlanta, the kitchen was so small I literally couldn't shove one more appliance in.  Now that I'm in San Diego, the kitchen is huge and Vegas came with a slow cooker.  It took me 10 months, but I finally started experimenting.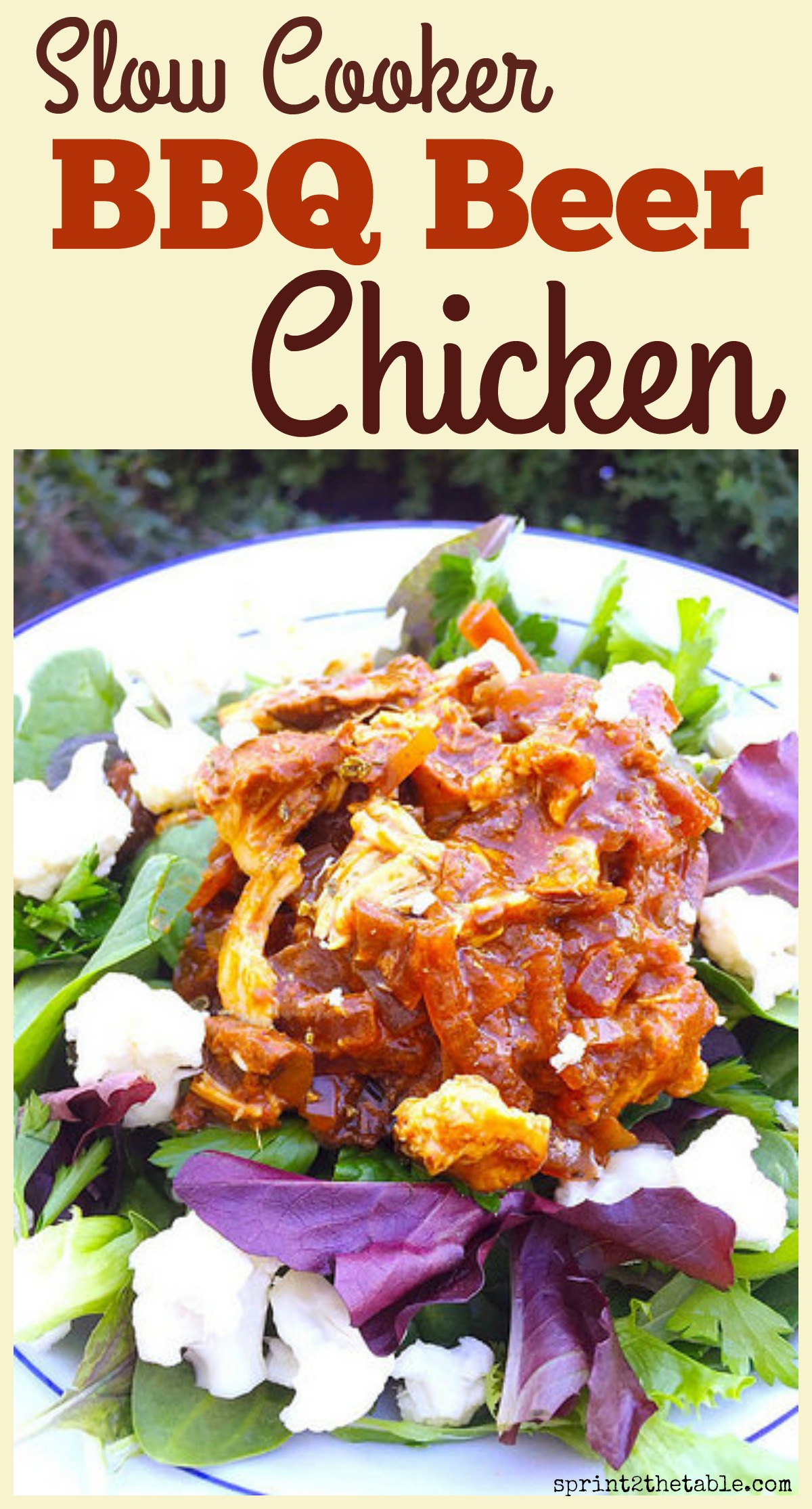 For my next trick, I was inspired by Rebecca's Slow Cooker Buffalo Chicken.  I used her guidance, but added a South-meets-San Diego twist by using BBQ sauce made with a local SoCal beer.
I'm still stunned by how easy this whole slow cooking thing is.  I just threw everything into one pot.  Not a single bowl or pan for Vegas to clean.
Pssssst… this is the BBQ sauce I included in my holiday gift guide.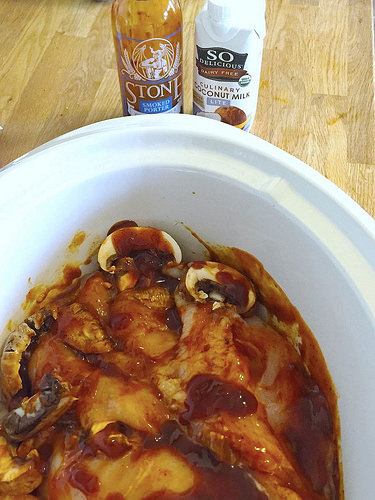 I tossed everything in the cooker in the morning, and by dinner we had a delicious meal!  The meat was so tender that I decided to serve it shredded over a salad.  It would make an awesome sandwich too.
The mushrooms and onions were perfect with the sauce.  They softened up perfectly in the cooker… so much easier than having to patiently let them soften in a pan.
Side note: I also made Lindsay's Crock Pot Sweet Potato Chili and it was fantastic.
---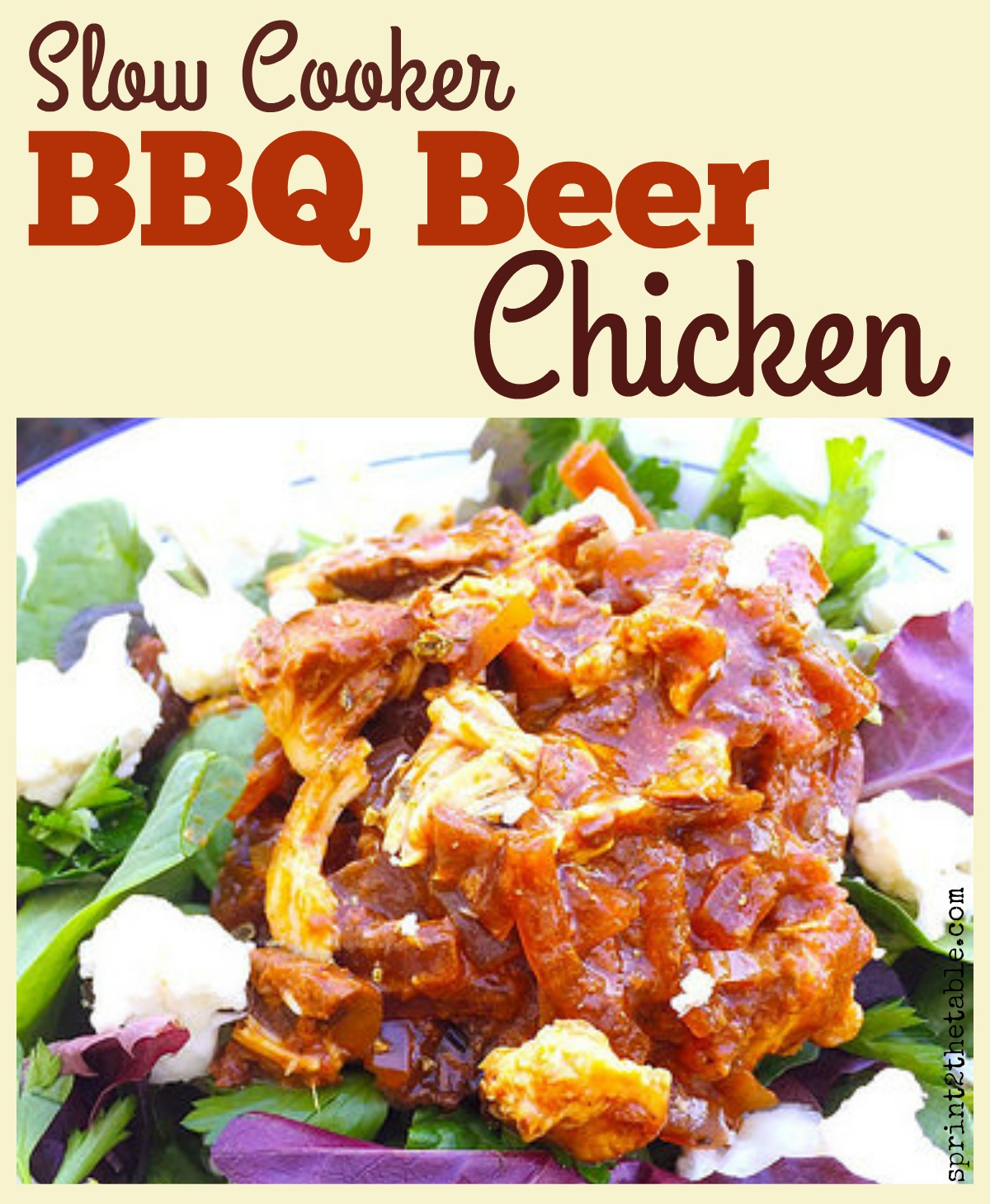 Slow Cooker BBQ Beer Chicken
Place onion, mushrooms, and garlic in the bowl of your slow cooker.
Prepare chicken by removing excess fat and pounding the meat (option, but make it super-tender).  Place on top of veggies in cooker.
Pour over BBQ sauce and coconut milk, tossing lightly to coat.  Cover with lid and cook on low for 6 hours.
Makes 4 servings.
*Note: No Stone?  You can use your favorite BBQ sauce here… and stir in your favorite beer.
---
How have you enjoyed making co-workers, friends, or family stare with strange but good creations this week?  The link up rules can be found here or by clicking on "Strange But Good" in the menu bar above.  In short, I want to see what concoctions have earned you weird looks from co-workers, family and friends!  Post your Strange But Good creations, grab the logo below for your blog, and link up here.
Remember to use #strangebutgood in any Tweets and Instagrams of your creations. 🙂



***
I'm joining in the Foodie Friday fun this week too – so many great recipes here!
Do you have a slow cooker?  
What's your favorite slow cooker recipe?