I eat a lot of protein.
It's my thing.
For my goals, I need to eat all the protein.  It's muscle fuel while I'm trying to build.  It's also hard on the body to digest that much protein continuously (it's been months and months of packing it in).  When Skinny Limits reached out and offered a 3-day juice cleanse for review I decided it was the perfect time to… well, be cleansed.
Prep
You're supposed to prepare yourself for a cleanse.  Skinny Limits suggests you cut out things like alcohol, caffeinated drinks, animal products, wheat, processed food, and sugar prior to starting.  I didn't do that… but I typically don't eat many processed foods.  They also say to drink a lot of water, which I do anyway.
I did begin the day as recommended with a mug of hot lemon water and cayenne.  I actually enjoyed that on these cold mornings!
Taste
The juices were quite good!  Each one include 1-2 fruits, so they had a good level of sweetness.  Click here to see the Variety Juice Cleanse I tried.
My favorite was the Crescent Moon (cashew milk).  It was like dessert every night, so no surprise there.  I also loved the Pure and Simple green juice and the Scorpion Lemonade (with cayenne).  The only one I didn't love was the Lotus (beet juice).  I do eat beets, but it was a lot.  All of them are far superior to soda.
Activity
They say during the cleanse you should not exercise intensively.  I did a 30 minute incline walk one day.  Soccer the next.  Then I got bored and lifted on day 3.  Maybe not a good use of time – I didn't last long and then I had to take a nap.  Whoops.
I made sure to do it during the week where I wouldn't have a lot of down time.  I hoped work could occupy my mind enough to distract me from eating.  It did somewhat… I was insanely focused and productive on day 2.  That was the sweet spot – by day 3 I took wanted a nap.
Day 1
I started strong, but by 11am I was hungry.  I was also freezing all day.  I ate some grapes and almonds.  It was an emergency.  My reading material probably didn't help:
Energy-wise, I felt run down.  Everything was an effort.  I gave up and went to bed at 10:30p and slept 9 hours; this is unheard of for me, as I normally force myself to get into bed by 1a.
Day 2
I woke up refreshed after my 9 hour slumber.  I wasn't starving, but 30 mins later the hunger pangs struck.  After the first juice I felt better, but only for an hour.  This may be TMI… but I was fully expecting to poo a lot.  I just had a typical morning #2.  Maybe I'm not toxic?
The rest of the day I spent hungry and cold.  I ate some more nuts and drank a kombucha.  I played soccer and was really, really exhausted.  Despite the cold, I turned my favorite juice – the "dessert" cashew milk – into ice cream by blending it with ice in my Vtiamix.  It was good!  I added additional cinnamon, vanilla, and ginger to make sure the ice didn't water down the flavor too much.
Day 3
The final countdown.  I almost gave in after the second juice.  BUT if I could make it 2 days, I knew I could finish the third.  I ate more almonds and chewed gum.  Still no major poos to report (you know you're curious!).  My skin had some breakouts.  I read that breakouts are not uncommon as your body rids itself of toxins.  So, I suppose I was toxic.
Did I mention it was cold?
By that evening I had a headache and my stomach was growling.  I went to bed at 10… the sooner I slept, the sooner breakfast time would arrive!
Would I Do It Again?
Probably, but only a couple of times a year.  It wasn't easy.  You shouldn't do it while you're training for something; you're not going to feel like moving a whole lot.  If you're recovering from an event or coming off a period of excess (holidays, vacations, etc), I think it's a great thing to try.  Skinny Limits makes it really easy – the package is shipped the day before you start, and they detail which juice to drink when.
This should NOT be a thing you do to lose weight.  Juicing for 3 days isn't going to magically make you reach your goals in that department.  In my opinion, it should be used as a tool to reset and to help your body heal.
Also, chewable food is marvelous.  They say to ease back in to solids, but I was so hungry after a day of lifting I ended the first day back with spinach pasta beef bolognese handmade by a friend.  There may have been a glass of wine (or 2) involved. 😉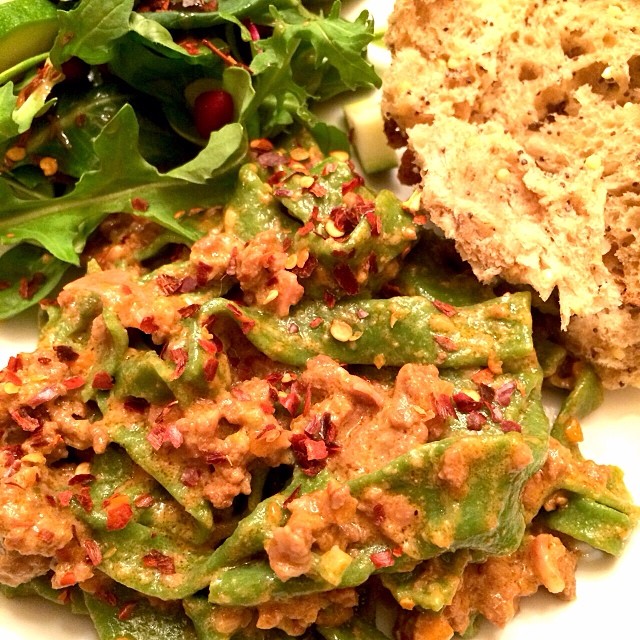 ***
Being so clean and then fueling with homemade pasta did some good – I hit a PR on the flat bench chest press Sunday!
Would you ever try a juice cleanse?  For what purpose?
Do you perform better after a big carb-y meal?  It works 90% of the time for me, but I'm always surprised!