Do you enjoy Skinnygirl Margaritas?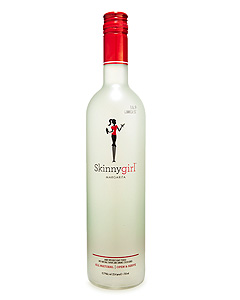 Apparently they are in hot water (as opposed to frosty boozy deliciousness).  According to TMZ, there has been a class action lawsuit filed against the and Whole Foods has removed the products from the shelf.
The drink claims to be "all-natural" right on the bottle… yet it has a preservative called sodium benzoate in it.  Alone it's not so bad… but when combined vitamin C  (absorbic acid) it forms a carcinogen.  I couldn't find an ingredient list online to determine if the Skinnygirl Margarita contains vitamin C.
Creator Bethenny Frankel released the following statement:
I wouldn't sell anything that I don't drink myself.
I don't actually like these.  What I do like is that they inspired restaurants to make their own "skinny" margaritas using agave and fresh lime juice.  They are SO much better than the sour mix ickiness!
____________________________________________________________________________________
I'm happy to report that my dinner was natural and had a generous helping of a skinny sauce.
It was intended to be a wrap… then I got carried away with the greens!
After a travel-heavy week I always crave fresh, raw food.  I topped an Ezekial 4:9 Sprouted Grain Tortilla with plenty of it!
My pile of raw greens:
Spinach
French green beans
Sprouts
Zucchini
Cucumber
Broccoli
The secret's in the sauce.  Thai Greek Sauce.  Thai because of the curry paste and peanut flavor. Greek thanks to the yogurt and lemon.  With basil for good measure.
Tangy, spicy, and a little nutty.  Like your favorite aunt.
This tasty sauce made the perfect spread for my open-faced wrap.  Is there such a thing as an open-faced wrap?  There is now!
____________________________________________________________________________________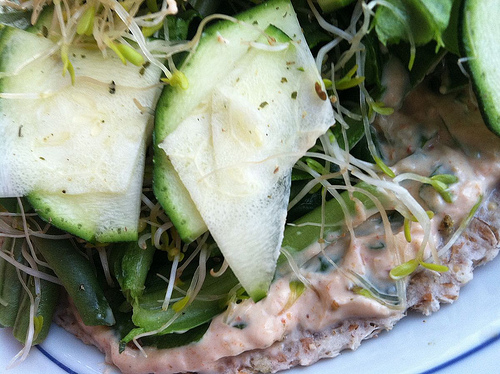 Thai Greek Sauce
1/4 C Greek yogurt
Juice of 1/4 small lemon
5-6 basil leaves, chopped
1 small garlic clove, minced
1 tsp peanut flour
1/8 tsp red curry paste
shake of cumin
S+P, to taste
Mix together in small bowl, spread on the nearest victim item, and devour!
***
I just realized there's no point in unpacking from this week's travels before I head out next week.  Lovely.
Do you like Skinnygirl Margaritas?  Do you care about the inclusion of a preservative?
What's everyone getting into this weekend?