Staying in town can feel like a vacation.
Not quiiiiite like going to Tahiti… but you know.
This weekend Sarah graced me with her presence.  She drove in Monday night from Birmingham and we spent the next 2.5 days touring rainy Atlanta.  It's fun to entertain out-of-towners because you get to see your city in a whole new way!
Sarah arrived Friday afternoon with cookies in hand.  She shared the Vegan Carob Peach Fudge Cookies from her #strangebutgood post Friday.  They were the perfect appetizer before we headed to dinner.  We did so much I have to break it up into 2 posts.  Today is the "doing," and the Atlanta food tour will happen Wednesday.
Saturday morning we hit my gym for a glute workout.  Check out this IG video for a taste of what we did.  Sarah hung like a champ!  She's a natural.
After a solid hour of hard work, I told Sarah she was ready to compete… so we practiced a pose (this is why I don't do bikini):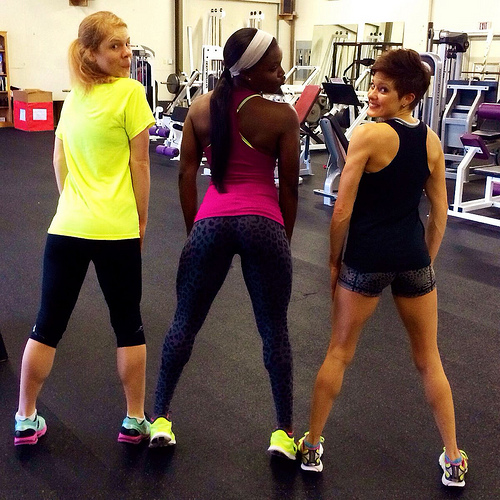 Naturally this had to be followed with a trip to Buford Highway to shop the massive international farmer's market, where we met up with Sarena.  We were there for 2 hours… only a food-friend can understand how grocery shopping is an entertaining sightseeing activity.
I had told Sarah how cheap it is, but she was still shocked at how little her market finds were!  The new-to-me treats this time were a Ponkan orange and some sort of Korean puffed rice crackers.  I also found a giant bag of my favorite Chimes peanut butter ginger chews!
That market is massive – it's like the size of Wal-Mart.  You can browse an entire aisle of Mexican hot sauces, or sample baklava at the Easter European bakery or peruse greens you've never heard of before. Watching my friend wander around filled with wonder at all the international delights was the best part of my weekend.
Sarah left yesterday.  After trying to convince her to stay, I sent her on her way in true blogger fashion – with a to-go container of protein oatmeal. More to come later in the week… I need to leave room to tell you about an amazing giveaway!
________________________________________________________________________________________
I have been obsessed with Sizzlefish ever since I had the opportunity to try a box via Fitfluential.  The fish is delicious – it surprised me how fresh it tastes despite being frozen.
Last week I pulled out a piece of the salmon to cook when I was short on groceries.  It thawed while I was at work, so all I had to do when I got home was squeeze some lemon juice, dill, and pepper on top before broiling it for 7 mins.  Easy dinner!
So what's in it for you?
The awesome people at Sizzlefish agreed to do a special holiday giveaway!  Not only will you win a box of this Holiday Sampler (worth $59!), but they will also send a box as a gift to a person of your choosing!  Feel free to pick me. 😉
I'm a little sad it rained all weekend – I wanted to take Sarah on a walking tour!  From the looks of it, everyone else had rain or snow too.  Bring on the sunshine!
What is your favorite fish?
Do you consider grocery shopping a form of entertainment/tourism?