Seafood is a go-to in my kitchen.
That's the understatement of the year.
I eat 5-6 meals a day.  Typically at least 2 of those meals involve seafood.  As some one who loves variety, I'm always on the hunt for strange new fishes to eat. When paiche went on sale at Whole Foods, I jumped all over it.
If you haven't tried paiche before, I highly recommend it.  It's easy to work with and has a mild taste.  It's firm, but really moist.  It's like chicken.  But not.  Strange, but good.
In the event that you don't have paiche at your fingertips, you could use any mild fish here.  It's a simple recipe, despite having several spices.
Think of it as a lazy tomato sauce.  No pots or simmering required!  My spices are Indian-inspired, but you could use the idea and method to create a more traditional Mediterranean flavor profile.
Make it even more strange by turning your butternut squash side dish into dessert with the random things you keep in your office: NuNaturals coca syrup, cinnamon, and peanut butter.
_____________________________________________________________________________________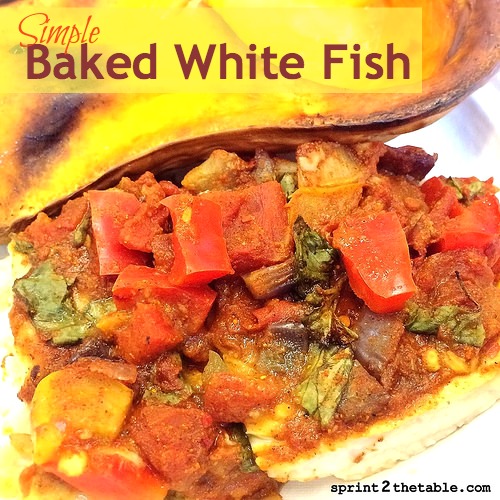 Simple Baked White Fish
1/2 C no-salt added fire roasted tomatoes
1 tsp red pepper flakes
1/2 tsp smoked paprika
1/2 tsp turmeric
1/4 tsp cinnamon
1/2 C chopped bell pepper
1/2 small onion, chopped
2 cloves garlic, minced
1/4 C basil, ribboned
1 lb. Paiche (or other white fish)
Pre-heat oven to 350 degrees.
Place tomatoes in a medium bowl.  Stir in spices.  Add veggies.  
Line a pyrex with foil (or grease well).  Place fish in pan and cover with tomato mixture.
Bake for 20-25 mins, until fish is cooked through.  Time will vary depending on thickness of fish, but it should be ~130 degrees.
_____________________________________________________________________________________
How have you enjoyed making co-workers, friends, or family stare with strange but good creations this week? The link up rules can be found here or by clicking on "Strange But Good" in the menu bar above. In short, I want to see what concoctions have earned you weird looks from co-workers, family and friends! Post your Strange But Good creations, grab the logo below for your blog, and link up here.
Remember to use #strangebutgood in any Tweets and Instagrams of your creations. 🙂

***
I just realized it's shark week… consider this my festive post. 😉
What's your favorite fish?
Do you like to try new proteins, or keep the same ones in rotation?