"Normal" people think I'm strange.
It's perfectly normal to blow up a 65 inch fitness ball at your desk, right?  The stares would indicate otherwise.
People who have never even bothered to say hello in the elevator before stopped by to comment.  I'm sure this could be turned into some social experiment.
Whatever.  My butt falls asleep in my chair and it makes my hips hurt to sit there all day.  Everyone can kiss my big, silver ball.  (Yessss… I worked balls into yet another post!)
Since I'm not allowed to try running again until Saturday, I'm modifying The Sweaty Betties' January Mile-a-Day challenge.
I'm now using a bike or elliptical for 30 mins of intervals in lieu of running.  Which only make me want to run more.  That's how I started my day today, along with P90X Ab Ripper X.  Shout out to Dr. Schuman at 1st Choice Healthcare – it does feel better today!
_____________________________________________________________________________________
My big silver ball and I are happy it's time again to celebrate Hump Day with  What I Ate Wednesday!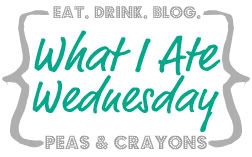 Breakfast:
Covered in sweat after the elliptical, I was actually chilly when I got back to eat breakfast.  I had a craving for some deliciousness I created over the weekend: Shredded Sweet Potato Oatmeal.
I had shredded sweet potato left over from my Asian-Inspired Sweet Potato Lentil Loaf.  What better use than in oats?!
Yes, I realize I've made Sweet Potato Pie Oatmeal before… that used sweet potato puree, which make it more pie-like.  This was more in the vein of Carrot Cake Oats with the grated potato.  Less silky, though no less lovely.
(Recipe at bottom)
Lunch:
I still can't get enough green!
At a loss for lunch inspiration, I stumbled across Sunflower Beet Pesto (which I made and liked before my recently acquired taste for beets) in my freezer.  I made a hodge podge salad and used the pesto as dressing.  With a side of Salt & Pepper PopChips, this was an winner.
In my salad:
Spinach
Cabbage
Cilantro
Edamame
Cucumber
Carrots
Green onion
Dinner:
My boss is in town from Houston, so we hit up one of my favorite spots for dinner: Top Flr.
Top Flr offers several vegetarian-friendly menu items.  I've been successfully avoiding meat (aside from one digression to have a taste of foie gras ice cream) since January 1st, and I have felt better.  Most dining establishments offer at least a few sides that are veg-friendly, but finding a tofu/soy-protein-based dish is still rare.
We started with hummus with chili oil and fried capers.  I don't know what they do to it, but it is the most amazing hummus I've ever had… and I've had a lot of hummus.  Served with grilled pita, hot peppers, and olives.
My main was a the Orange-Apple Tofu, served with Baby Bok Choy and Japanese Eggplant Miso.  I order this every time I go.  Normally I don't eat fried stuff, but I make an exception for this dish.
The freshly breaded crunch contrasts perfectly with the pillowy tofu.  I also loved sweetness of the orange with the savory miso sauce.  The bok choy was a little too done and covered in sauce for my taste… but I can forgive them for tofu perfection.
Sadly, the server dumped our check on the table without offering dessert.  There was a bread pudding on the menu I would have dove into.  I probably didn't need it anyway. 🙁
Verdict: I'll be back.  I could live on their hummus and the stellar cocktail program alone.
Snacks:
It's no secret I'm a snack whore.
Especially for homemade Granola Cookies that have just 3g of sugar.  Not to worry, I'm sharing the recipe soon. 🙂
Followed up with a Cutie.  Because they're not just for kids.

_________________________________________________________________________________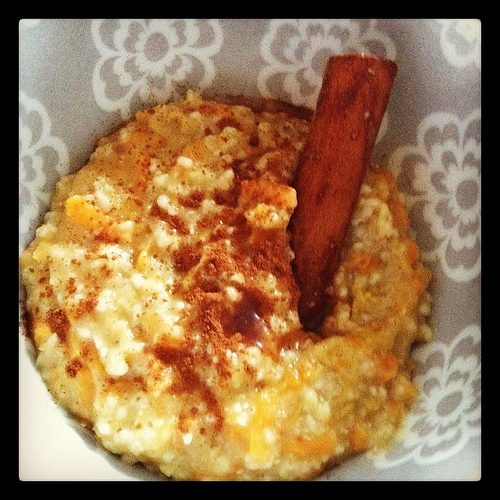 Shredded Sweet Potato Oatmeal
1/2 c unsweetened vanilla almond milk
1/2 c water
1 cinnamon stick
1/2 c oatmeal
1/2 grated sweet potato
Shake of salt
1/2 tsp vanilla
1/4 tsp nutmeg
1/8 tsp allspice
Maple syrup + ground cinnamon, to taste
Bring milk and water to a boil in a small pot with cinnamon stick.  Add oatmeal, grated sweet potato, and salt.
When 1-2 min from being done, add vanilla and spices.
Scoop into bowl and top with cinnamon and syrup to taste. 
***
Thank you SO much for all the well-wishes on my knee.  I don't say it enough, but it means a lot to have such an awesome support group.
If you're not a vegetarian, do you enjoy ordering veg items at restaurants?
Do you work in a state/location separate from your boss(es)?  Does it make a difference to you?