We've been on a bit of an Asian food kick.
Trashy takeout teriyaki, to be honest.
I finally decided to class it up and make a healthier version of our current teriyaki addiction using our Sizzlefish stash.
When you eat the take out variety of teriyaki, you're limited to chicken.  At home, you can teriyaki any protein you like.  I chose to make a Shrimp Teriyaki Stir Fry.

The marinade is simple – just 3 ingredients!  I'm a firm believer that everything belongs in the freezer, so I had a giant nob of ginger in the freezer ready for a quickie (tee hee).
You can make your own teriyaki sauce… or you can feed your Amazon addiction and order a yummy clean version online.  Dear sweet baby Jesus, thank you for Prime.
Back to the shrimp.  One of my favorite things about Sizzlefish is that it's quick.  They ship everything individually portioned, which makes it super-fast to thaw.  5 minutes in a bowl of hot water and my shrimps were ready to go!
The rest is a breeze – sauté and eat.  You can use anything you have on hand, but I highly recommend the bok choy and 'shrooms.  With a hearty veggie base, you'll never miss that dry take out rice.  Even Vegas agrees.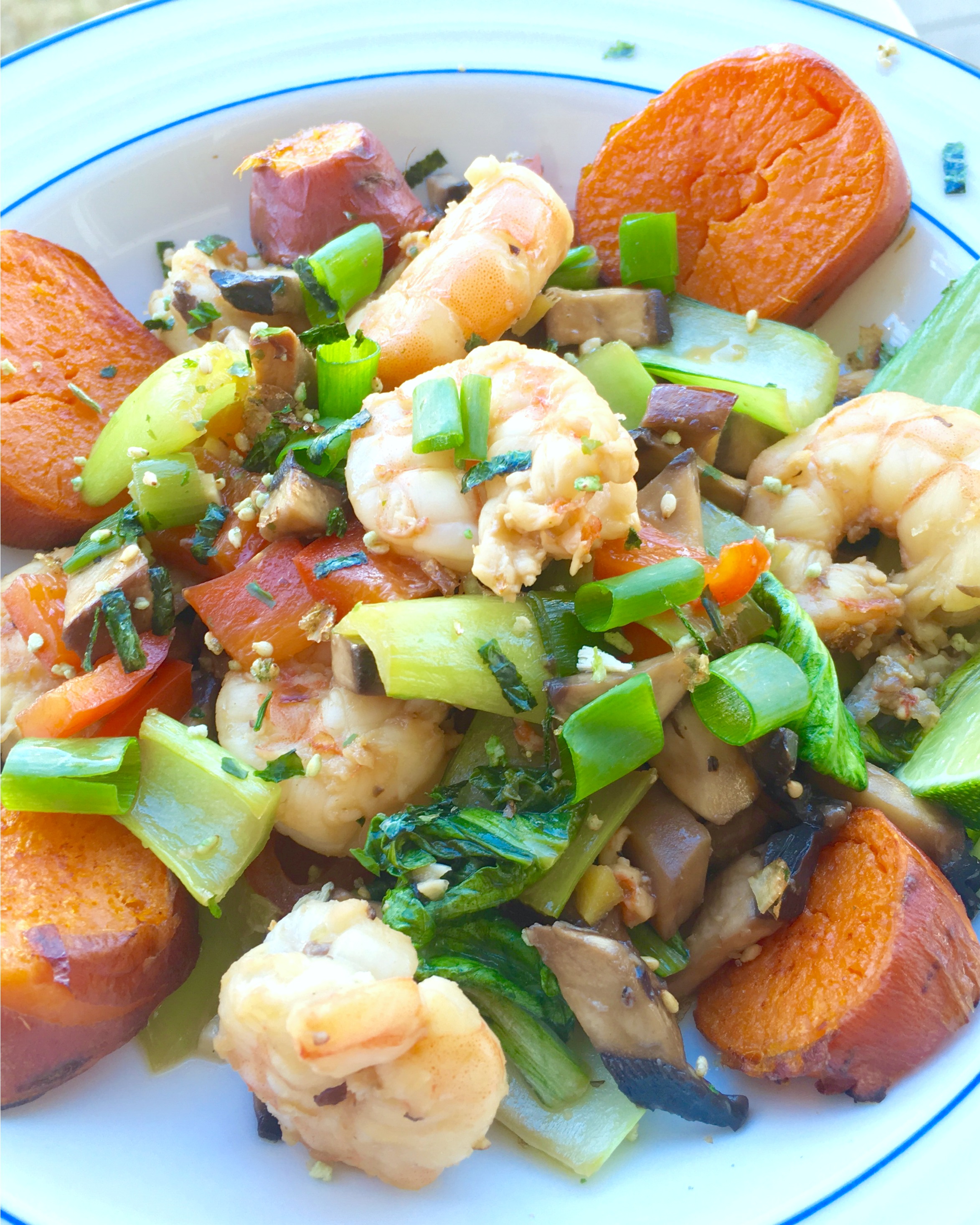 I did manage to repurpose some of the chili paste from our last order.  Waste not, want not!  (Lawd, I sound like my dad…)
---

Shrimp Teriyaki Stir Fry
1/4 C teriyaki sauce
1 garlic clove, minced
1 T fresh minced ginger, diced
8 oz shrimp*
1 tsp sesame oil
1/2 red bell pepper, diced (~1 C)
1 portabello mushroom, diced
3 bunches baby bok choy, chopped
1 scallion, chopped
Marinade shrimp in teriyaki, garlic, and minced ginger for 15 mins.  In the mean time, prep the veggies.
Sauté the red bell pepper and mushroom in the sesame oil over med-high heat until softened (~5 mins).  Add the shrimp marinade and bok choy.  Cook just until shrimp are pink (~8 mins), then remove from heat.
Plate and top with scallions.  Serve immediately.
Enjoy!
Makes 2 servings.
*You can sub in your favorite protein – this would be great with tofu or chicken!
***
I'm on a (healthy!) roll in the kitchen… lots 'o recipes to come!
What's your favorite trashy take out?
Have you ever made your own teriyaki?