The bridal shower was a success!
(We took the same pic at my housewarming 1.5 years ago.  Standing in the same order, of course.  Can't believe how time flies!)
As long as you count good food, 8 bottles of champagne killed, and a lot of great loot for the bride a success. 🙂
Erica, one of the other bridesmaids (and also one of my BFFs) arrived early to help with the set up/plating/etc.  We were actually ready before guests arrived!
You know we're close when she didn't smack me after I told her that her anal-retentiveness is part of her charm.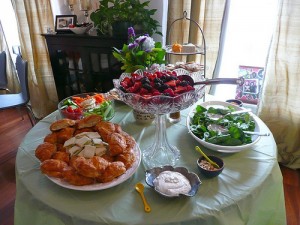 The spread included:
Mimosas
Chicken salad croissants
Cucumber sandwiches (it is the South)
Hummus + veggies + chips
Mimosas
Roaring 40's blue cheese
Olive-basil cookies
Roasted red pepper-asparagus-goat cheese mini-quiches
Spinach salad with orange vinaigrette and pancetta
Mimosas
Mixed berries + cannoli cream + toasted almonds
Carrot cake
Mimosas
Did I mention there were mimosas?
By the end of the shower, most of the food was gone and Christina had some awesome gifts (I have Pottery Barn-envy).
The lucky bridesmaids got a surprise, too!
---
I still had work to do before Monday, but all that anticipation/energy/Georgia Half-Marathon-envy had me craving a run.
The Stats:
Distance: 6 miles
Time: 49:10
Pace: 8.18
Needless to say, Stevie and I were exhausted by the end of the night.
---
In debating what to share first, I landed on the Berries + Cannoli Cream in honor of all of the berry-inspired recipes posted this weekend.  It seems that everyone is ready for springtime goods!  I guess you can't eat winter squash ALL the year…
I made this for Angie's bridal shower.  It was so good that I wanted to do it again for Christina.  Another friend brought the berries and I made the cream.  Because there's no "I" in "team."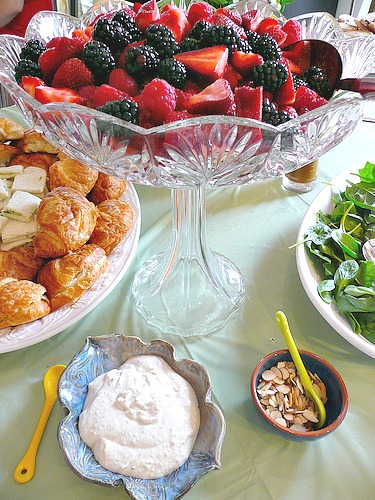 Mine is based on Giada's recipe, but I simplify the fruit and booze up the cream with orange liqueur.  This cannoli cream is light and fluffy – the perfect compliment to the berries.  For a richer, more dessert-like treat, you could use frangelico or Irish cream and/or sprinkle with cocoa powder.
---
Spring Berries & Cannoli Cream
10SERVINGS
adjust servings
This cannoli cream is light and fluffy - the perfect compliment to the berries
Ingredients
1/3

C part-skim ricotta cheese (high-quality!)

2

T + 1/3 cup heavy whipping cream

2

T orange liqueur

3

T powdered sugar

1/4

tsp ground cinnamon

3

C fresh strawberries, hulled, quartered

2

C fresh raspberries

2

C blackberries

2

T fresh mint, shredded

3

tablespoons sliced almonds, toasted
Instructions
Combine ricotta and 2 T of cream in a medium bowl. Using an electric mixer, beat remaining 1/3 C of cream, powdered sugar, orange liqueur, and cinnamon in a large bowl until semi-firm peaks form.
Gently fold the ricotta into the whipped cream. Refrigerate at least 30 mins to allow cream to set and firm up. (Can be prepared the night before.)
Toss the fruit and mint in a medium bowl to combine. Serve with cream and toasted almonds on side for a party-buffer. Alternately, spoon the fruit into dessert bowls, top with cream, and sprinkle with almonds.
***
Work is interfering with blogging really busy right now!  Recipe for my favorite party item coming tomorrow… it's reallllly good though.
What's your favorite springtime dish?  
Have you already switched your menus at home?