Yesterday I couldn't figure out why my quick, 5K run had me struggling.
While running, I only look at the distance on my watch (I ignore the time/pace).
Post-run is when I look at the time.  I don't know why, but this has always been my ritual.  No pressure, I suppose…
Stats
Distance: 3.14 mi
Time: 25:52 (?!?!)
Pace: 8:13  <—– figured out why the run was so hard!
That may be my fastest pace ever.
Then I came home and did P90X Ab Ripper X.  Rawr.
______________________________________________________________________________________
No running today – taking a rest since it's a crazy day at work (in a good way).  Lots getting done AND we sold an add-on for a cool project.  Always a good way to start the end of the week!  (Yes, I designate a beginning to the end of the week.)
That's not the only good news today…
…drumroll please…
I finally made Socca successfully!
Attempt #1: on the stove top in a pan.  Epic fail.
Attempt #2: in the oven, still a gooey mess.
After this frustration, I put down the chickpea flour.  Almost.  I did make some delicious Gena @ Choosing Raw's Sweet Potato Chickpea Burgers.  Two thumbs up!
Today was my day.  With "All I Do Is Win" in the background, I created a masterpiece.
Attempt #3:
I also roasted some tofu and topped it with Muhammara (which freezes beautifully, btw).
There were a couple snafu's…
DO NOT skimp on the EVOO when greasing the pan.  I almost had to eat my socca out of said pan.
I also got too excited about the socca working… subsequently over-cooking my roasted tofu.  Whatever.  It still tasted good.
This was enjoyed on my patio in beautiful, 70 degree weather. While watching the guy across the street sunbathe at his pool.
______________________________________________________________________________________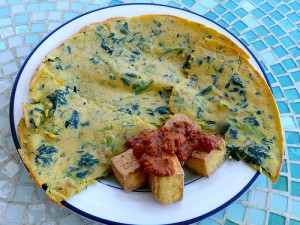 Shallot and Kale Socca
(adapted from Dorie Greenspan)
1/2 C chickpea flour
1/2 C room temperature water
1 tsp olive oil (plus more for pans)
1/2 tsp herbes de provence
1/4 tsp teaspoon sea salt
1/8 C diced shallot
1/2 C kale
Saute the shallots and kale in small pan.  Set aside to let cool.
Whisk flour and spices together in a small bowl.  Add water and oil, whisking to combine.  The batter with be very thin.  Stir in cooled shallots and kale.
Refrigerate at least 2 hours (can stand overnight).  Preheat oven to 500 F.
Place an 8-inch round cake pan in center rack of oven.  Add a tablespoon of oil to pan and swirl to coat the bottom (don't skimp on the oil – this was my remaining blunder!).  Return to the oven 1-2 mins to heat the oil.  Remove the hot pan and pour the batter into pan.
Cook for 5 minutes, turn on broiler and broil for an additional 3-4 minutes, until the top is getting some nice burnt patches. Remove from oven and flip out onto a plate or cutting board.
***
Are you on the Socca-train?  What's your favorite version?