Food is sexy.
Food porn is a real thing.
But what about food costumes?  Forget the "traditional" sexy cat.  This article brought to light a new concept: sexy food Halloween costumes.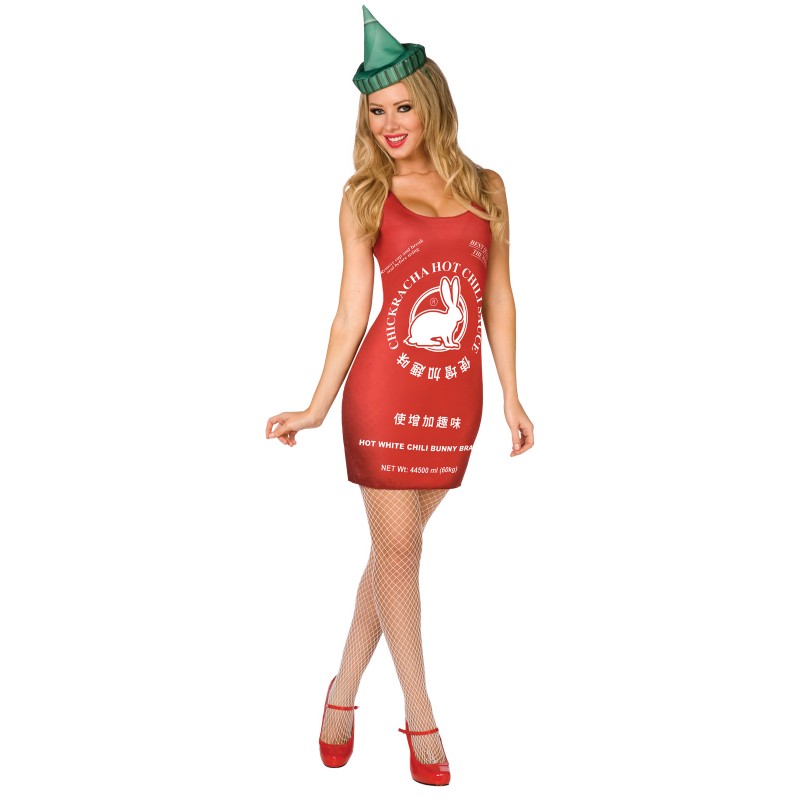 With costumes like this, sriracha has no need to invest in advertising!
Then we have bacon.  Whats sexier than a salty piece of meat?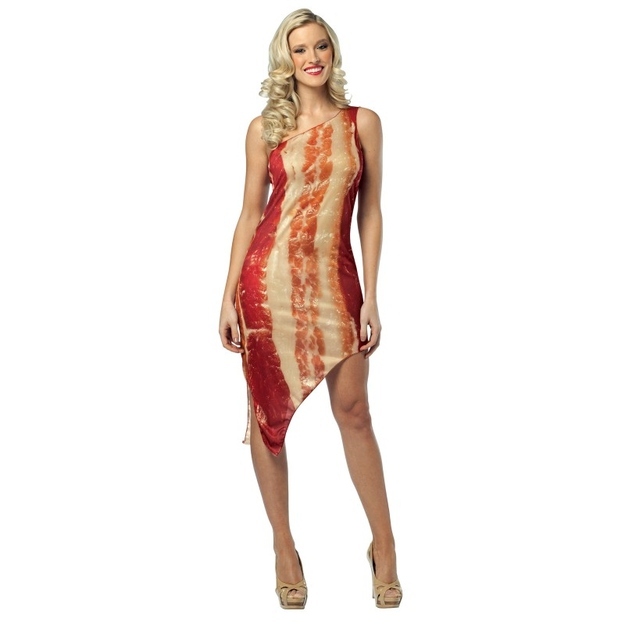 Sure, they're good for a laugh… but would you really wear one of these costumes?  I guess a lot of people would.  If they didn't make money, no one would sell them!
GiGi clearly thinks salad qualifies as sexy. (← hilarious video!)
________________________________________________________________________________________
This WIAW I am 10 days from my next figure competition!  My food may not be sexy in the traditional sense of the word, but it tasted pretty good! 🙂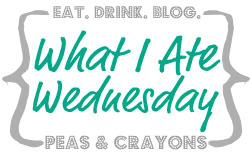 Read on for my eats, and then check out Jenn's blog for everyone else delicious creations!
________________________________________________________________________________________
Breakfast:
As usual, I started the day I with my Aminos and ACV morning cocktail.  I swear it's more energizing than coffee.

My breakfast was a new effort to have a quick hot meal in the morning.  I normally make my oats the old-fashioned way in a pot, but I decided to try a (partial) overnight protein-right creation.  Overnight oats, microwaved in the morning with egg whites.  

It worked really well!  Even better was the almost-empty Nuttzo jar I transferred it to.  Easy to eat in the car and even more decadently delicious when I reached the hot, creamy, nutty butter at the bottom.  Food porn at its best!
Peanut-Coffee Oats in a Jar
1/4 C rolled oats
1/2 C coffee (I used peanut butter mocha flavor)
1 T peanut flour*
1 tsp chia seeds
1/2 tsp cinnamon
1/4 tsp ginger
Stevia or other sweetener, to taste
1/2 C egg whites
Almost-empty nut butter jar (optional, but highly recommended)
In a small bowl mix oatmeal and spices.  Cover and refrigerate overnight.
In the morning, add egg whites and microwave to cook.  I cooked mine in 3 30 second intervals, removing to stir each time so eggs blended in rather than scrambled
Pour into a jar, if using, and top as desired.  I used strawberries.
 *Peanut flour from iHerb. Use discount code USO924 for $5-10 off your order!
Mid-Morning Snack:
I have a serious addiction to my Chocolate Beet Protein Shake.  Perfect post workout cool down, topped with rice cakes.
Protein shakes are great to make in advance and freeze to take to-go during the week.  I pop it in the microwave on defrost of about a minute and a half and it's the perfect spoon-eating consistency.
Lunch:
I've been craving red meat lately, so I bought super lean ground beef and mixed it with pico de gallo to make burgers.
Eaten atop an arugula and cucumber salad with a side of cassava (yuca) chips.  ZooPals ears make for the perfect sexy chip holders. 
Mid-Afternoon Snack:
I tried another new fish from the farmer's market this week: perch.  It's pretty commonly found (I think), but I've never chosen it before.  I love its richness, but perch is a small fish so there were quite a few teeny bones.  At least I didn't have to floss…
The veggies were a pre-roasted mix of carrots, purple sweet potato, asparagus, zucchini, and garlic.  Eating the rainbow is sexy, no?
Dinner:
Dinner was a quick saute of white asparagus, turban squash, sugar peas, and sage in lemon juice, coconut oil, and paprika, along with baked chicken (made during Sunday food prep) and some unpictured almonds.
Dessert:
No more diary before my competition means no more Greek yogurt bowl desserts.  And no more peanut butter (goodbye, Nuttzo).
This isn't going to stop me from having dessert though!  I made a Banana-Peanut Butter Mugcake using peanut flour and banana.  I topped it with cocoa powder sauce.  What's sexier than a peanut butter, banana, and chocolate ménage à trois?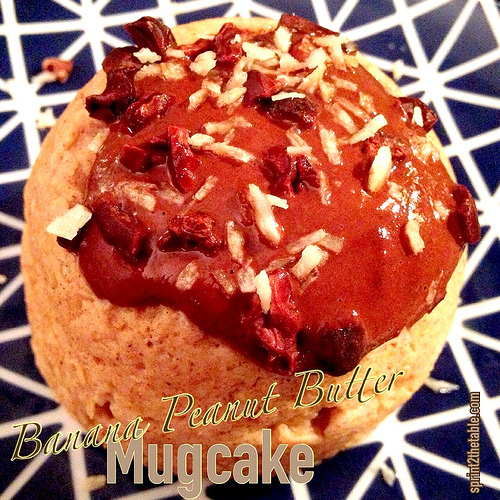 Banana Peanut Butter Mugcake
2 T peanut flour (or peanut butter)
1/4 tsp cinnamon
1/4 tsp no sodium baking powder
1/2 small banana, mashed (~50g)
1 T unsweetened vanilla almond milk
3 T egg whites
1/2 tsp vanilla
~4-5 drops NuNaturals vanilla liquid stevia
Optional: cocoa powder sauce
Place dry ingredients in a small bowl and stir to combine.  Add banana and wet ingredients and mix until smooth.
Transfer to a large, greased (I use PAM) coffee mug and microwave for ~1 min.
Tip the cake out onto a plate and top as desired.  My cake was topped with cocoa powder sauce (cocoa + cinnamon + stevia + water), cacao nibs, and unsweetened coconut flakes.
Makes 1 cake.
***
Don't forget to enter the ThinkThin protein bar giveaway – contest ends at midnight!
What are you dressing up as for Halloween?

Do you prep breakfast in advance?  What is your favorite?