Do you watch Food Network?
I did when I had cable.  
It's actually one of the 3 things I miss about cable.  The other 2: Bravo and sports channels.  Side note: this would indicate I'm some combo of a gay man and a jock.  Nope – I'm a Southern girl. 🙂
Food Network's new shows for 2012 were announced a while ago and I'm super-sad to miss one in particular – Blind Dinner Party.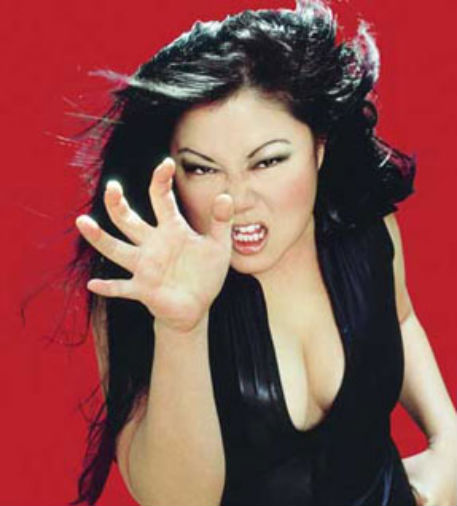 Slated for October of 2012, this new show will be hosted by none other than The Notorious CHO!  This may call for an order of cable… of a standing self-invite to a friend's house.
The premise is that she hosts a dinner party for 7 total strangers "who come from completely different backgrounds, beliefs and views on everything – come together to break bread in the most dysfunctional family dinner imaginable."
I want to be at that dinner party!
---
Maybe they would let me cook for the party/show?  I'm sure someone would be offended that I didn't serve meat…
…but who doesn't love baked goods?  Cookies, cakes, cupcakes, brownies… tofu.
If you haven't tried it before or if you *think* you don't like tofu, come on over and let me serve it to you baked.  It will only cost you a good bottle of red.  Kidding.  Sort of.
If you saw the dinner I posted for yesterday's WIAW, you know that I made a Sesame Baked Tofu.  The biggest difference between baked and grilled tofu is the inside.  When baked, tofu's outside gets crisp, but the inside gets soft and fluffy.  It's a wonderful texture to bite into!
The coating of liquid aminos (or soy sauce) and sesame seeds is awesome with just a bit of heat on the end from Chinese 5-Spice (you could also use red pepper flakes).  Garnish with a bit of refreshing cilantro (unless you are one of those people who thinks it tastes like soap).
---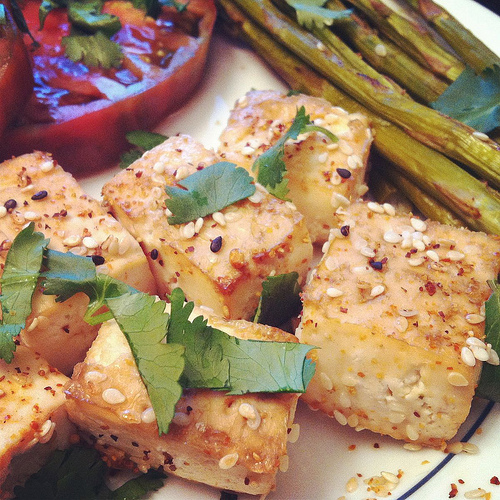 Sesame Baked Tofu
1 block extra-firm tofu, pressed
1T liquid aminos (or soy sauce or tamari)
1T rice wine vinegar
1 tsp Chinese 5-Spice
1 T sesame seeds
Cilantro, for garnish
Pre-heat oven to 400 degrees.  Line a baking sheet with non-stick foil, or spray with cooking spray.
Drain liquid from tofu, cut in half horizontally, and press for 15 mins.  You may use a tofu press or – if you're fancy like me – stack 5-6 large cookbooks on top.  Slice pressed tofu into cubes.
In a medium bowl, mix together liquid aminos, vinegar, and 5-spice.  Toss tofu in mixture to coat evenly.
Spread tofu out evenly across baking sheet.  Sprinkle with 1/2 of the seeds, flip, and sprinkle the opposite side with remaining seeds.
Place in oven and bake for 10-12 mins on each side, or until golden brown and looking "fluffy."
***
Spring weather and festival season make the work week longer.
Have you ever baked tofu?
What is the biggest reason you have (or don't have) cable?