Grapefruit is one of my favorite accent flavors.
No, not just with vodka…
I've done a lot of breakfast recipes with grapefruit, but I decided to go savory with this one.
It may sound strange, but after seeing similar items on a few menus around town I decided to create a grapefruit and scallop dish.  And oh man, was it good!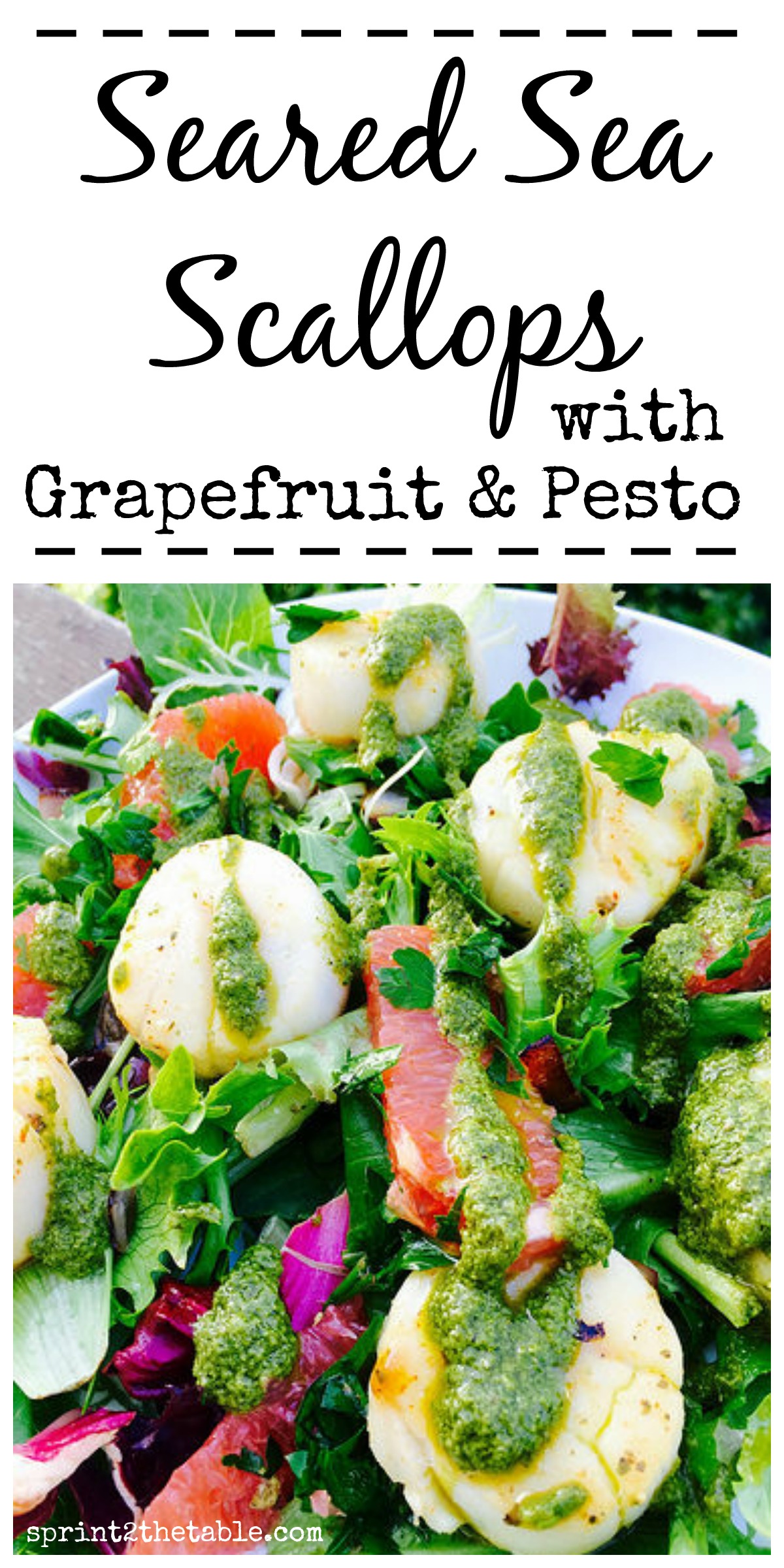 All too often people think of grapefruit as a tart fruit.  I actually find them pleasantly sweet!  The trip to finding a good one it to give 'em a sniff.  Your nose won't lead you astray; if it smells sweet, good chance the grapefruit ripe.
Don't mind the stares from fellow grocery shoppers as you sniff.  They're just jealous you have the secret.
My favorite part about this recipe is that it came together as a group effort.  Vegas and I talked about using avocado in it, but they were rock solid at the grocery.  I asked the guy at the fish counter what he thought about other pairings and he suggested pesto.  Right on, fish dude.
The pesto was just the right rich-yet-savory add to make the salty scallops and the sweet red grapefruit POP.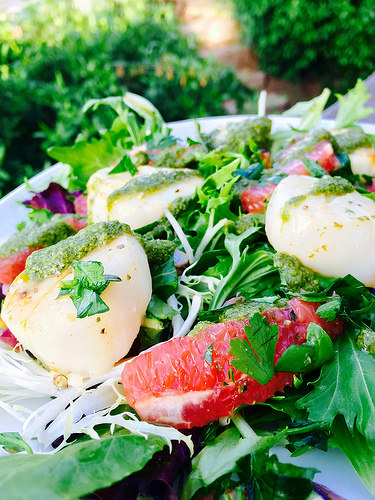 This doesn't event make into account the texture.  Those little juicy bits of grapefruit pulp popped with every bite.
Between that, the smooth pesto, and the buttery scallops… it was like a party in my mouth.
Try Sweet Scarletts – the sweetest Texas red grapefruit – in this recipe.  Check out the Sweet Scarletts
Facebook page
for more from the reddest, sweetest, and best grapefruit you've ever tasted.
---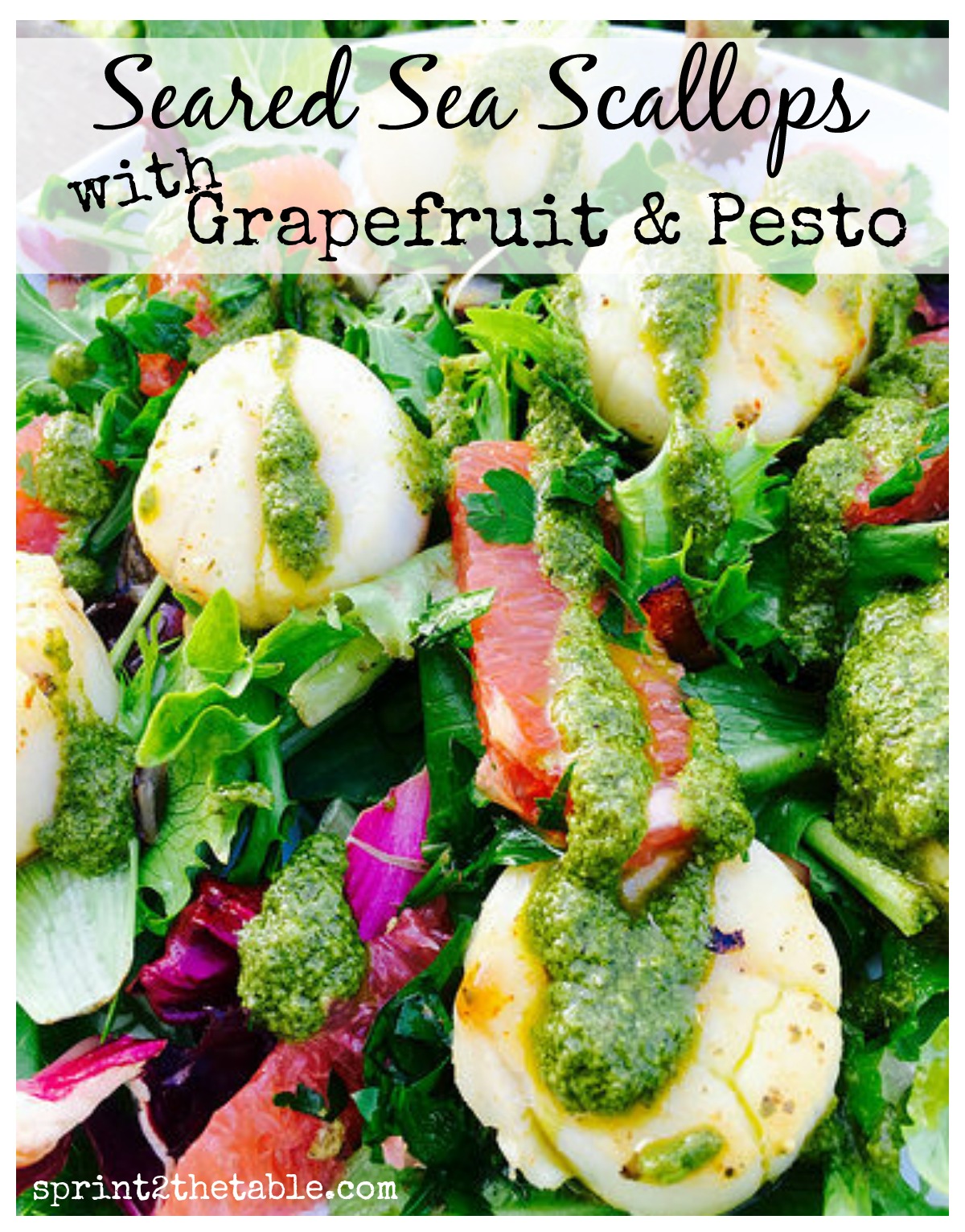 Seared Sea Scallops with Grapefruit & Pesto
1 red grapefruit
3 T red onion, diced
2 T packed flat-leaf parsley leaves
1/4 tsp pepper
12 sea scallops (about 1 pound)
2 T lemon juice
1/8 tsp cayenne pepper
Salt and pepper, to taste
1 T extra-virgin olive oil, plus more for drizzling
2 T pesto
Using a very sharp paring knife, peel the grapefruits, carefully removing all of the bitter white pith. Carefully cut in between the membranes to release the grapefruit sections into a bowl. Be sure to cut over the bowl to catch all the grapefruit juice! Stir in parsley leaves and season with pepper.
Pat the sea scallops dry. Drizzle them with lemon juice and sprinkle with salt, pepper, and a dash of cayenne pepper, if desired.  In a large nonstick skillet, heat a tablespoon of olive oil until it is shimmering. Sear on one side over medium-high heat until deeply caramelized (~ 3 mins). Flip over and cook for another minute or so. Do not overcook!
Spoon the grapefruit segments onto small plates over lettuce.  Place the scallops around the salad. Drizzle with olive oil and pesto and serve.
Makes 2 servings.
---
How have you enjoyed making co-workers, friends, or family stare with strange but good creations this week? The link up rules can be found here or by clicking on "Strange But Good" in the menu bar above. In short, I want to see what concoctions have earned you weird looks from co-workers, family and friends! Post your Strange But Good creations, grab the logo below for your blog, and link up here.
Remember to use #strangebutgood in any Tweets and Instagrams of your creations. 🙂



***
Thanks for all the support over my NASCAR experience.  I've made sure to remind Vegas I'm the best wife ever. 😉
Are you a grapefruit fan?
What is our favorite sweet and savory combo?