This post was compensated by Collective Bias, Inc. and its advertiser.  All opinions are mine alone. #ZiplocSavesSpace #CollectiveBias
Those of you who've been following along know that I got married in January.  Vegas and I are not exactly traditional in more ways than one.  First of all, we didn't even live in the same city when we got married.  Being all the way across the country from your spouse is excruciating!
All of that to say that when we were able to live together it was fantastic… and terrifying.  How do you combine 2 houses of stuff into one SoCal flat?!  10 months later we are still trying to find space for everything.
When I caught wind of Ziploc® Space Bags®, I was thrilled.  Their vacuum seal bags give you 3 times the storage compared to uncompressed storage volume.

I immediately went to our overflowing closet and gathered items we don't often use.  Ski clothes, for starters.  
We live in Southern California.  While we can drive 3 hours to snow, it's not going to be a weekly activity.  I pulled aside my complete ski outfit and placed it in a Ziploc® Space Bag® so that I can just grab the Ziploc® Space Bag® to pack when we do go skiing.  Talk about saving on luggage space! 
I'll be using that little trick on the next trip we take too.  Do you know that Vegas requires TWO big bags when we travel?  Not that I'm judging…
I digress.  Back to the Ziploc® Space Bags®.  They're super easy to find at your local Lowe's. They're in the storage aisle, next to the big plastic bins.  
Let's just talk for a second about the amount of space those take up in the closet.  I mean, would you rather have a baggie or something the size of your coffee table on a closet shelf?
Space-saving qualities aside, they're also airtight, waterproof, and protect against fun things like moths, dirt, and odors.  (Have I mentioned Vegas came to the table with 2 dogs and 2 birds?  Yeah… odors…)
Ziploc® brand makes it incredibly easy to figure out how to use the Ziploc® Space Bags®.  The instructions are written in 4 simple steps on the Ziploc® Space Bags®:
Open

Fill

Seal

Vacuum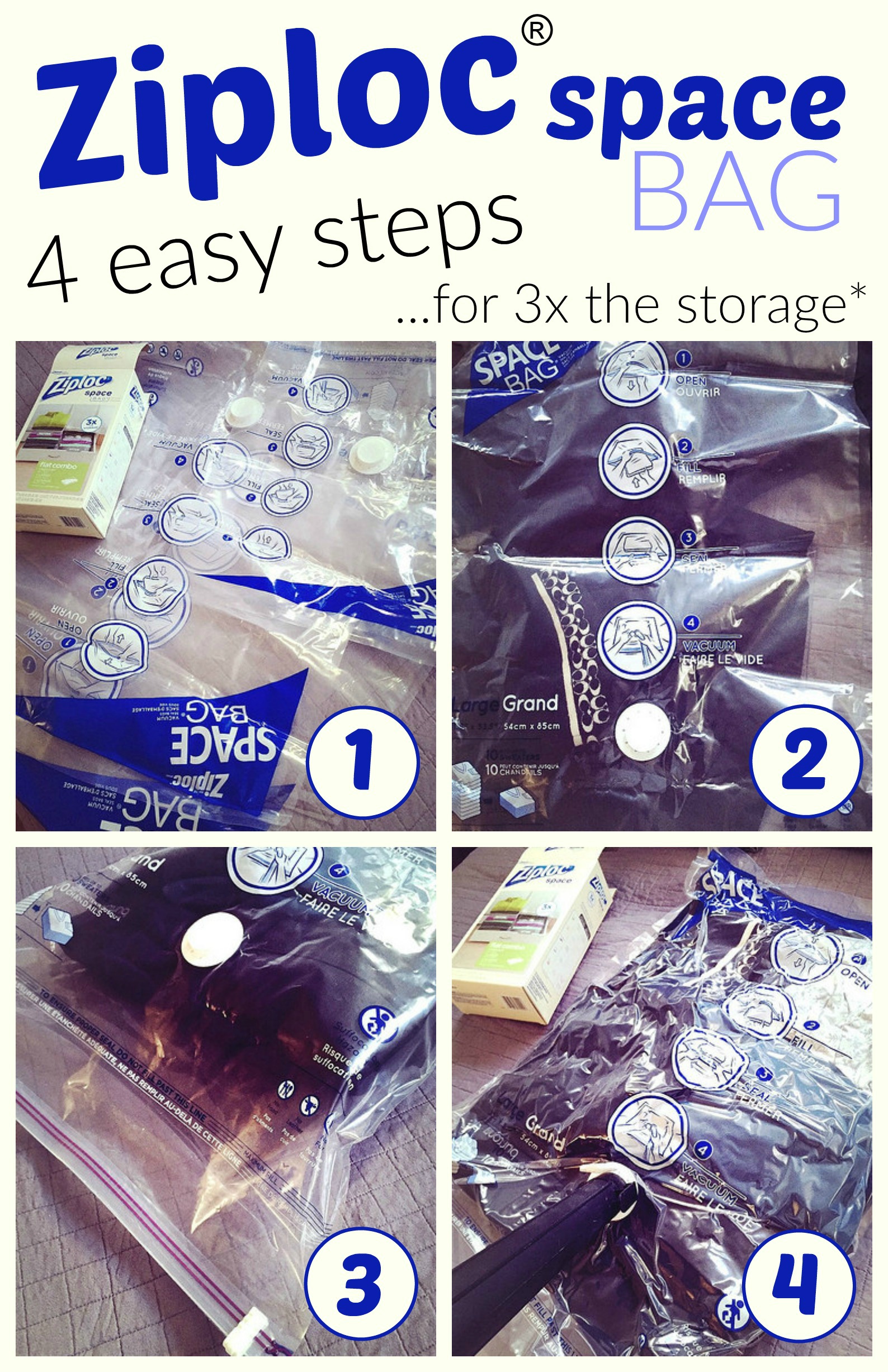 Y'all.  So easy.  You can't even imagine what a life-changer this is for us.  
Check out how thin my bulky ski attire became:
Bonus: Vegas was impressed I used the vacuum for once.  Haha!
Double Bonus: I have more closet space so I can go shopping!
It's the perfect time of year to get organized.  Do yourself a favor and check out Ziploc® Space Bags® online:
***
Now they just need to invent something marvelous like this for ornaments…
How do you save space?
What's the hardest thing about getting organized for you?