No, this isn't a turd:
It's my seitan chorizo.
I love chorizo.  The spicier, the better.  When I quit eating red meat, it this spicy sausage was one of the things I continued to crave.  I do eat meat on occasion now; however, I discovered that meat alternatives can be just as good.
The ingredient list is long, but the spices come together quickly.  It probably seems like a lot of heat but after you mix it in the with other ingredients, it tones down a lot.  I would actually increase the amounts next time.  This was child-level spice.
Vital Wheat Gluten is the protein found in wheat.  It is the base for seitan, and can easily ordered online or found at most heath food stores.
When you wrap them to bake, be careful not to get them too tight.   It's all fun and games until sausage explodes in your oven.
They should look like those wrapped sausages you see at the fair.
This seitan version of chorizo is just as good as the "real" thing.  I actually prefer it because it isn't so greasy.  Not to mention the nutritionals are a million times better.
A serving of meat chorizo has about 23g of fat and 9g saturated fat.  This deliciousness only contains 1.4g of fat and 0.1g of saturated fat!  Not to mention the 20g of protein.
I've been eating it on salads at work all week, but last night I made a little Mexican breakfast for dinner.
It took all my willpower not to make a second helping.  
Mashed avocado on English muffin, sautéed spinach and tomatoes, a runny egg, and chorizo seitan.  Topped with cilantro, red pepper flakes, and white truffle salt.
In conclusion:  Don't be scared.  Try my sausage.
---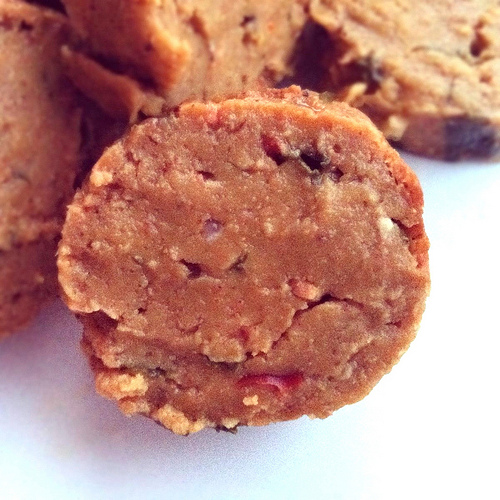 Seitan Chorizo
Inspired by Janet's recipe
1.5 C vital wheat gluten
1/4 C chickpea flour
2 T nutritional yeast
2 tsp cumin
1 tsp coriander
1 tsp paprika
1 tsp ancho chili powder
1/2 tsp turmeric
1/2 tsp pepper
1 dried red chili pepper (or 1 T red pepper flakes)
4 large cloves garlic, minced
1/4 C fresh cilantro, minced
2 T apple cider vinegar
2 T Bragg's liquid aminos
1 tsp olive oil
1/4 tsp liquid smoke
1/4 C tomato paste
1.75 C vegetable broth (I used low sodium)
In medium bowl, stir together garlic, cilantro, and liquids.
In a large bowl, stir together all dry ingredients.  Add the wet to the dry mixture and stir until just combined.
Knead dough for 2-3 mins, then let rest for 10 mins.
Meanwhile, pre-heat oven to 350.  Tear apart 4 squares of aluminum foil (approximately 8 inches long).
Divide dough into 4 equal pieces and form logs on each of the foil pieces.  Roll them long-ways, twisting the ends to firmly secure the logs.  (Note: Janet cautions note to wrap too tight in case of an expansion/explosion.)
Place the wraps on a baking sheet and cook for 60-75 mins.  They will feel more firm when you remove them from the oven.  Allow to cool for at least 40 mins, or overnight.  (I recommend overnight – it firms up in the fridge and the flavors come together nicely.)
Makes 4 sausages, or 8 servings.
Approximate Nutritionals: 124 calories, 1.4 g fat, 0.1 g saturated fat, 304.5g sodium, 8.9g carbs, 0.8g fiber, 0.7g sugar, 19.2g protein.
***
Thank you all so much for the supportive comments yesterday regarding my ACL tear.  I was pretty down about it and you all made me feel more hopeful.
What is your favorite non-meat "meat" creation?
Does anyone know how to correctly pronounce "seitan" – is it like the devil?