Just when I thought San Diego couldn't get any better…
Seeing the 30 degree temps in Atlanta seals the deal too.
This weekend happened.  We started Friday with a new tradition: date night picnic in the park.  If you haven't been to Balboa Park in San Diego, add it to your bucket list.  It's huge – think Central Park on steroids.  There are 65 mile of trails, museums, a zoo, a theatre, and more gardens than I can count.
We packed turkey sandwiches, hummus, and veggies and set out for a picnic in the rose garden.  It's my favorite part of the park.  The best part was laying around after we ate and taking in the view.
Woking from home also means that breakfasts are awesome.  I roll out of bed, make our morning cocktails, and work for a bit in my PJs before roaming back into the kitchen to create something fun.
Fresh eggs have been on the menu lately.  This open faced (read: I over-stuffed) breakfast tacos with arugula, chicken, red bell pepper, and #yolkporn is one of my favorites.  Extra-hot salsa.
Vegas and I went to the most epic farmer's market ever.  The Little Italy Farmer's Market is the biggest I've ever seen.  It went on for blocks and blocks.  Vegas very patiently tailed me as I stopped at every booth, grabbed samples, and bought all sorts of things we may or may not have needed.
We've been told that all we do is eat and drink.  This isn't entirely true!  We've been walking and/or running 5-10 miles a day and hitting the gym.
Prosciutto and beer gainz!
We've also found different way to be active.  Sunday morning we woke up earl to pick lemons and oranges!  The excess fruits go to those in need.  Super cool program and the view was marvelous!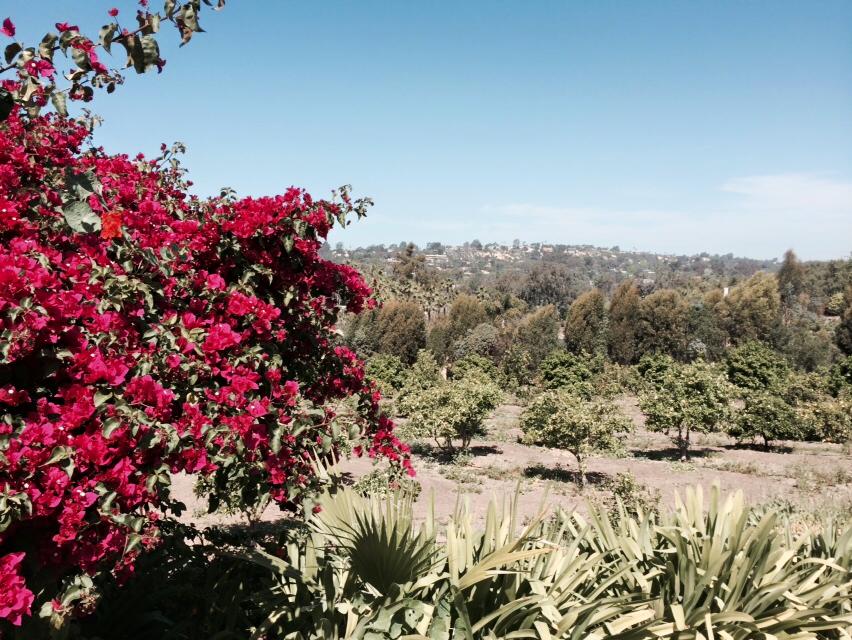 ***
I'm already looking forward to next weekend's market.  Vegas has found a coffee shop to wait on me hang out in.
Would you have eaten the sea urchin?
What's your favorite farmer's market buy?  I got a ton of greens, berries, and fresh seed bread too!