Do you wish your kitchen was as sleek and connected as your car?  Samsung's new Chef Collection does!  These stylish kitchen appliances incorporate both Wi-Fi and Bluetooth connectivity.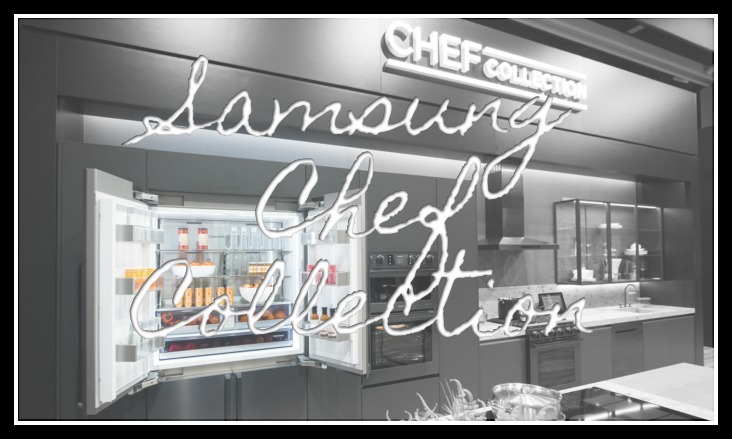 Samsung Chef Collection: A Connected Kitchen
We are connected virtually all the time.  Our cars, smart phones, and even our televisions know us almost as well as our relatives.  Why should the kitchen be any different?  It's the center of our mornings and evenings.  It's where everyone gathers at a party.
When I was invited to check out Samsung's new Chef Collection appliances, I didn't know what to think.  I mean… how exciting could appliances be?  I was told there'd be a cooking demo from Chef Christopher Kostow and wine – that was enough for me!  However, I learned was so much more.
What I learned at the demo is that appliances are truly fascinating… and beautiful!  I'm always drawn to a sleek matte black/lead-ish look in jewelry (that's actually what Vegas' wedding ring is).  Who knew you can get that in an appliance?  All 10 of Samsung's new appliances come in a matte black stainless steel.  Soft brushed metal and stainless steel finishes are also available.  They're all panel-ready, so you can adapt to new trends or preferences.
Technology is the true draw to these for me.  Samsung's SVP of Home Appliances, John Herrington, and wellness expert Candice Kumai walked us through the line of kitchen appliances that are designed to simplify and streamline life.  Essentially, they work for you.  
How many times have you left the house and wondered "did I turn off the oven?"  Last week I left the gas burner on for god knows how long (shhhh… don't tell Vegas).  
By making these appliances Wi-Fi- enabled, that problem is eliminated with the Chef Collection.  You can even pre-heat the oven or turn on the dishwasher remotely!  It's just a button on your smart phone.
We entertain a lot, so I was really interested in the flexibility of the design.  For example,  Samsung has designed the industry's "first-ever 42" Built in Refrigerator in a 4-Door Flex configuration, with a convenient FlexZone™ compartment that can easily go from fridge to freezer at the touch of a button."  Fridge to freezer is great, but I wanted to know if it could be adjusted for use as wine fridge.  It can.  Sold.
Another fun feature is the double oven.  This beast would be a lifesaver during the holidays.  It incorporates Steam Cook technology (helloooooo cheesecake perfection!) and Flex Duo™ design in which a Smart Divider splits the bottom oven in half, creating three independent ovens.  How is that even possible?!
Chef Demo: Christopher Kostow
Let's talk about the chef-factor though.  I mentioned earlier that Chris Kostow was on hand with a food demo.  Anyone know who he is?  He's the chef at The Restaurant at Meadowood in St. Helena, CA (in America's wine country), and the third youngest chef to ever receive three Michelin stars.  THREE.  I've already begged Vegas to take me there next time we go wine-trekking.
Anyway, Chef Kostow is important to this story for two reasons:
He helped inform the design of these smart appliances, giving Samsung feedback on a chef's dream kitchen, and
He fed us some serious deliciousness.
The tomato tartine was simple, but delicious.  There's just something special about bread, soft butter, and a little salt & pepper with a fresh heirloom tomato.  The morels, well… I don't think I need to tell you how amazing that was.  Morels are one of my favorite mushrooms.  I've never thought to stuff them though; typically I'll just sauté them in butter and herbs.  I can't wait to borrow this idea!
I got to chat with Chris for a bit after the demo.  He's an incredibly nice guy, and genuinely excited about this new kitchen technology.  I'm looking forward checking out Meadowood and his new spot, The Charter Oak.
***
If only they could invent a dishwasher that would load itself…

How old are your kitchen appliances?  I'm embarrassed to say…
What would you like a smart appliance to do for you?
This is a sponsored conversation written by me on behalf of Samsung. The opinions and text are all mine.