You know you need one more cookie recipe.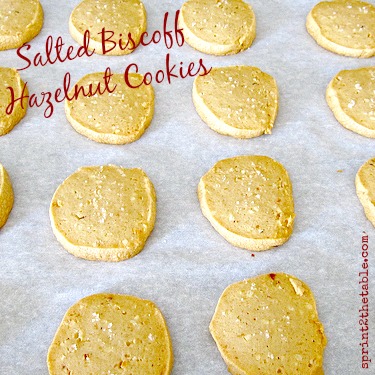 Ok, maybe 2.
I made about 100 cake balls as dessert for last Saturday's holiday party.  If you recall, about a month ago I created 2 varieties:
For the party, I made both again.  Variety IS the spice of life.
Upon polling the crowd, I confirmed my theory that the one you like best depends on whether you prefer dark or white chocolate.  I like dark.
Since it was my first catering job, I was extra-paranoid about running out of food… so I baked cookies too!
I thought Chocolate Sea Salt Cookies were the best thing ever… but Salted Biscoff Hazelnut Cookies may have ousted it.  *Gasp*
These are a shortbread cookie – thick and buttery.  I love the texture of shortbread (hence these rosemary-lemon and olive-basil cookies), yet I rarely make them without a savory component.
I'm so glad I tried it – the hazelnut with the brown sugar-y Biscoff spread was like buttah in my mouth (in a good way… I realize a mouth full of better isn't for everyone Paula Deen).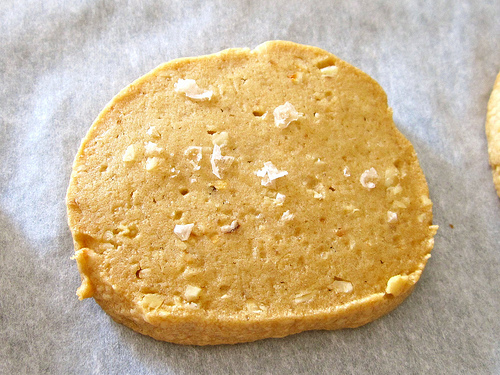 Cookie #2 was my mom's favorite: Coconut Macaroon Cookies.
With just 4 ingredients, these are the easiest things you'll ever make.
If you love coconut, make these ASAP.  Recipe found here at Pearl and Pine (Sarah's photography rocks, btw).
---
Salted Biscoff Hazelnut Cookies
24COOKIES
adjust servings
Ingredients
2

C flour

1/8

tsp baking powder

1/4

tsp salt

3/4

C salted butter, room temp

1/3

C sugar

1/3

C firmly-packed brown sugar

1

tsp vanilla extract

1

egg

1/2

C Biscoff spread

1/3

cup hazelnuts, chopped

Fleur de sal (for topping)
Instructions
Sift together flour, baking powder, and salt in small bowl.
Cream together butter and sugars with mixer until well-blended and whipped. Add vanilla extract and egg, mixing to combine. Combine Biscoff spread with into egg mixture, again mixing until well incorporated.
Gradually add the flour mixture, mixing until just combined – careful not to over-mix. Fold in hazelnut bits.
Roll dough into a log about 3 in thick. Place the log on the edge of wax or parchment and roll it up in paper. Chill at least 2 hours in fridge until firm enough to slice. (You can also freeze until you need them.)
Preheat your oven to 300 degrees. Line cookie sheet with parchment paper. Slice log into 1/4 inch thick rounds and place them on the prepared baking trays (leave room for them to spread just a bit). Lightly sprinkle fleur de sal salt onto each round.
Bake 18-20 mins. Cookies are done with they turn a light golden-brown color. Allow cookies to cool completely before moving.
Note: You can sub any nut butter for the Biscoff (but if you haven't tried Biscoff spread yet you are missing out!).
***
 Happy Holidays, Everyone!  
I hope you all have a fun, happy weekend full of deliciousness.