Salmon Tacos with Cherry Lime Chipotle Salsa are healthy and flavorful.  It may sound a little strange, but this sweet and savory dish will be your new favorite Taco Tuesday dinner!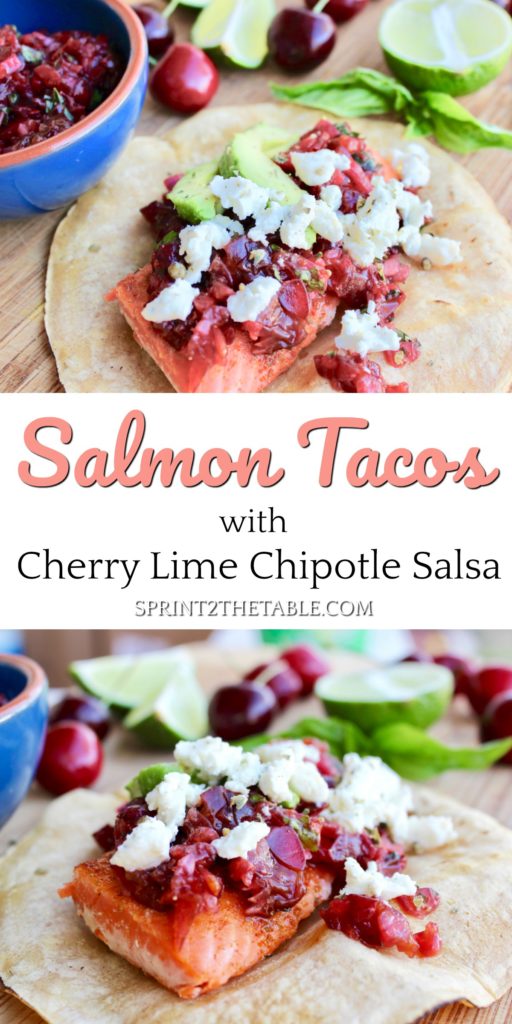 I'm no stranger to flavor combos that are a little odd.  I had a whole link up dedicated to #strangebutgood creations!  These days my litmus test for an acceptable level of "strange" is Vegas.  She's a pretty picky eater; I know if she likes it, I've really made something good.
Just getting her to eat seafood is a feat, but I was really nervous about the Cherry Lime Chipotle Salsa.  It was a risk, but these passed the Vegas test with compliments!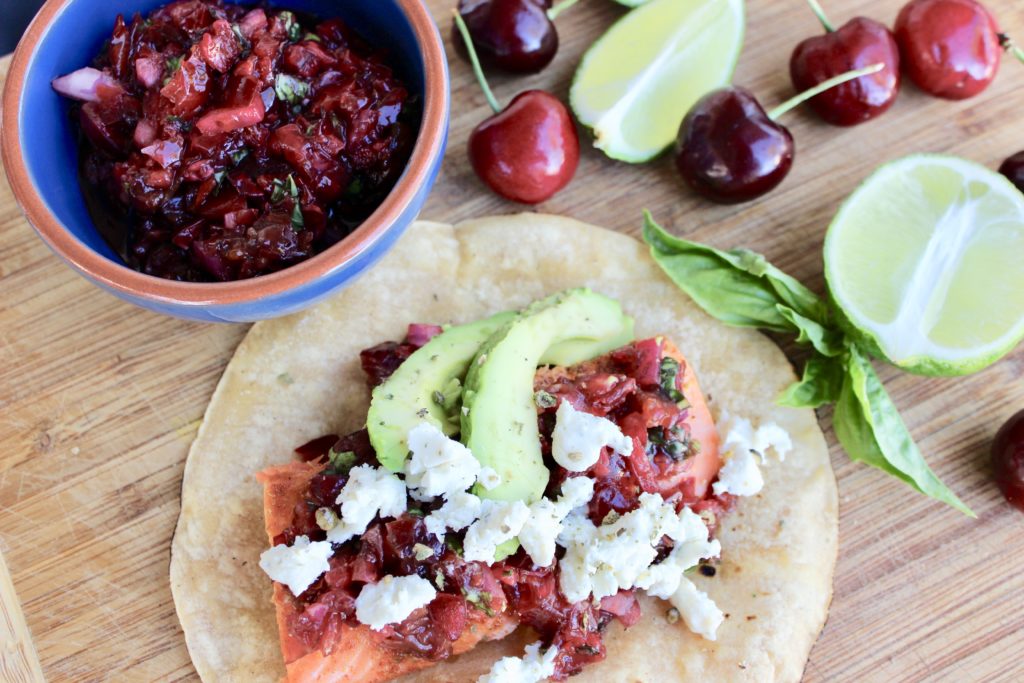 It helped that the salsa turned out to be the most simple, amazing, sweet-n-savory salsa ever.   I piled the tacos are piled high with the crack-combo.
Cherry + Lime + Chipotle + Basil = Mouth-gasm.
That's right, I went there.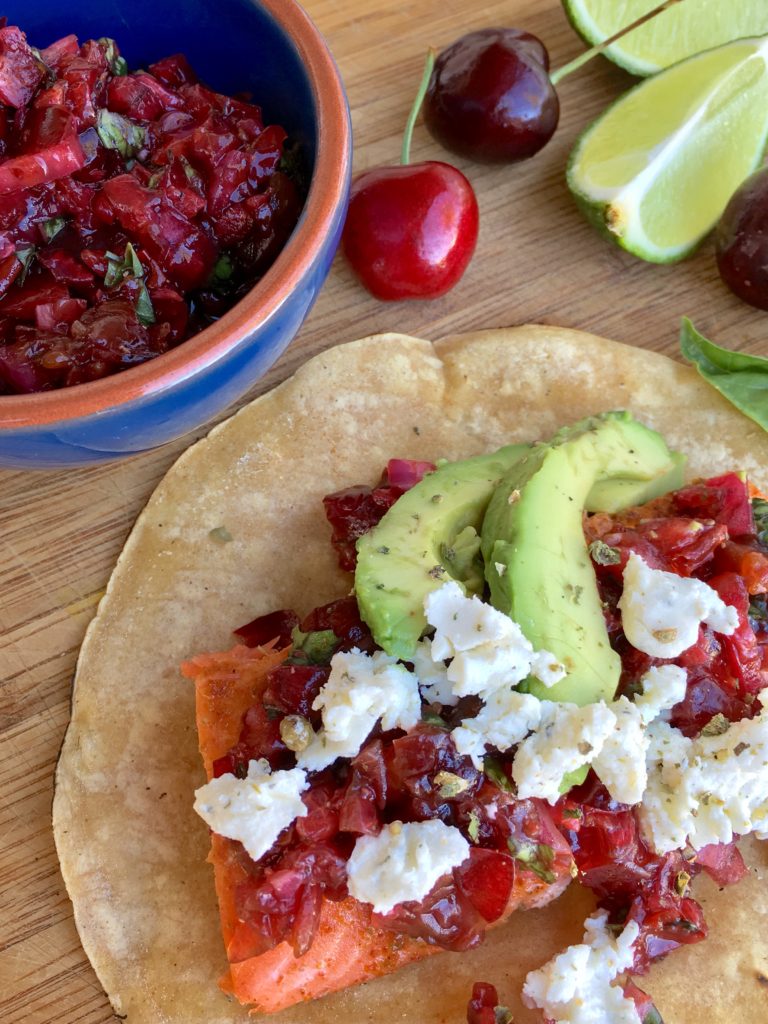 I was going to just plate this as a meat and sauce, but then I thought "we should have Taco Monday!"  Why wait for Tuesday?  Tacos are a staple in our house at any meal.
They're so easy to put together.  For this recipe, I made the salsa while I was procrastinating cleaning up breakfast.  That sped up the dinner process since I just needed to sear the salmon and warm the tacos.  You could even make the salmon during a meal prep for an even faster assembly!
Admittedly, the photo-taking slowed things down.  I'm learning to use a "real" camera!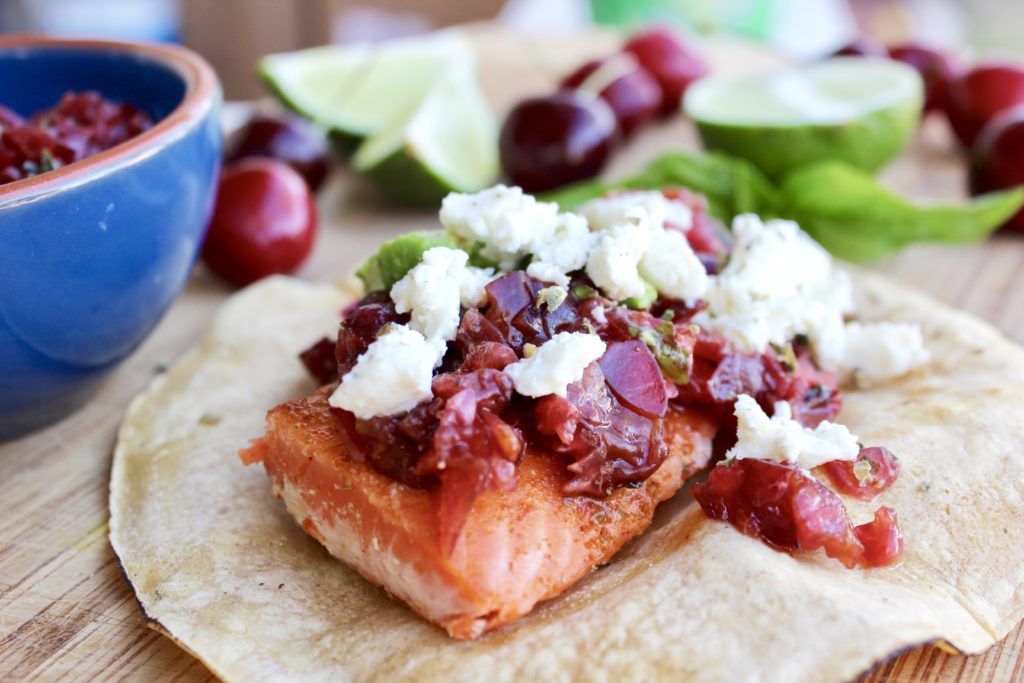 Let's address the last strange factor: salmon in tacos?!  It works!  You might not think SALMON when you think fish tacos, but you should.  There's nothing wrong at all with using the flavorful, pink fish in a taco.
Salmon is a pretty rich fish, which makes it even more perfect for the spiced fruity salsa.  Plus, it's a great source of omega-3s!
---
Salmon Tacos with Cherry Lime Chipotle Salsa
4SERVINGS
adjust servings
Ingredients
For the Salsa
2

C cherries, pitted

1

chipotle chili in adobo, chopped

1/4

red onion, diced

1

small clove garlic, grated

1

handful basil

Juice of one lime

Salt & pepper, to taste
For the Taco
1

lb fresh salmon

1 1/2

tsp chili powder

1

tsp paprika

1

tsp ground cumin

2

C chipotle cherry salsa (see below)

8

small corn tortillas, warmed

1

avocado, sliced

4

ounces feta cheese, crumbled
For the Salsa
For the Tacos
Instructions
Pulse everything in a food processor until desired texture is reached (I left mine pretty chunky).
Mix the chili powder, paprika, and cumin in a small bowl. Pat the salmon dry and rub the top with the spice mix.
Place the salmon skin-side down in a greased pan over med-high heat. Cook until the color has changed about three-quarters of the way from the bottom.
Flip the salmon and cook until it feels firm to touch, ~2 mins. Remove and set aside to cool a bit before dividing.
Assemble tacos and enjoy!
***
We got a light box, but I can't figure out how people use that thing.  I just took the camera outside.
Are you a fish taco fan?
Have you ever made your own salsa?  It's embarrassingly easy!