Anyone who says couponing is boring is a liar.
Look what I found last night!
It was in my weekly circular.  Tis the season, 'eh?  Anyone need a little KY for VD?  I'll send you my coupon…
As uncomfortable as it is to make purchases of this nature, can you imagine handing the cashier a coupon for it?!  Some things you should just suck it up and pay full price for.
Speaking of things commonly thought of as boring but are not (most brilliant transition ever)…
Salads.  Tuesday night's salad (mentioned yesterday in WIAW) was anything but boring.  Forget your standard side (or toss) salad and kick it up with color and protein.
And perhaps some eggplant bacon.
I used Post Punk Kitchen's recipe for eggplant "bacon" and loved it.  The only thing I would add next time is add a little cayenne and freshly ground pepper.  I'd also finish it off under broil to get it more crisp.
The salad overall was great – I loved how crunchy the cabbage was (thought I could have been less lazy about shredding it), and the substance added by the lentils.  Lemon-olive oil vinaigrette gave it a bright taste, and the citrus was delish with the beets.
Those beets were my favorite part.  It was my first time roasting my own and let me tell you it makes a HUGE difference.  The earthy, slightly sweet flavor was unlike any other I've had.  Some good advice for roasting them yourself: cook until you think it's done, and then cook for 30 more mins.
Top it with some nutritional yeast and you've got a colorful, unexpected salad.  (If I weren't cleansing, I'd have toasted some walnuts to sprinkle on top too!)
---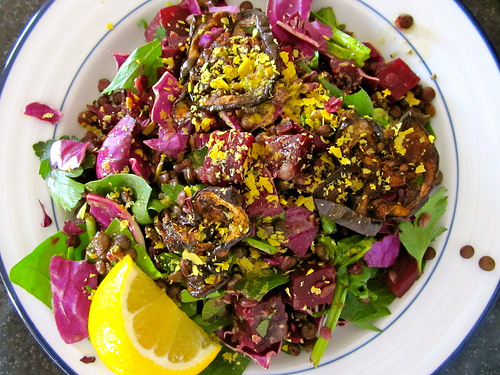 Green and Red Beet Salad with Lentils
1/2 C French green lentils, uncooked
1/4 C olive oil
Juice of 1/2 lemon
1/2 tsp dried oregano
2 drops Stevia
1/2 lb red cabbage (~1/2 large head)
1 medium beet, roasted
1/4 C parsley, chopped
2 C spinach, rough chopped
S+P, to taste
Optional topping: nutritional yeast or a nutty cheese such as pecorino
In a small pot, cover lentils with ~2 in of water and bring to a boil.  Add 1/4 tsp salt and simmer over low heat until tender, but not mushy (20-30 mins). Drain lentils and set aside to cool.
Meanwhile, prepare eggplant "bacon" according to these instructions from PPK.
In a small bowl, whisk together oil, lemon juice, oregano, and Stevia.  Taste and season with salt and pepper as needed.
In a large bowl, toss cabbage, beets, parsley, spinach, and lentils. Top with eggplant bacon and serve with dressing (I served mine on the side).
Serve with dressing (I served mine on the side), nutritional yeast or other cheese, and perhaps some toasted walnuts.
Makes 4 mains or 8 sides.
Note for those interested in roasting your own beets:  Preheat oven to 35o.  Wash stemmed beets thoroughly and wrap in foil.  Place in oven and cook 1 hour.  Check for doneness by pressing on the sides – there should be a some give, but they'll still be firm.  To verify doneness, stab with a fork.  It should go through the beet  easily.
***
Don't forget to enter to "Be My Veggie Valentine" and win 1 of 3 boxes of heart-shaped veggie cookies from Cookie Underground!  Click here to enter.
Do you coupon?  I have a friend who was so good at it that CVS gave HER money at the checkout.
What is your favorite salad?