A runner, I am not.
Unless it involves chocolate or wine.
I'm sort of kidding.  I used to consider myself a runner (hence the name of this blog), but my ACL had other plans.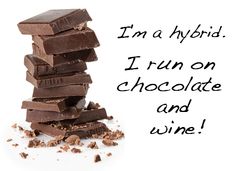 Regardless, I was struck when Kat sent me her guest post for today.  A lot of what she touches on is applicable to any area – whether it be other physical activities, work, or just life.
Who couldn't use more stretching and rest?  As much as we all hate to admit it, we aren't invincible.  Here's Kat…
________________________________________________________________________________________
I Still Love the Shit Out of You (and running)
by: Kat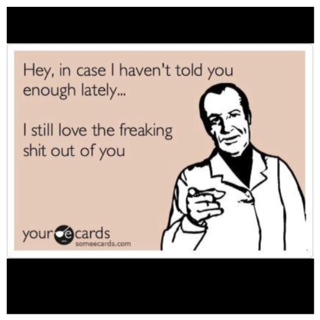 Life changes.  A lot.  No surprise, but it's still surprising.  (Editor's Note: Amen to that.)
I fell off the blogging train for a while… a long while.  I miss you guys, and I come bearing good news and plenty of awesome!
My adrenals are healing!
Knowing what's depleted is key, so seeing a doctor is necessary if you notice you may have symptoms of adrenal fatigue.  This will help you heal up those pesky stress-controlling glands.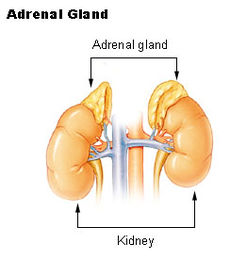 I have been on about 5-7 Emergen-C's per day, for the B-12s and the Vitamin C… and the electrolytes can't hurt.  I've also been on Ashwagandha, and a digestive enzyme to make sure that I'm absorbing all the nutrients from my food.  I was also sleeping almost 10 hours per night and reduced my running.  Time to heal.
And guess what?  It's paying off. 
I feel so much better!  The mood swings are almost gone, and I feel fewer random energetic shifts in my body.  I'm running happy again, and don't feel totally depleted after longish (20+ miles) runs.  This may also be due to a dear friend who dragged me to Arizona to help him run 100 miles, which he KILLED! 🙂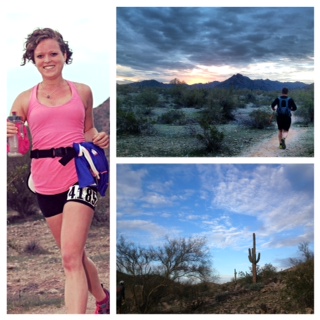 My friend Mark ran 100 miles in Arizona (Editor's Note: That's hot).  I ran about the first 13 with him.  I kept trying to slow him down, but he refused, so I hung back, to run happy, enjoy the beautiful weather, take lots of pictures, and get a nice morning of running in.  I ran a happy 20 miles!
Because I honored my body's physical limits, I was able to enjoy several other activities in the two-ish days I was there.  I got to see my god-daughter in Phoenix, with my cousin Jason, hang by the pool, hang with friends, and help crew Mark the rest of his journey!  In a little over 28 hours, he crushed that 100 miler!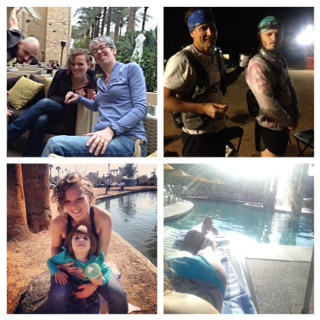 I feel like I'm so much more present in every moment.  It's amazing what your health can bring you!
(Editor's Note: You make me smile.  SO HAPPY for you, Kat!)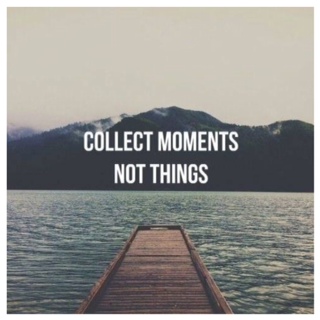 Because I've fallen off the blogging wagon, I had no food pics to share with you, but I have some tips on keeping your running happy when you are increasing your mileage.
I haven't been running THAT smart, I'll admit, because I've developed Plantar Fasciitis.  UGH.  The main symptom for me is heel pain.  It's mostly caused by lack of stretching and massaging my calf to keep my Achilles Tendon nice and loose and healthy, so the tendon gets tight and pulls on the fascia, which causes the pain.  (Editor's Note: I would smack you but I'm terrible about stretching too.)  So now I'm trying to rehab THAT, so I can keep running happy.
Running Happy While Increasing Your Mileage:
Never underestimate the power of stretching (and yoga)
Rolling (use a Stick or foam roller) – there are great YouTube videos that can help you figure out if you're doing it right
Don't run 20 miles, once per week.  This was my strategy, and it's a fail.  Up your distance slowly and consistently (why do I always have to learn lessons the hard way)
Keep active throughout the week.  It makes the weekend long runs easier
Ask questions, and get advice from other people in the running community. Everyone has something to share, and it's often helpful
Don't resist going to the doctor if you're in pain or having inexplicable symptoms.  This is the hardest one for me, and you can feel free to remind me
Read up on healthy ways to up your mileage
Learn from your mistakes (and don't repeat them)
Rest
If you're smart and diligent, you may never have these problems.  I don't know why I always feel invincible, and like I don't need to learn from my mistakes. DOH! 😉  (Editor's Note: What do you mean we aren't invincible?!)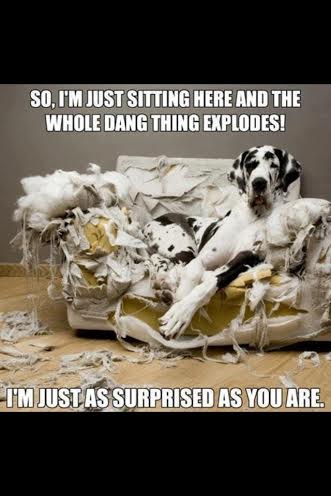 I promise I'll have more recipes next time.  My favorite veggies are in season, and I'm cooking like crazy.  You all deserve pictures and solid directions to go with them.  (Editor's Note: I volunteer to taste test!)
***
I know logically I'm not invincible… but my hard head remains unconvinced.
What tips do you have when you change your activity level or up your mileage?
What do you do when your body tells you to rest?  Do you listen?