Literally.
I spent a good 9-10 miles of my 13.1 thinking about lunch.  My inner fat kid knows no bounds.  Plus it entertained me while I struggled ran.
Once I remembered I had a body warmer in my jacket which was making me want to pass out, the first 4-ish miles flew by.  Somewhere between 4 and 6 I had to stop to tighten my laces and lost my 1:45 pace group (not too devastating – 1:45 was a bit ambitions).
Stopping apparently caused me to miss the 5 mile marker, so I was pleasantly surprised by mile 6.  Things were still ok until about mile 8.  My legs were cramping and I had to stop for 30 seconds and stretch.  After that it got hard – not a shock since I really only trained for up to 8.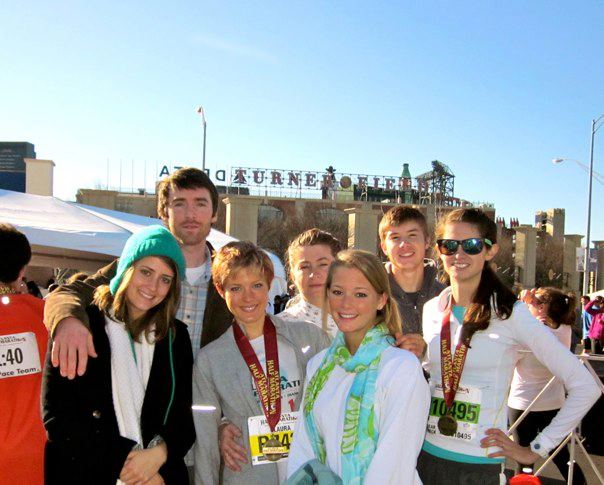 Seeing my Aunt Teresa somewhere near mile 9 was a huge pick-me-up (thanks Teresa!), and I got another push around 10 when the 1:50 pace group caught me.  I knew I didn't want to finish far behind them so I ignored my screaming legs and cranked out the last 3 to finish with them.
HUGE thanks to the Atlanta Track Club for organizing the event and providing pace teams
Official time: 1:49:52.  PR!  I looked back at my 2009 Half time – it was 2:17:12!  HUGE improvement in 2 years!
My younger cousin Molly also ran and finished seconds ahead of me.  Congrats to Molly!!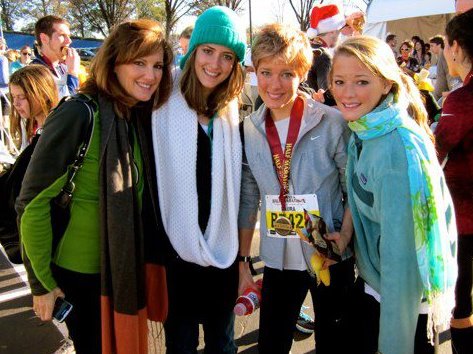 My mom and sisters were there at the finish line with lots of hugs.  It was really great to have a support group after a hard-fought race.
More to come about the fantastic Turkey Day eats (see little taste below), but for now I'm off to the grocery store.  It shouldn't be crowded… everyone is stuffed and at Wal-Mart… right?
***
I'm participating in this month's YBR with Spicie Foodie.  Click here if you'd like to join up too!
How did your races go?
Did anyone brave the Black Friday crowds?