Father's Day Weekend.
What to do…
Cookies are in order.  Girls without their daddies most certainly deserve treats.  Definitely a few glasses of wine (which will no doubt be blamed for any tears).  Not to worry, I'll strive for balance.
There will be time spent simply remembering my dad and try to concentrate on the fact that I was lucky to have such a great man as a father for 25 years of my life (cliche… but look at all the jerks out there!).
My dad loved to laugh.  He was so smart – loved learning more than anyone I've ever known.  Enjoyed good wine, food, football, and hanging out with his "girls" (Mom, me, and my 2 sisters).
To those of you whose fathers are still with you, give them an extra hug today.  Or at least don't forget to call!  Maybe buy a present or two.  Ties, socks, chocolate-covered cherries (those were my dad's favorite).
To those who are in the unfortunate situation of being without a father on Father's Day weekend, my thoughts are with you.  I can't say it gets easier… but it doesn't get worse.  That's something, right?
Treat yourself to cookies. The kind your dad would have liked, or the kind that are most comforting to you.  Maybe they are just fun to make.  Light, buttery, summery cookies like these Rosemary Lemon Shortbread Cookies:
Some people are intimidated by baking.
One of the secrets to doing it well is measuring flour properly.  It can make the difference between fluffy, delectable treats and dense failures.  "Real" bakers will argue that the only way to measure is by weight.  However, more often than not, I use a simple measuring cup.  I'm a lazy baker.
To me, the important thing to do is to fluff the flour.  When it sits in your pantry, it settles.  This compacting can result in the addition of 25% more flour than the recipe calls for.
Solution: Take a fork and fluff it up before diving in with your measuring cup (please tell me you're using a dry ingredient cup already).  Then use a knife to sweep off the excess flour.  Do NOT shake, tap, or compact the flour down.
Once you have the shortbread base, this is an easy recipe to take in many directions.  You could change it up with some basil or thyme!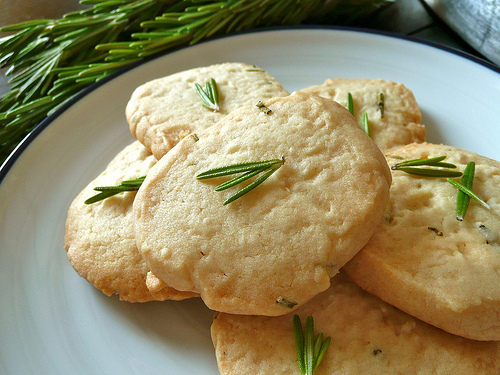 ---
Rosemary Lemon Shortbread Cookies
Prep Time: 20 mins
Cook Time: 20 mins
Keywords: bake dessert Rosemary Lemon cookie spring
Ingredients (20 cookies)
1 1/4 C all-purpose flour
3/4 C white whole wheat flour
1/4 tsp salt
1/2 tsp baking powder
2 T chopped fresh rosemary
2 tsp lemon zest
3/4 C salted butter, softened
1 T light agave nectar
1/2 C confectioners (powdered) sugar
Instructions
In a medium bowl, whisk together flours, salt, baking powder, rosemary, and lemon zest.
In a large bowl using an electric mixer (I used a hand-held), mix together butter, agave, and confectioners sugar at a low speed. Gradually add flour mixture and mix until dough produces small butter lumps.
Using your hands, make a ball with the dough and transfer to a lightly floured surface. (Lightly flour your hand to make this easier!) Knead dough until it just comes together (5-6 times). Roll into a log (like the cut and bake cookie dough)and cover in parchment paper. Refrigerate 1-2 hours, until hardened.
Preheat oven to 300° F.
Remove from fridge and cut into small (~1/2 in thick) disks, arranging on a parchment-lined baking sheet. Bake shortbread in middle of oven until golden brown, ~20 mins.
***
Happy Father's Day!
What is your favorite way to celebrate life well-lived?