My sister is a rockstar.
Alli played a local venue on Monday night with her boyfriend, Noah.  It was an open mic contest (well-known for launching John Mayer's career).  They didn't win but I think they were one of the best.  There is just SO much talent in Atlanta.
Alli and Noah's band is called Goose & Fox.  Check them out on YouTube!  Shameless plug of one of my favorite songs:
http://www.youtube.com/watch?v=D-gxzyUd51U
---
Given that we have a huge food-focused holiday one day away, it seems funny to be posting a tame WIAW… but at least it involves balls!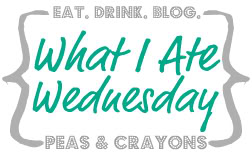 Check out Peas and Crayons to see how everyone else pre-gamed Thanksgiving on Jenn's What I Ate Wednesday.
---
Pre-Breakfast:
I made a late-night post-concert trip to Kroger for melting chocolate so I could coat more Red Wine Cake Balls!  They looked so pretty and smelled so good… they were calling my name!  So I may have pre-gamed breakfast with balls…
The winner so far has been these Red Wine Balls, but the Sparkling have received a ton of votes.  It comes down to preference.  Do you prefer your… desserts… sweet and white or dark and rich?
Pass the dark and rich over here.
Breakfast:
In preparation for the Thanksgiving Half, I'm loading up the carbs and protein.  This morning's oatmeal with egg whites hit the spot.
In my Oats:
1/2 C oatmeal
1/2 C unsweetened almond milk
1/4 C water
Shake of salt
1/2 tsp cinnamon
1 tsp vanilla
1 egg white
1/4 C blueberries
Scoop of Cinnamon Cacao Nut Butter
Prepare oatmeal according to package instructions.  When almost done, quickly whip in the egg white.  Add blueberries.  Transfer to bowl and top with nut butter – I used Cinnamon Cacao Nut Butter I made yesterday.
Delicious and super filling thanks to the protein and "good" fat.
Lunch:
Just before lunch, I jogged to the Thanksgiving Half Expo to get my number.  Only 1 more day – eek!  I signed up with the 1:45 pace team.  In hindsight, that may be a little ambitious.  Guess I'll find out tomorrow.
On the way back I passed Evos, a small chain that claims to make a healthier burger.
Their fries are air baked, burgers are made with naturally raised beef, milkshakes use organic milk and sugar – they even offer fruit shakes!
I settled on a Veggie Garden Burger.  The vegetarian patty was pretty good (they also offer a vegan variety) – plenty of veggie and bean chunks in it (a must IMHO).
I really enjoyed the avocado spread, but the BEST part was the ketchup.  They make their own flavors – Original, Cayenne,  Mesquite, and Garlic.  The garlic was pretty fantastic. 🙂
The problem was the bun – it was one of those sticky, chewy grocery store buns with the sesame seeds on top.  Change the bun and I'll come back, Evos.
The lady at the counter was really patient nice and let me sample an air baked french fry.  I didn't order my own, but they were pretty good!  They tasted a lot like McDonald's (which I haven't had in years… but they remain my favorite)  but only have 170 calories and 5g of fat.  No, it's not a health food but it is a healthier option when you want to indulge.
Dinner:
One of the most creative bloggers I know, Sarah @ The Smart Kitchen, created this vegan, "adult" version of Spaghetti-O's.  Sarah is also the queen of repurposing items to create the coolest dishes (airplane bottle of V8 –> tomato-vegetable soup?!).
Eying the last of a carton of Trader Joe's Tomato and Roasted Red Pepper Soup, I channeled my inner Smart Kitchen and went to work.
See my bastardized modified version at the end of this post.
Snacks:
Lucky (pre-race moment of brilliance?) me scheduled a late-afternoon massage!  It was one of the best I've had in a loooong time.
I made a quick pre-massage protein shake to tide me over until dinner.  It was my basic: spinach, protein powder, almond milk, almond extract, and banana (trying to get the potassium in).
This is all that was left when I remembered to take a pic.
A massive Asian Pear and pomegranate made up a great "dessert."  I cut the pear into bite-sized pieces and sprinkled it with fresh pomegranate seeds, freshly ground cinnamon, and a teensy bit of paprika.
Normally I scoff at the idea of fruit for dessert, but this was shockingly satisfying.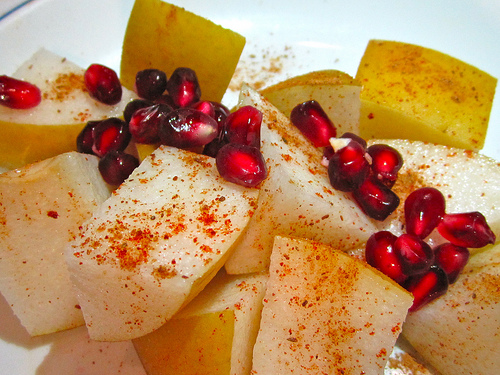 ---
Saucy Soup & Spaghetti
1.5 C TJ's Tomato & Roasted Red Pepper Soup
2 T nutritional yeast
1/2 tsp garlic powder
1/2 tsp ancho chili powder
1/4 tsp dried oregano
1/4 tsp dried basil
1/4 tsp red pepper flakes
Freshly ground black pepper
2 servings pasta (I used a veggie-laced fettuccine)
Prepare pasta according to the package.
Meanwhile, combine first 6 ingredients in small pot and warm over med-high heat.
When pasta is cooked, drain and pour into 2 bowls.  Top with soup-sauce, garnish to taste with red pepper flakes and fresh black pepper.
Makes 2 servings.
***
Things will probably be slow going in the blog world over the next few days.  I hope everyone has a wonderful holiday filled family, food, and fun.  Safe travels and successful turkey runs!
What are your holiday plans?  Travel?  Races?
What dish are you most excited about tomorrow?